Fire! We're drawn to it like moths to a flame. (Wait...does that metaphor still work when it references the allure of fire?) Regardless, for this week's Shooting Challenge, you photographed flames, and here are the results.
Winner: Fully Cooked
Three fingers on my left hand are now fully cooked as it took me various attempts to get the image. Good thing I planned ahead and didn't use my right hand or else I would have no fingers left to shoot my camera again. Equipment: 5Dmkiii, EF 70-200mm f/2.8mkii, macro tube, tripod.
Ivan Vargas
---
Mezcal Toast
I took this picture with a GoPro 3+ Silver Edition at my Aunt´s country house in San Luis Potosi, Mexico. We were just drinking mezcal and my uncle thought I would be a good idea to ligh up the fireplace, after that I was captivated by the fire and I had to take a picture, I only had my gopro.
Fernando Gutierrez
---
Torch
G/O Media may get a commission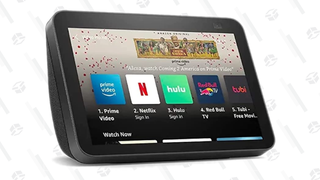 The photo of the torch was taken twice to allow for the background stars to be seen and then combined in post. It was a rather calm evening and I set up one of my walking sticks with a strip of torn denim soaked with tiki torch fuel. I set my tripod up to shoot from about ten inches off the ground and as I was about to start shooting, the wind picked up driving the flame more across the camera's FOV rather than up and away. I snapped as fast as I could and ended up catching just the right amount of spread on what ended up being the first shot of about 15. I then combined the flame shot with a non-flame, 20 second exposure taken a minute or so earlier and made some adjustments in Lightroom and Photoshop.
Marc Rouse
---
Indoor Blues
I'm wishing I could have done this outside. I like campfires/fire pits, but recently its been pretty bad weather out (in case you hadn't noticed how bad everything is in the northeast). Anyways I tried out a few things with matches, and lighters before this but didn't really like how they looked. This one is what I thought turned out pretty good. This was taken with a Nikon 5200 at 20 mm, f/3.5, 1/6 second. and 100 iso.
Adam Gaynor
---
Getaway
This picture was taken on Valentines day with my girlfriend at my family Cabin. The very next morning was our 1 year anniversary and i proposed to her. For this picture I used a Canon Rebel SL1 ISO 1600 Exposure 30 seconds F/ 3.5 Focal Length 18 mm.
Josh Hoxsie
---
Leaf Burning
I took this shot in my backyard. About a year back, I picked up a cheap Canon Rebel T3i and 75-300mm lens kit. This afternoon we had a neighbor throw out some old wood, so we grabbed it all and tested it out. I had the old boy scout friends over and we spent the rest of the night telling some scary ghost stories, cooking marshmallows and hot dogs and drinking some beers (and hard cider). Near the beginning of the fire i was able to grab this photo. The picture was shot at F/5 1/800 320 ISO at 79mm.
Brian Wegman
---
Gotta Light
Shot inside a cold car in Chicago. It was tough deciding whether to have this submission be in color or in black and white. In color, the bokeh is a mix of red's and yellows and there is a warm orange glow from the lighter flame. Your eyes are instantly drawn to the colors and what's creating them, while in black and white these are nothing more than shapes in different shades. Stripped of color, the image uses the bokeh and lighter flame in a way that helps create the "scene" rather being the scene.
Brandan Gajic
---
Sip
Fishing fire in the woods
Martinog Bradley
---
Burgers
I'd already planned to grill burgers for dinner when I read this week's contest. The great flames that swoop up when you flip a burger immediately came to mind. It took a few shots to get the timing right, but this one seemed to capture that sizzling moment.
Terry LaMantia
---
Fire pit
No description given.
Wade Browning
---
Candle
Canon EOS 1200D, 55- 250 mm lens. F/5.6. ISO 200
Udaya Bhat
---
Flame Snake
Canon EOS 1200D, 55- 250 mm lens. F/5. 1/60. ISO 100
Rekha Bhat
---
Hot Plate
Canon EOS 1200D. F/5.6. 1/30 sec. ISO 400
Praveen Bhat
---
Wood Burning Stove
I shot these stunning flames in an indoor wood-burning stove while trying to warm up from the brutal cold in western Maryland. Some cardboard had just been added to the fire, which really livened it up for a few seconds. This photo is not post-processed, aside from being cropped and resized. The beautiful colors, contrast, and lines are straight from the sensor.
I shot this with a Sony A6000 auto-focused with a Sony lens at 99mm, f/5.6, a 1/4000 sec shutter speed, and ISO 500.
Steve Nettnin
---
Smoky Cocktail
This shot captures the preparation required to create a cocktail that incorporates woodchip bitters. The charred wood is also pressed against the rim of the glass to enhance the smokiness of the beverage. The almost imperceptible imprint of repeated glass pressings on the wooden board is picked up and emulated by the flames creating a very interesting effect.
Zarif Taufiq
---
Marshmallow Roasting Fuel
Living in Southern California and the lack of wet weather we've had, I didn't think twice about a bonfire in my backyard. Thankfully the rain held off till the next day and I was able to capture some flame photos. This was my favorite because of the glowing blue embers AKA perfect marshmallow roasting fuel. The flames themselves are effortlessly dancing around the older log towards the back and eager to engage with the newly added in the foreground.
Kristin Erling
---
Burning Love
I was planning on doing this for the Valentines Day shooting challenge but I was sick last week so when the next challenge turned out to be flames, 2 birds 1 stone.
Christopher Scott Pau
---
Duck Oven
I'm overseeing the build out of a new Thai Restaurant here in Singapore and this week saw the first firing of our brand new Duck Oven. The submitted image is of the smoking woods being pre-burned and although I have some nice images of roasting ducks in the oven and of Chef turning the logs, the simple image of wood on the pre-burner hit the spot.
Nice reflectivity in the stainless steel worktop plus the smoke mingling with the deep background silver-grey flecked wall tiles created some delightful colour balance and texture.
Shot hand held (100/2.8) on my trusty EOS-M with a Canon 40mm 2.8 STM, this little beast is not half as bad as folk seem to want to make out.... certainly easier to heft around a fast moving kitchen than my wife's 1Ds3 !
Nigel Harper
---
A Smoke
Remembered this contest at the last minute so I did a real quick shoot on my computer desk as I was about to head out for a smoke for my first shooting challenge on Gizmodo. I used an old Samsonite tripod, a Nikon D3300. F/4, ISO400, 1/30th settings on a 35mm prime lens for this shot, and then added a vintage filter and vignette on it in Lightroom. Enjoy.
Anand Riyat
---
Cold Flame
I expected somebody to take a picture of a lit match and/or a candle, and I wanted to do something that wouldn't stand out, so I chose to take my gas-powered stove as the subject, hoping it would be unique enough. I turned out the lights and snapped a few photos, and then edited them with Paint.Net to give them a sort of 'cold' look. Taken with a Canon Rebel T1i and a Canon EF 50mm 1.8 II.
Immanuel Smith
---
Trails
No description given.
Giuseppe Baldi
---
"Do It Again, Please"
On a snowy and cold Saturday, I ventured to my friend Jon's house to capture him blowing fire. I found this challenge to be especially difficulty. I found it very hard to get the white balance correct, the picture in focus and all while trying to have a fast enough shutter to avoid using a high ISO.
This is the best shot I got of the light. Notice the light snow coming down that is almost dancing away from the fire. This picture was taken on a Canon 10D with a 50mm prime lens f1.8 1/30 ISO 800.
Shane Sosh
---
Fire Spinner
Our friends and I spin fire, so I figured a shot of one of them spinning poi might be a good choice for this. Photo was taken with a flash to capture some face and body detail.
Matthew DeVay
---
Jets
My natural gas furnace has a little window to check on the burners. It gives a peek into the burner flames.
The image was captured with a Nokia 635, with global corrections to contrast and brightness in Paint.net 4.05.
Jonas Demuro
---
24 Year Flame
This is a close-up shot of my families wood stove. It's been heating our home for the last 24 years and has definitely been working overtime throughout this cold Michigan winter. This is my first shooting challenge submission and I hope you enjoy! This was shot with a Pentax K3 using a 18-135mm lens @ 135mm, f/5.6, 1/250s, and ISO 1600.
Josh Joye
---
Fire Walk With Me
My friend had a birthday party with Twin Peaks motive. One of our friends came as Ronette Pulaski. Small candle flames were adding to slightly depressing mood. It was a great party.
Canon 70D, 1/80s, 2.8f, 800 ISO.
Adam Zupko
---
Camp Fire
Went on a photo excursion at lake Isabella, CA, Saturday evening hopping to get a good shot of the sunset/wildlife; when I came across a nice couple camping on the shoreline. They had a campfire going and I asked if I could take a few shots. I was shooting Manual hand held kneeling down in front of the fire getting pretty close. It was nice to warm up after waiting so long for the sunset.
Very minimal editing in post, increased shadows to bring out some detail there, and a small bump to vibrance and clarity. I also boosted the saturation of the blues in the top left to bring some contrast into the image. Finally I cropped the image to better frame the subject.
Richard Heller
---
Ghost Candles
Set up several candles on the table, one up front as the subject, and several others further back. Low fstop to make the rear candles out of focus. Nikon D600, 28-70 f2.8, Fire extinguisher and burn cream…
Nicholas Shirley
---
Extinguished
No description given.
Sean Bjork
---
It's freezing outside, but these images make me feel downright warm. Well, that, and the furnace...and the thick socks...and the laptop sitting on my lap. In fact, maybe these photos have nothing to do with my warmth at all.
Regardless, they're wonderful, and you'll find the big versions on flickr.