Food is good—great even—but it never lasts very long. Luckily, we have photography to immortalize those moments right before the gorgefest, when a burger is not a burger, but the token of a greater realized ideal: Satisfaction.
WINNER: The Sandwich
My wife and I eat vegan most of the time, but occasionally enjoy great cuts of meat (think Michael Pollen). This was a cheat after a pretty difficult week. A roast beef and provolone sandwich, complete with tomato, romaine lettuce, avocado and a spread of djion mustard, all between a whole grain ciabatta roll. I devoured the sandwich moments after this photo was taken. It was delicious. I took the photo with my Canon Rebel T2i (50mm, ISO 100, F/22 @ 1/200 seconds) connected by a 3" cord to a 580 ex mounted to sidelight the sandwich with a diffuser between. I tried to fill the shadows as best as possible by using a bathroom mirror as a reflector. The background was a roll of craft paper I stole from my toddler's art supplies. He ate all the chips I had sat aside to accompany the sandwich.
- Austin Dowd
Blueberry Coconut Cupcakes
I figured I'd give this whole cupcake thing a shot for the first time. Had some blueberries and coconut on hand, and everything turned out pretty good. Canon EOS 5D Mark II, EF 50mm f/1.4 USM, Taken @ f/3.2 ISO 100 1/50
- Courtney Evans
G/O Media may get a commission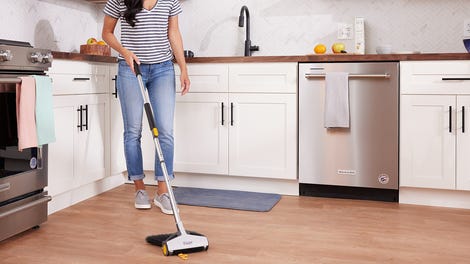 BOGO 50% Off
Flippr - BOGO 50% Off
Golden Wieners
Today's challenge helped me finish out the roll since I was at a loss for the last couple of snaps. This was taken on my Back Yard grill towards the end of the day (plenty of golden hour, baby!) on Velva RVP 50 (which saturated the hell out of the colors) with my new toy, a lensbaby composer pro. I'm still learning my way around with the lens, so this is a real experimental shot for me!
- Tony
Double Double Doppelgänger
This is my first entry into one of the shooting challenges, I've been watching them for years thinking I always wanted to enter one, I'm glad I decided on this being my first. Just my luck, reading your post made me very hungry. I went on to Serious Eats trying to find myself something to make when I stumbled upon the Double Double recipe clone from In-In-Out. It sounded too good to resist, so I decided to make it. I added a few extra things to the recipe like guacamole and bacon. Before I digging in, I took it outside to photograph it using the only lighting I had - the sun. I threw it into Photoshop after for some basic adjustments and here we are. Such a tasty burger too, shame it's gone now! Canon EOS Rebel T2i w/ Nikon AI 50mm, f/1.2, ISO 100, Shutter 1/200th
- Ryan Johnston
Kabobs & Marley
Had a great BBQ this weekend. Teriyaki chicken kabobs on the grill, Marley on the stereo. Canon T2i, Tamron 18-270, F/7
- Rob Hall
Christmas In July
My first entry in your photo contest, I'm a photography student from Holland and specializing in food-photography. Not just because I like food but simply because of the sheer posibilities you've got with food.
(and because it doesn't smell as bad or constantly walk away, like little kids) Anyways This shot was taken om my table top and believe it or not, all is edible (bit crunchy though) and it was just my second food shot I've ever taken. I made it with my beloved Nikon D700 accompanied by it's 24-70 f2.8 G lens <- really love that combination, just like my wife... But sometimes can't remember in which order. Nikon D700 24-70mm f2.8 G ED. 1/125 sec, f/5.6, 100 iso
- Theo Koops
Pizza Bianco e Nero
To take this picture of a home-made pizza I was forced to use my iPhone since my camera was off for repairs. I really enjoy cooking and photography and when I took my latest creation out of the oven I was instantly inspired to take a birds eye photo. After some tweaking in PS with black and white, mid-tone contrast and HDR toning I think I got the desired surrealistic effect. You can almost see a Moon like surface rather than a mozzarella and prosciutto topping.
- David Bello
Fish Brochetas
Mexican food porn this week, well... I'm not really sure if this is mexican only; those are fish brochetas: wooden stick with charcoaled tomatoes, fish, green and red peppers, tsurimi, chile serrano; all glossed with achiote oil. Add some odor herbs like tomillo and clavo to the charcoal to add scent to the brocheta without a flavor influence; try this with some really cold coronas and good friends, there you go, free recipe for a good weekend.
- Pancho Mejia
Russian Espresso Dolls
I decided to take a macro photo of espresso beans for this challenge. I shot this with my Canon T3i. Exposure of 1/6, F-2.8, ISO 200
- Tracy Miller
The Muffin Wins
So I guess this is "morning" food porn? This chocolate chip muffin beat a cupcake, pulled pork, sushi, corona beer bottle, cake and chocolate covered strawberries. Canon T2i, 100mm, f/2.8.
- Diego Jimenez
Tilapia With Béchamel Sauce
I read your blog entry at work, so I was at it to decide on creating a dish with a Western and Asian influence. I read a lot of online blogs on a summer grilled seafood look and came with this to stack a tilapia fish, squash (yellow and green) and portabella mushroom slices. And the final topping of a Béchamel sauce, in the sauce I swapped in Miso paste instead of cheese. A small piece of cilantro used as a garnish, and a dusting of seaweed powder on the base to wrap in the design on the plate. There was multiple ways I was interested in shooting this piece, one was a side view, but most of the shots that came out was too generic and common one finds on the internet. Even the 45' degree angle top down was too cliche. So I chose a minimalism style shot top down on a white plate.
- Penjo Chhimi
Great. Now I'm hungry. Full gallery below. The big shots are on flickr.