Cats. Dogs. The occasional lizard, pig or rock. These are your pets, Gizmodo readers. And for this week's Shooting Challenge, you photographed them brilliantly.
(Wallpaper-dimension photos are available on flickr.)
Lead Shot
I have a Canon Rebel EOS Xti DSLR camera. The story of the shot is a fun one. If you take a look at the photo you will notice that it is someone sitting on the toilet with their pants around their ankles….. that person is me. My new little puppy decided she wanted to rest inside my pants while I did my business in the loo. When I saw her rest he head on my waistband I whispered to my wife to get the camera. I set it up, set the timer, put the camera on the floor and snapped this shot of little Betty relaxing with her Dad in the toilet. She makes a little bed for herself in my pants every time I go to the toilet, she is one brave pup. I love this photo of our little Betty.
[Ed note: A world of no comment.]
-Alex Brooks
Sneak Attack
G/O Media may get a commission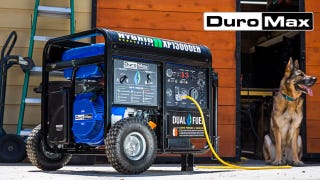 Black Friday Sale
DuroMax Generator Sale

Nikon D90, Nikon 35mm f/1.8 AF-S DX, 1/60, f4. So our tabby cat named Moxie absolutely loves her blue string. We've spent probably a hundred dollars on cat toys, but no, she loves this string more than anything. She pulled it out of one of my blue sweatshirts and has been playing with it ever since. In this case, she burrowed herself under our doormat to hide from her enemy/best friend poised in attack position.
[Ed note: For anyone who's attempted to get the cat peeking from under something while playing with something shot, you know Chris nailed this one, and the blue mirrored in the eyes just heigtens the whole effect.]
-Chris Allen
Stock Trader

Nikon D700, Nikon 24-70 2.8, Aperture priority, f 2.8, 1/30. Had my frenchy, Dakerr lay down on his favorite spot, and put my laptop in front of him. He got scared and ran off at first but eventually he got used to it after sniffing and licking it for a good 20 minutes. I put his paw on the keyboard and tried taking pictures laying in front of him but every time I tried to take his picture he'd look at the camera and not the screen. So I had a treat on my left hand waving it in front of him behind the screen and took pictures with my right.
[Ed note: Probably captured at the 24mm end of the lens, which adds a lot of depth/character to the shot.]
-David Jun
Kid Chameleon

This is Calcifer, our Veiled Chameleon. He's named after the character in Howl's Moving Castle. Due to his territorial nature, he can flatten his body like a satellite dish, rock back and forth while curling his tail in and out and hiss audibly if he thinks that you are approaching in an invasive manner to his space. He's nothing short of a mini dinosaur with the powerful claws and cannot be handled without leather gloves. He's 3.5 years old. In this photo I had taken him outside to our backyard for some natural rain drinking, but he was more interested in hating the camera instead. This is his angry face.
[Ed note: Color, texture, anger - all the necessary elements to art and pets are here.]
-Can Ergin
Tail on the Trail

We went on a quick hike this weekend at my wife's parent's house. We decided to take their dog, who is usually the laziest dog in the world. However when we got out onto the trails, she turned into a whole new animal! She would run up ahead and then wait for us to catch up. As soon as she would see us, she would dart ahead again. It was a lot of fun.
[Ed note: Any dog owner knows this view well.]
-Grant Magnuson
Blue Steel

Sasha is a four year old tortoise shell mix who was rescued from a college campus. Perhaps grateful for being taken off the streets, she is always willing to pose for the camera. This was taken with a Canon 5D with 100mm f/2.8 USM Macro at ISO 400, Shutter Priority mode at 1/160th second & f/2.8.
[Ed note: I thought I could make it through these critiques without resorting to baby talk, but it's becoming difwicult.]
-Wesley Duffee-Braun
Canine Ballet

Image of my dog Leo was taken at Pismo Beach with an iPhone 4 with a wide angle lego conversion. Edited some in PS Express for iPhone then finished off on computer.
[Ed note: Remarkable that a cellphone camera was quick enough to freeze the moment.]
-Nar Mihranyan
Dog At Is Sunset

I took my dog Suki to the beach the other day after work to try to get a shot of her for the challenge. It was overcast, and the sun had already gone below the horizon, however, so I had very little natural light to work with. I decided to try to mimic the look of the directional, golden light of a setting sun using an off-camera speedlight, placed about 20 or 30 ft from our position and gelled orange. I used a wide angle lens, got in close to Suki, and kept the camera low to the ground to give her a powerful presence in the frame while capturing a lot of environment around her. Suki has a very heroic and fearless spirit, which I think she conveyed well here by her confident stance and sharp gaze. Taken with a Nikon D300s + Tokina 11-16mm f/2.8 at 11mm f/5.6, 1/125 second ISO200.
[Ed note: Fantastic concept that, though you'd think could be esoteric, comes through in the shot pre-explanation.]
-Jonathan Fleming
Belle's Yearbook Photo

Canon T2i, Canon 50mm 1.8 Lens, 5.6 Aperture , Speed 1/1000, ISO 400, 1K light with chimera. All 3 images are were shot with the same settings, on a green screen. Just like a high school photo shoot. Treats were used to keep the dog focused. For her senior photo, Belle choose 'The Lasers' because thats what all the cool kids were doing. After all, its 1987, and lasers are radical.
[Ed note: Brilliant cropping seals the faux authenticity.]
-Jay Sansone
The Weight of Being

I shot this photo with a Nikon D40, ISO speed 1600, F-stop at 4.5, and shutterspeed at 1/25 sec. This is my bulldog, Dazie. She is a very friendly and well-behaved pet and you can often find her laying like she is in this photo (bulldogs tend to enjoy resting). She seems to have become very fond of the camera over the years and many times it almost feels like she poses for it. My technique was fairly simple. I laid down on the floor in directly in front of her and placed the camera on flat on the ground (to capture this precise face-to-face angle and for stabilization because of the low shutterspeed.
[Ed note: Bulldogs have such photogenic character.]
-Joseph Mikos
Pursuit of Happiness

Nikon D3000, 18-55mm Kit lens, ISO 1200 (I wanted some grain), Shutter speed 1/640. Every morning, my standard poodle Emmie takes a "victory lap" around the backyard that she kicks off with a giant leap over our flowerbed. I laid down in the grass, and gave my wife the thumbs up to let her out. I thought this shot really captured the excitement in her face.
[Ed note: Like a comet!]
-David G
Puppy Dog Eyes

Taken with a Canon Rebel T1i, 50mm f/1.8 lens, 1/200 sec exposure, f/1.8 (I used Lightroom to adjust the exposure up by +3), and 400 ISO. This is Benjamin, our beagle. He was lying down in our bedroom next to a window. I got on the ground as well to get the camera at his eye level, and pressed the shutter as soon as he looked in a different direction. I deliberately used a fast shutter thinking that an underexposure might be a bit more compelling and different, but ultimately decided to adjust the exposure as shown.
[Ed note: Of all the "puppy dog eyes" style shots, this was my fave.]
-David Choi
Wink

Canon 7D, Sigma 30mm f1.4, ISO 1000, 1/25, f 2.0. This is my cat Grace. She is 5 years old, and just a big mush. She loves to be close to my wife and I , so she is often found straddling the back cushion of the couch. This photo not only captures her favorite resting place, but more importantly her trademark wink, which she has been doing since she was a kitten.
[Ed note: Not only is the portrait wonderful, but the lines on the cushion and back wall seem to accentuate the effect.]
-Michael Berndt
WINNER - Fetched

This photo was taken on my Nikon D5000 of my dog Ollie (who is a 1 year old German Shorthaired Pointer for those who care) in a field down the road from me. It was a beautiful evening and inside the forest area, rays of light just shone through the trees creating a fantastic golden spectacle.
My dog was going mental, until eventually stumbling across a stick, he then looked up extremely proud and happy with his find and I just managed to take the snap (Raw and ISO 200 I think). I got home and edited some of the colouring on iPhoto to make it look as close to the real event as possible and all in all quite chuffed :)
[Ed note: A perfect portrait, backed by the perfect mise-en-scène. Wonderful photo.]
-Jordan Lebbern
Fantastic job by all in elevating the standard pet photo. And to those with a bit more time, look through the 7 galleries below. There are more than a few wonderful submissions that didn't make it onto our main page.
Gallery 1 (one page)

Gallery 2 (one page)

Gallery 3 (one page)

Gallery 4 (one page)

Gallery 5 (one page)

Gallery 6 (one page)

Gallery 7 (one page)

If you like Shooting Challenges, you may also like my new site: Life, Panoramic.. In the last few days, readers have submitted photos of Hong Kong, Pogradec and Ho Chi Minh.