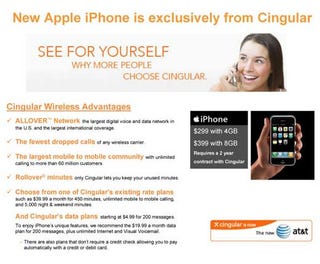 Who wants some probably BS iPhone rumors?! I know you do. Above is an ad that's probably fake for Cingular's iPhone plans. Seeing Cingular will be officially AT&T by the time the iPhone hits, this seems unlikely. Also, this thing barely qualifies as a Photoshop — put some effort in next time, guys. But hey, who are we to not pass it along to you to judge for yourself?
Here's what the tipster says the calling rates will be:
$39.99 a month for 450 minutes, unlimited mobile to mobile calling, and 5,000 night and weekend minutes. The data plans will start at $4.99 a month for 200 messages OR a $19.99 a month data plan for 200 messages plus unlimited Internet and Visual Voicemail.

And the rate plan just plain conflicts with Apple's official pricing of $599/$499 for the 8/4GB models, listing the same for $399/$299. What is more likely is that the source, a minor research firm, was just taking a simple survey. Someone can check and find out, likely, that they have absolutely nothing to do with Apple or Cingular. Use your noggin!
Yawn. I'm tired of the iPhone. Samsung, bring me that dual-slider touchscreen phone from Korea, will ya? That'll get me excited again.

iPhone Rate Card? [Chris at AppleiPhone Review]