Plenty of schools are back in session starting next week, but roughly 47,000 students in Detroit's public schools won't be able to turn on their water fountains. The city's public school district announced Wednesday it'd be shutting off drinking water in its 106 schools after tests showed high levels of lead and copper in drinking water at 16 out of 24 schools tested.
This doesn't mean that all the schools' drinking water contain threatening lead or copper levels, but the school district is playing it safe to protect the health of its students, according to Superintendent Nikolai Vitti.
"Although we have no evidence that there are elevated levels of copper or lead in our other schools where we are awaiting test results," he said in a statement. "[O]ut of an abundance of caution and concern for the safety of our students and employees, I am turning off all drinking water in our schools until a deeper and broader analysis can be conducted to determine the long-term solutions for all schools."
Water with high levels of copper can mess with someone's stomach, inducing vomiting and diarrhea. No level of lead exposure is safe, and families in Flint, Michigan, know what happens when lead infiltrates a water system. There's no indication that Detroit's water system has been compromised by copper or lead, which can lead to developmental and behavioral delays in children. As for the school's water? That's a different story.
The school district had to shut the water off at six schools earlier this summer after finding dangerous levels of lead and copper in its water fountains. That's what prompted this district-wide testing in the first place. Lead and copper levels were also high in 2016 when tests first began, so experts are blaming the school's old infrastructure, per the Washington Post. Until officials can solve the problem, students will be drinking bottled water.
G/O Media may get a commission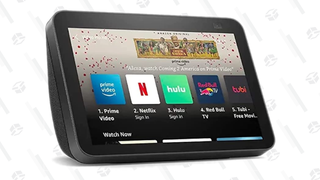 Lead in school drinking systems isn't new. In fact, millions of students are at risk for lead exposure from school water, according to a report the Government Accountability Office (GAO) released earlier this year. No federal law requires schools to test waters. States handle that responsibility on an individual level—with at least eight requiring schools to test their drinking water, per the GAO. Technically, the Environmental Protection Agency should be pushing more states along on that front.
As that agency continues to twiddle its thumbs, the children of Detroit will return to school with their sense of normalcy fading away.