Most of the time, we want our photos perfectly in-focus. We spend thousands on better lenses and millions in R&D to pull off the feat. But some of the time? This week's Shooting Challenge shows us softer can be better.
Winner - Bay Bridge Hack
When I saw this week's shooting challenge I got quite excited knowing I had the perfect lens for soft focus shots. Last year sometime I was trying to modify an old lens into a hacked together tilt shift. This didn't really work too well but the lens I pulled apart to get at the main element, ended up working perfect for soft focus and had fantastic effects at night or anywhere there are point sources of light. So when I spotted this week's challenge I grabbed my camera and hacked lens, running out the door to hit the Embarcadero and get a few shots of the bay bridge. I shot in raw format with the aperture set at various settings from 1.8 to 5.6, testing levels of blur, found what I wanted and cranked the ISO down to 100 to capture a less grainy image. Post processing was minimal, slight crop to straighten, minor exposure adjustments, convert from RAW to Jpeg and that's it. The lens made it dead simple. I also included a bonus image from my walk over to where I got the shot. Enjoy! Camera: Olympus E-410 DSLR (manual settings), Lens: Vivitar 49MM (modified, adapted to Four Thirds mount), ISO: 100, 2.5sec exposure. f/1.8
-Trevor Johnson
G/O Media may get a commission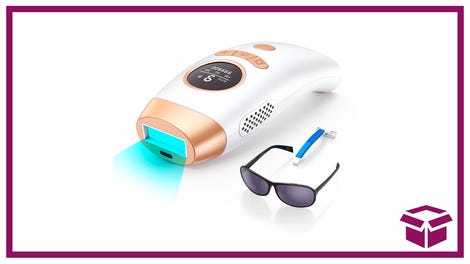 58% Off + Coupon
IPL Hair Removal Device
Tree
My name is Amber Harvey. I'm 21 from Bonner Springs, Kansas. I got up early one morning last week and the weather here has been kind of crazy, warm one day, cold the next. So we had fog one morning when I got up for work. I decided it was the perfect day to go and shoot, and for these type of pictures I like using film. The sun was already coming in through the fog beautifully and I got a ton of GREAT pictures using this camera and my Canon 20D. But this picture just stuck with me. The beautiful fog, the way the sun was right behind the tree, and the leading line of the trunk, just made me stop at this picture. I only had to use a little bit of Photoshop to enhance the "Soft Focus" aspect because of the natural fog. I used Classical Soft Focus filter in Color Efex Pro 3.0 Complete by Nikkor. Camera: Canon EOS Rebel S, Lens: Canon Zoom EF 35-80mm 1:4-5.6
Settings: 125 ISO, F-Stop 5.6
-Amber Harvey
New Prescription
I think I need a new prescription! Canon T2i, 50mm lens, f/1.4. Photo adjusted using Adobe Photoshop CS5 (i.e., Gaussian Blur on selected area).
-Diego Jimenez.
<
Neon Glow
Upon the recommendation of a close friend, I scouted various locations in Ballard(Seattle) looking for something with lights, for a nice diffused glow and after shooting various subjects for about an hour, this was the last subject on my list. It was so Christmasy and it just felt right. I didn't want to digitally blur the image in post production and none of the methods recommended online (petroleum jelly on a filter, topper ware cover, stockings etc) were appealing. As I was thinking of a work around, I remembered my wife complaining about problems focusing due to moisture on the lens while shooting near a waterfall. So I just did some test shots by breathing on the lens. It worked. Although, the stockings over the lens trick works well enough, if you don't mind looking goofy. Canon 5D + Canon EF 24-105mm f/4 L, ISO 320, f/4, 1/10seconds, 40mm focal length
-Pejor Ngudup
Hot Chocolate
I'd been meaning to try making home made marshmallows for the longest time. I took this photo while my daughter was sampling the first batch and by the look of her face, I took it that she loved the result. I took this with my Rebel T2i and then used the soft focus on Picasa. Melts your heart on a cold cold winter's day!
-Georgina Lawrence
Ginger
Making sure we take advantage & enjoy our random days of warm weather in Boulder, I took this shot at the dog park around 4pm, just before the sun dropped below the foothills. I was given a set of several old lens filters a few weeks ago, my always patient model, Ginger, was happy to let me test a few out. Equipment: 1978 Canon AE-1 SLR, 50mm Prime Canon Lens w/Cokin Warming Spot Focus Filter, Kodak Ektar 100 Film, f/1.8, 1/30 sec. Developed at Mike's Camera in Boulder, CO.
-Teryn Wilkes
Abandoned Station
The cheap and awfully fragile feeling 50 mm. from Canon can actually deliver quite sharp results. But sometimes I really enjoy to make it look cheap! This shoot is from the underground in Copenhagen. Noerreport Station is the busiest station in Denmark, always crowded and congested. But I wanted to show how it looks inhabited and desolate. Even the trains looks unmanned :) Camera: Canon 5D Mark II, Canon 50 mm. F/1.8 (The Plastic Fantastic), f/1.8, 1/500, ISO: 1000
-Bo Andersen
Morning at the Beach
I went to the beach this morning to shoot the sunrise and had a great time trying a few different things out. The Fort Lauderdale weather was perfect and I really enjoyed being out there to greet the new day. I tried several long exposures and angles and lenses but settled on this one for the shooting challenge. I hope it makes it in to the mix. The camera is a Canon 7D with a 15mm fisheye lens and I set the exposure to a half a second to get a bit of a blur in the waves. I later applied more of a soft focus look in PS and lightroom. f/14, ISO:100
-Jim Zielinski
Sea Cow
Decided to go to Ireland for the week after driving with our hair on fire to get home. Took this picture on the west coast of Ireland about 25 miles north of the Cliffs of Moher. This cute guy was a car width from the oceans edge. We stopped and he started coming closer and closer to us so I got a great head shot. Shot with my traveling Canon EOS Kiss Digital X, Lens-EF-S 18-55@34mm, ISO-100, Aperture-f/4.5, Shutter Speed-1/50s
-Chris Riggleman
I loved seeing the digital methods vs the analog methods to achieve soft focus, and all of the various manifestations of the technique. Most of the time, I'm no snob. I think digital makes jobs quicker and easier - effects are far more attainable for those of us with little experience. But I've yet to see a digital filter that matches the simplest effect of a stocking being pulled over a lens, or the looks people will give you as drape your wife's panty hose from your overpriced dSLR during Thanksgiving dinner... Galleries below, wallpapers on flickr.
Mark Wilson is the founder of Philanthroper, a site that lets you donate $1-$10 to a new nonprofit every day.