In October, Dubai's massive new airport—World Central Airport Dubai—cleared its first commercial flight. It's expected to become the world's busiest airport, but, with plenty of other contenders quickly taking shape in Asia and the Middle East, it's going to have some stiff competition. Welcome to the mega-airport boom.
For the next few days, you're going to notice Gizmodo focusing on airplanes, airports, and all things air transit. To kick it off, we've rounded up six mega-airports that are either planned or under construction across the world. These structures are destined to become forerunners for a new type of airport: Usually situated in free economic zones, some even rival the size of the cities they serve. In many cases, they're the city's second (or even third) international airport. They are harbingers of urban growth so rapid that urban and transit planners are struggling to keep up with solutions.
As you fly through your own regional airport this week, whether for Thanksgiving or for business, take a moment to ponder the two- or three-runway terminal and consider, for a second, that the world's first nine-runway airport is currently being planned in China.
---
G/O Media may get a commission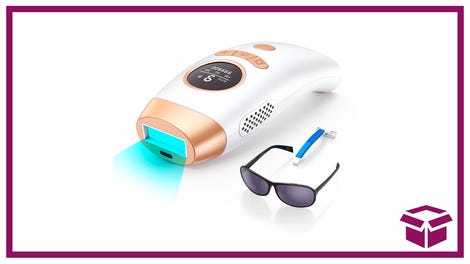 58% Off + Coupon
IPL Hair Removal Device
Al Maktoum International Airport
Also known as Dubai World Central, this massive, $32 billion structure sent its first commercial jet into the air in late October. The project isn't scheduled for full completion until 2027—ultimately, it's expected to shuttle 160 million passengers through Dubai every year—making it, by far, the busiest airport on earth.
Some question whether the airport can possibly live up to those kinds of numbers—but the airport it's designed to replace, Dubai International, is currently climbing the list of the world's busiest at a break-neck speed. So as long as demand doesn't slow, there's reason to believe it's a necessary development. [Image: Dubai Metro]
---
Beijing Daxing International Airport
Beijing is scrambling to accommodate the massive increase in air travel since the 1990s—and Daxing, a rural area roughly 30 miles outside of the city, will become its third metropolitan airport. As you can see above, the planned location above is still rural fields, but the $11 billion project is expected to finish up around 2018.
According to The Guardian, Daxing will be built to serve anywhere from 120 to 200 million fliers a year on nine runways—three more than the current world title holder, Denver International. It will outsize Heathrow and JFK, and will shuttle passengers to and from Beijing on high-speed rail in less than 30 minutes.
---
Hamad International Airport
Designed to replace Doha's current airport, but delayed due to safety concerns and construction issues, Hamad is now set to open in April of 2014. In terms of scale, officials say that HIA could eventual serve up to 93 million passengers each year. According to Airport Technology, the 9,000-acre HIA will be two thirds the size of the city of Doha itself, and will have an "oasis theme," with a curving roofline and plantings watered automatically with recycled greywater.
Hamad—along with Dubai and Abu Dhabi's new airports—are part of a new air travel boom being driven by the "MEB3," or Middle East Big 3, which includes Emirates, Etihad and Qatar Airways.
---
Abu Dhabi Midfield Terminal
This massive building—destined to become the biggest structure in the UAE capital—is just an overflow project to handle the rapid increase in air travel through the country thanks to the MEB3. It's destined to increase the current airports annual passenger count—from 12 million—to anywhere from 20 to 40 million.
As Gizmodo mentioned earlier this month, the gigantic construction site is currently host to roughly 12,000 workers at any given moment, engaged in a race to capture more airline contracts as competing airports in Dubai and Doha rise alongside Midfield.
---
Bao'an International Terminal 3
Bao'an plays a pivotal role in the Pearl River Delta: It serves both Shenzhen and Hong Kong, via a connecting ferry. Terminal 3 is an expansion project designed by the Italian architect Massimiliano Fuksas. The centerpiece of the expansion is a new runway, which is built on a 108,000-foot piece of land reclaimed from the River Delta.
---
Incheon International Airport
Incheon isn't exactly new: South Korea's largest airport opened back in 2001, while its Samoo-designed transportation center opened in 2008. But it's relevant, because it serves as a model for many of the new projects above. Besides priding itself on its extremely advanced baggage handling systems and transit infrastructure, Incheon boasts amenities like a Museum of Korean Culture, movie theaters, a casino, and more—in other words, it's a small city, which is exactly the idea behind many of the other new "free economic zone" airports on this list.
In fact, because so many medical tourists fly through Incheon, a developer has built a nine-story hospital directly adjacent to the airport. Theoretically, you could fly in for your procedure, load up on culture, shopping, and food, and never even leave the airport itself.
---
It's one of the busiest travel weeks of the year, so what better time to take a closer look how we get where we're going—and how we could be doing it better. Check out more of Gizmodo's Air Travel Week posts here.