The Magazine Of Fantasy & Science Fiction has been at the forefront of genre short fiction for sixty years. And current editor Gordon Van Gelder had the unenviable task of choosing just 23 stories to represent those six decades.
The result is The Very Best of Fantasy & Science Fiction: Sixtieth Anniversary Anthology, out now from Tachyon Publications. The title pretty much says it all.
This collection starts of with three classics that could be in that perfect season of The Twilight Zone that the ghost of Rod Serling only wishes he produced. There's "Of Time and Third Avenue" by Alfred Bester in which he uses one of his favorite themes, that getting your favorite wish (knowing the future, reading minds, or having your perfect lover) is not the great idea you thought it was. I prefer Bester's "Fondly Fahrenheit" which appeared in F&SF in 1954. A brilliantly mad thrill ride of imagination; perhaps the old-school hipster jazzbeaux language seemed too dated to make Van Gelder's cut but what a trip, "All reet, all reet!"
Ray Bradbury, meanwhile, takes us to a colony on a perpetually rainy Venus in "All Summer in a Day". Here he once again makes a perfect blend out of the nostalgia and utter suckitude of childhood. Shirley Jackson's "One Ordinary Day With Peanuts" is a perfectly charming slice of urban life and a glimpse of the secret method by which the world might actually work. Jackson could be either howlingly funny or deeply disturbing as in her quintessential ghost story The Haunting of Hill House. She is best known for "The Lottery", which produced furious controversy after its first appearance and is now often included in many school's reading lists.
Another story that even non-readers will remember from class is "Flowers for Algernon" by Daniel Keyes. This is F&SF's most popular story of all time. I dare you to keep from choking up at the brief flowering of a genius, and his tragic end. Too damn sad? You can take a refreshing plunge into goofiness with "A Touch of Strange" by Theodore Sturgeon, about the blossoming of a nerd romance.
G/O Media may get a commission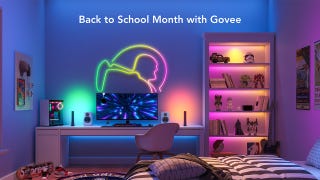 Back to School
Back to School Month with Govee Sale
There are a lot of old favorites here. I'm so envious of those of you who might be reading some of these for the first time. I was also surprised how fresh and stimulating these stories are, after years of repeated reading. Have I gained new perspective over the decades or is it just Damn Good Writing?
Try and remember where you were when you first encountered Kurt Vonnegut's superman "Harrison Bergeron" and his last stand against a tyranny of the mediocre. Cranky hallucinogenic rambling or poignant universal eulogy? You get both and a whole lot more in "The Deathbird" by Harlan Ellison®, dog lover. I read "The Women Men Don't See" by James Tiptree, Jr. with a greater appreciation than I did as a teen. It starts off as a tropical Hemingway trek that turns into two people's desperate escape from alien beings. This insightful story left me appropriately uncomfortable. That James, what a nutty guy.
Most of these tales reveal an entire self-contained world in a dozen or so pages. Neil Gaiman shows us a glimpse of eternity in just under three with "Other People". Some short stories can be a gateway to an author's larger universe. "Solitude" by Ursula K. Le Guin is a story of anthropology and family heartbreak on a planet of the Ekumen. This is the same galactic setting as The Left Hand of Darkness and The Dispossessed. When the man in black fled across the desert, Stephen King's "Gunslinger" followed him for the first time across the pages of F&SF. That story is here, as is "Two Hearts", the coda to Peter S. Beagle's beloved The Last Unicorn.
Some Hard SF purists might dismiss many of these stories, and mores the pity. You won't find much detailed technical jargon, or clear-cut heroes and villains who take on the universe as a problem to be solved. There are many stories here that explore the impact of science on society, such as Damon Knight's "I See You". He posits a miraculous technology available to every household that allows anyone to look up anything in history — and which means the loss of privacy forever. Like that could ever happen. In "macs", Terry Bisson presents a gruesome combination of cloning and victims' rights in a documentary fashion. To the unprepared, Bisson's technique of pure unattributed dialogue— without any description of setting or action,— can be a bit jarring, but he does it better than anyone else I've read and produces a very intimate effect. (Look for that internet darling, "They're Made of Meat" or a personal fave of mine, "Press Ann").
Many of these offerings head off to the vaguely-defined zone of Fantasy but not in any predictable elfy-welfy manner. We could toss around terms like Surrealism or Magic Realisim, or just sit back and enjoy the finely-crafted enigmas and wonders. Michael Swanwick presents a society with spaceships and virtual immortality living on "Mother Grasshopper", a planet-sized insect where disease is a precious gift. Plagues also figure in "The Dark" by Karen Joy Fowler, as do the Tunnel Rats of the Vietnam War and reports by campers of mysterious bipeds in the woods.
The final piece in this anthology is by the brilliant Ted Chiang, who will never, ever write enough stories to satisfy me. "The Merchant and the Alchemist's Gate" uses that classic science fiction convention, the time machine, in the nested stories style of Scheherezade's fabled One Thousand and One Nights. Chiang weaves deeply moving threads of shifting fortune, guilt, and repentance in a very clever and rational approach to time-travel all through the lens of Muslim faith. Just beautiful.
This is an ideal collection for someone who wants to start reading more SF, or for us grizzled old bibliophiles who would like to have some favorite stories in one convenient trade paperback. I was repeatedly blown away by the impact such short pieces, some quite familiar to me, still had on me. Half an hour's reading, and I spent the next day or so catching myself staring off into space muttering, "Oh wow."
We've all been discussing the apparent decline in short fiction lately. Recently, at a reading and panel discussion, author Marta Randall decried the lack oh venues for short stories. She noted that so many new writers go directly for the"huge sagging trilogies" rather than learning how to knock our socks off in a dozen pages. The Publishing industry is all about the 600 pp doorstop, and why? Because that's what readers think they want. "I'm not going to fork over US$7.99 for something slim I can finish in an afternoon," we say,"I want more bang for my buck, more meat for my moola!" But are we really getting the best deal? Ms. Randall insists that more craft and talent go into a really good short story than some epic pot-boiler plumped up with needless exposition and obsessive description. They say this is the twilight for the print periodicals like The Magazine of Fantasy & Science. Everyone is very excited by the possibilities this new-fangled "internet" might provide, but no one really seems to have a clear picture yet for a viable model for how writers will be compensated fairly. Yes, writers should get paid for their work, that's why it's called work.
I hope all of you will continue support short story writing. Pick up magazines and anthologies like this one or quarterly independent 'zines such as Electric Velocipede orLady Churchill's Rosebud Wristlet. The rise of super short "flash fiction", such as that in the upcoming anthology Last Drink Bird Head looks interesting. Strange Horizons is a great site to read new short fiction, poetry and articles every week. I'm still deeply mired in dead tree stuff, so all this is unexplored territory. Please feel free to share with us in the comments your favorite current short story authors and professional venues for this important and vital form of speculative fiction.
Here is the complete Table of Contents of The Very Best of Fantasy & Science Fiction: Sixtieth Anniversary Anthology.:
Alfred Bester "Of Time and Third Avenue"
Ray Bradbury "All Summer in a Day"
Shirley Jackson "One Ordinary Day With Peanuts"
Theodore Sturgeon "A Touch of Strange
William Tenn "Eastward Ho!"
Daniel Keyes "Flowers for Algernon"
Kurt Vonnegut "Harrison Bergeron"
Roger Zelazny "This Moment of the Storm"
Philip K. Dick "The Electric Ant"
Harlan Ellison® "The Deathbird"
James Tiptree, Jr. "The Women Men Don't See"
Damon Knight "I See You"
Stephen King "The Gunslinger"
Karen Joy Fowler "The Dark"
John Kessel "Buffalo"
Ursula K. Le Guin "Solitude"
Michael Swanwick "Mother Grasshopper"
Terry Bisson "macs"
Jeffery Ford "Creation"
Neil Gaiman "Other People"
Peter S. Beagle "Two Hearts"
M. Rickert "Journey into the Kingdom"
Ted Chiang "The Merchant and the Alchemist's Gate"
The Very Best of Fantasy & Science Fiction: Sixtieth Anniversary Anthology.
may be purchased here , direct from the publisher, or from your local independent bookseller.
Commenter Grey_Area is known to many short fiction authors as Chris Hsiang. He always looks up to tall fiction authors because, well, he has to.