Even if you're chock full of Christmas spirit, it doesn't make putting up holiday decorations any easier. Particularly since you'll just have to tear them all down in a month.
So if you'd rather spend the next few weeks cozied up next to a warm fire than hanging ornaments and tinsel, here are seven tools that will still let you decorate and set a festive mood, with a minimal amount of effort.
There's nothing like a wreath on your front door to let visitors know you embrace the holiday spirit. But the traditional pine variety sheds needles everywhere, and are generally a nuisance to pack away come January.
Not this inflatable alternative. With just a couple of deep breaths it instantly becomes a festive door decoration complete with pine needle and ornament graphics, and even a 3D red bow. I'm not sure how inflated it will remain when temperatures drop below freezing, but when the holidays are over I guarantee it will be the easiest decoration to take down and stash in the attic. $18
G/O Media may get a commission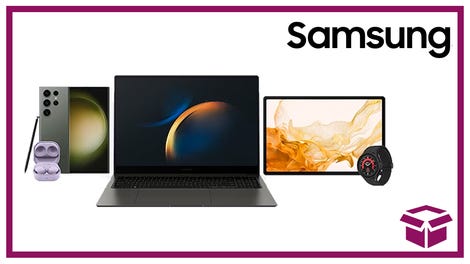 24 hour deals
Discover Samsung - Daily Deal
There's nothing lasers can't improve, including the holidays. While your neighbor might have spent the entire month of November hanging lights and setting up animatronic figures, you can easily trump their efforts by switching on this festive animated laser show.
Setup is as easy as jamming the projector in your front lawn and pointing it at your house. At the push of a button a thirty minute laser and Christmas carol extravaganza will wow everyone on your street, and since it also includes animations for birthdays and Halloween, you can leave it up all year long so it's ready for any occasion. $300
Nothing says "I'm too lazy to properly decorate" like the myriad of inflatable ornaments you can get for your front lawn. Even when it towers two stories over the unlit bushes and trees on your property, this monstrous reindeer still screams "meh!"
It will probably take a bit of effort to drag this thing in and out of storage every year, but once it's got enough space to stretch out an included blower fan will inflate it in just five minutes. It's tall enough for most guests to walk under serving as a whimsical gateway to your home, but I'd probably just keep it positioned over my car each night to help keep the snow off. $350
The LiteLocker unfortunately requires a bit of effort the first time you install it on your home, but come the following year you'll be glad you did. It's a clever system that attaches to the underside of your gutters, providing a place for Christmas lights to hide once December 25th has come and gone.
After installation, decorating your home every year simply involves flipping down a hinged panel which reveals your lights, already installed, wired, and protected from the elements. You may have to swap a bulb or two, but that's a far cry from having to spend all of November untangling strings of lights. $70 per 24 feet
As lazy as I am, even I'm not bah-humbug enough to skip putting up a Christmas tree. But I recommend avoiding the real variety which are like a pine sap-covered fly trap, and those artificial trees which are more complicated than assembling an Erector set.
This pop-up Christmas tree from Thomas Kinkade packs flatter than an Ikea desk, but also comes pre-decorated and pre-lit with ribbons and ornaments. So once you've stuck a metal support pole in the middle, setting it up is as easy as unfurling a giant Slinky. $200
If there's ever a Nobel Prize given for innovations in holiday decorating, it would certainly go to the person who invented net lighting. Remember how easy it was to make your bed as a kid? You basically just threw the sheet out and however it landed, your bed was made. Well that's the exact same idea here.
As you can see in the product shot, aim and accuracy are not needed when it comes to using net lights. Like a fisherman hoping to catch enough shrubbery to feed their family, you just need to give it a toss and no matter how it lands, it will still look festive as people drive by your home. $63 for 180 lights
You put any product in a can and it immediately ups the convenience factor of using said product by a hundred fold. And in offices and storefronts around the world, there is no more convenient decorating tool than a spray can of fake snow.
Need a festive window display in a hurry? Just give it a blast around the edges and you've got a winter wonderland in just seconds. Is the break room bulletin board lacking a certain something this time of year? A few quirts with a can of fake snow and people will be enraptured by the paper snowflakes the interns made. Sure, there's questionable health risks as some of that faux snow will inevitably end up in your lungs, but it can't be any worse than what scented candles are doing to your insides right? $7
Photo: Associated Press/Charlie Riedel