It's no mystery that technology developed to fight wars comes in handy during peacetime. From duct tape to the internet, some of the most important pieces of modern technology were developed by the military. Badass vehicles are no exception.
All kinds of vehicles, both big and small—but mostly big—make their way back home after carrying troops around conflict zones. They go not to the junkyard, but out onto the streets of civilian life. Naturally, many end up in the hands of police forces and fire departments, but we've also seen military vehicles repurposed for everything from tourism to rap videos.
And you know what tends to be the first thing these vehicles get once they're out of the service? That's right. They get a new paint job.
---
DUKW (a.k.a. The Duck)
G/O Media may get a commission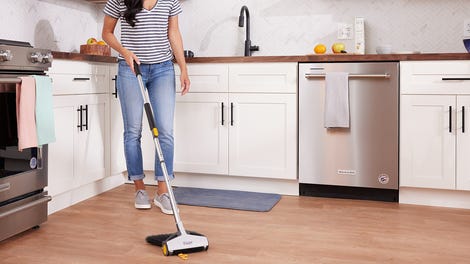 BOGO 50% Off
Flippr - BOGO 50% Off
Anybody who's been to Boston surely recognizes this ugly creature. Colloquially known as the Duck, the DUKW was originally built by the General Motors Corporation (GMC) during World War II as an amphibious gear and personnel carrier. The DUKW was designed by yacht maker Sparkman and Stephens with a straight-six GMC engine, six wheels, a watertight hull, and a propeller. After being used all over the world in wartime—including to storm the beaches of Normandy on D-Day—the DUKW found a new home in U.S. cities as a tour vehicle. The first "duck tours" started in Wisconsin in 1946 and have now become tourist attractions in cities from Singapore to San Francisco.
---
HMMWV (a.k.a. Humvee)
After decades of soldiers driving around in Jeeps, the military designed and built the High Mobility Multipurpose Wheeled Vehicle (HMMWV) after the Lamborghini Cheetah failed to make the cut. First in service in 1984, the AM General-manufactured Humvee comes in various models for various uses—from ambulances to missile launchers—and can weigh as much as 3 tons. After the vehicle saw lots of action during Operation Desert Storm, a fully armored model, the M1114, went into production in 1996.
The Humvee is driven by armies all over the world, and perhaps most famously, by civilians with a "small man" complex. (Ira Rennert, who spearheaded Hummer's rise under AM General, also owns the largest private residence in the United States). AM General began selling the civilian Hummer model in 1992, though the brand folded in 2009 and sold to GASP, a Chinese company. Nevertheless, the Humvee is still one of the fiercest gas guzzlers on the road, and it's also tremendously handy for folks who need to do some heavy-lifting, like airports.
---
MRAP
The Mine-Resistant Ambush Protected vehicle is a real marvel of modern warfare, but it's more a category than a specific model. Manufactured by various vendors, these beasts weight in at 14 tons or more, and they cost upward of half a million dollars each. As the name implies, MRAPs are designed to survive mine and IED explosions thanks to a "V"-shaped hull. (The International MaxxPro MRAP remains one of the most popular models.)
After thousands were built for the wars in Iraq and Afghanistan, countless MRAPs made their way back to the United States, where everyone from local police departments to the FBI now uses them for special ops. Even Ohio State University as its own MRAP now. Who says the police aren't getting more militarized?
---
Lenco BearCat
Lenco Industries started making the BearCat (an acronym for Ballistic Engineered Armored Response Counter Attack Truck) in 2001, and it's now used by militaries and police forces all over the world. While various models are used by the Army, Air Force, and Navy, the BearCat is a S.W.A.T. team favorite thanks to its life-saving armor and relative agility.
That said, basically everybody has one of these things: the NSA, the ATF, the U.S. Marshalls, and police departments from New York to Los Angeles and everyone in between. They're even Jay Leno-approved.
---
Oshkosh P-19 ARFF
Oshkosh makes and manufactures a range of Airport Rescue and Fire Fighting (ARFF) vehicles for both civilian and military use. As its done for three decades, the U.S. Marine Corps ordered a fresh batch of the Oshkosh P-19s to replace its existing fleet of ARFF vehicles earlier this year.
Many of the retired trucks will end up on airport runways across the country where the front- and rear-mounted water cannons help firefighters put out blazes on airplanes. Similar models, like the Oshkosh P-15 (pictured above) and the Oshkosh Striker, serve the same purpose, while modified versions like this tanker do other airport jobs.
---
Grumman HU-16 Albatross
Ever watch TailSpin, the 90s Disney series starring characters from The Jungle Book? Well, this is the flying boat that the show's main character flies around on his many adventures. While the show's model is actually a fictitious composite of a Grumman HU-16 Albatross and a similar cargo plane, it serves as a terrific example of the mid-century amphibious aircraft. (The Martin JRM Mars Flying Boat is another good example.)
These sturdy planes have proven to be excellent search-and-rescue vehicles thanks to their size and ability to land on either land or water. First championed by the Air Force, Navy, and Coast Guard, the Albatross is now a popular way to zip around the Pacific Rim.
---
Sikorsky SH-3 Sea King
If you ever get lost in the ocean, chances are a Sikorsky SH-3 Sea King or one of its variants, the S-61L or S-61N, is going to come looking for you. Like winged flying boats, these choppers can land on water and solid ground both, including aircraft carriers, making them tremendously versatile. When they were first built in the early 1960s, the Sea King line was also one of the fastest helicopters in the world. They are so trusted, they have even served as Marine One, flying the president around.
Now, repurposed military choppers and civilian models are used for search-and-rescue missions as well as very spacious private helicopters. If all else fails, they make excellent house boats.
---