Star Wars Celebration Europe is over and while we didn't get a title for Episode VIII like we hoped, we still learned a few things about the film from writer/director Rian Johnson. It's not much—Disney is clearly playing all things Star Wars incredibly close to the vest—but it does offer a few clues to what the film might be.


1) Production started while Episode VII was still being made.
Because the turnaround for the movies is so fast, Johnson was working on Episode VIII long before anyone saw VII. So while VIII is beholden to what happens in VII, Johnson got that information not from the finished movie, but the script and the dallies. Additionally, with VIII mere days away from completion, director Colin Trevorrow is well into preparation for Episode IX.
2) These are the films that inspired Episode VIII.
Before production began, Rian made some of the Lucasfilm staff watch a series of movies to give them an idea of his vision for the movie, including the tone. On the list were 12 O'clock High, Bridge of the River Kwai, Three Outlaw Samurai, and Gunga Din. Johnson says that 12 O'Clock High in particular matches the feel he's going for in the film
G/O Media may get a commission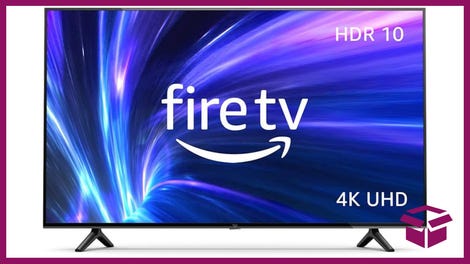 42% Off
Amazon Fire TV 50" 4K Smart TV
3) VIII begins right where VII ended.
We're heard this before, but Johnson confirmed that Episode VIII will break with Star Wars tradition and start right where Episode VII ends, with Rey finally finding Luke, and handing him his father's lightsaber. When they shot the following moments, Johnson and the actors had no idea how iconic that moment in The Force Awakens would become. If he had, he said he would've been even more nervous. to film the follow-up to it.
4) Episode VIII goes deeper into the characters.
Though Episode VII was a rousing adventure, Johnson said the second film "out of necessity" is where we are "zooming in on the characters. Getting to the heart of them, challenging them, and pushing them deeper." Seeing as The Empire Strikes Back did this after the adventure of A New Hope, this makes quite a lot of sense.

5) There are still plenty of practical effects.
"The amount of sets we've built for this movie has been outrageous," Johnson said. For example, they built lots of exterior sets of ships inside on stages to get dynamic, more controlled, spaceship photography.
6) Rian Johnson was almost too much of a fan to direct the film.
Johnson grew up as a Star Wars fan and one of his earliest memories is seeing the film. So, when he got on set with iconic characters like Luke Skywalker, the droids, Chewbacca, and Princess Leia, he was almost overcome with nostalgia. "You have nostalgia but you have to get beyond it," he said, in order to make "a story that feels alive right now."
7) Here's who we know will cameo in Episode VII.
Rogue One director Gareth Edwards is in Episode VIII as an undisclosed character, as all of the new Star Wars directors are having fun with each other's movies. Rian Johnson and his producer Ram Bergman are also in Rogue One as Death Star gunners. Meanwhile, Phil Lord and Chris Miller also tried to cameo in Rogue One, but had to leave the set before filming because Miller had an appointment.