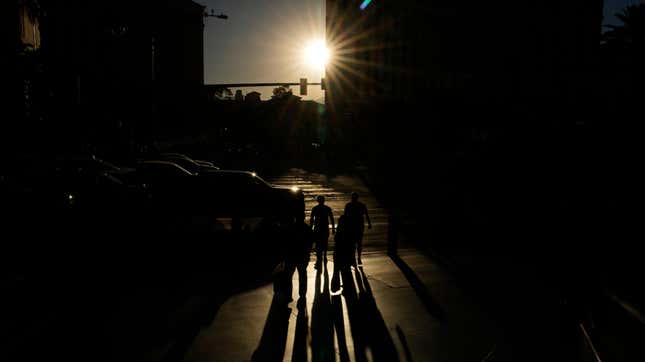 Americans throughout the U.S. have woken up today to sweltering heat as more than 93 million people in the country are currently under excessive heat warnings and heat advisories, the National Weather Service (NWS) wrote in today's alert.
How to Know If the Heat Is Making You Sick
"Friday will feature some record heat in parts of the Southwest, but record-breaking heat expands even more throughout the region on Saturday," the alert said. "Daytime highs by Saturday will range between 105-115F from the Great Valley of CA to the Desert Southwest. Some parts of the desert region of southern CA, southern NV, and southern AZ could see daytime highs top 120F."
Phoenix could see temperatures as high as 117 degrees Fahrenheit (47 Celsius) today, according to the city's NWS station. Tucson could see temperatures as high as 107 degrees Fahrenheit (41.6 Celsius). NWS stations in the state have warned that though it is supposed to be hot in July, widespread heat alerts and warnings are in place because these temperatures are hotter than average.
"'It's the desert, of course it's hot'-This is a DANGEROUS mindset! This heatwave is NOT typical desert heat due to its long duration, extreme daytime temperatures, & warm nights," the Las Vegas NWS station tweeted this morning. "Everyone needs to take this heat seriously, including those who live in the desert."
Texas residents are also facing yet another day of oppressive heat. Temperatures could be as high as 101 degrees Fahrenheit (38 Celsius) with heat indices above 105, according to Houston's NWS station. Similar temperatures are expected this Saturday and Sunday too. The Austin and San Antonio metropolitan areas are both expected to see highs above 100 degrees Fahrenheit (37.7 Celsius).
"Above average heat rolls on with sunny skies expected each afternoon. All of South-Central Texas remains under either an Excessive Heat Warning or Heat Advisory today," the Austin NWS station tweeted today. "Heat headlines will likely persist into next week as an elevated risk for heat-related illness continues."
Cities throughout Southern Florida, including Miami, Fort Lauderdale, and West Palm Beach, are also baking under heat advisories and warnings. All of those locations could see heat indices above 100 degrees Fahrenheit today.
And the heat is going to stick around for many of the affected areas for the next few days. Death Valley, one of the hottest places in the world, is projected to see a high temperature of 130 degrees Fahrenheit (54.4 Celsius) this weekend, CNN reported. 
"Extreme temperatures are expected through the weekend, as lower desert high temperatures push 112-120 degrees," an NWS forecast explained. "Overnight relief will be limited with lows only falling to the mid-80s to mid-90s."
Want more climate and environment stories? Check out Earther's guides to decarbonizing your home, divesting from fossil fuels, packing a disaster go bag, and overcoming climate dread. And don't miss our coverage of the latest IPCC climate report, the future of carbon dioxide removal, and the un-greenwashed facts on bioplastics and plastic recycling.