Duncan Jones is heading to the world of comics for his next film. Joaquin Phoenix talks about the long road to his Joker origin movie. Capcom wants to bring Monster Hunter to the world of animation. Plus, a look at young Newt Scamander in The Crimes of Grindelwald, and Legends of Tomorrow heads to the '60s. Behold, spoilers!

Godzilla vs Kong/Star Trek 4
Deadline reports Black Panther and The Walking Dead star Danai Gurira is circling a pair of undisclosed roles in both Godzilla vs. Kong and Star Trek 4.
Speaking of Star Trek, Jennifer Morrison stated she'd "love" to return to the franchise as Winona Kirk during a recent appearance at Montreal Comiccon over the weekend.
I would love that! I don't have any idea what they are doing. I have not heard from anyone. So, I don't know where they are in the process. I don't even know if they have a script. I have no idea where they are at with all of it. But, I loved being a part of that franchise. I loved playing Winona Kirk. I feel super honored to have played Winona Kirk. And any way to be possibly involved, I would of course love to be.
G/O Media may get a commission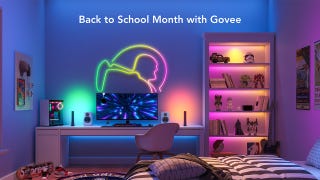 Back to School
Back to School Month with Govee Sale
---
Duncan Jones Comic Book Movie
Duncan Jones has revealed his next film will be an adaptation of a currently undisclosed comic book on Twitter.


---
The Joker
In a recent interview with Collider, Joaquin Phoenix revealed the idea of a solo Joker film "scares the f***ing s**t" out of him.
I take a lot of time and consideration when making decisions and what I'm gonna work on always. So, in some ways, the process, which is obviously reading a script and meeting a filmmaker and then continuing to have meetings and discussions with Todd [Phillips]. I think he's very impressive and he seems to have a very interesting understanding of this world and what he's trying to say. And so there is something very appealing about that and working with him on this particular project. It feels unique, it is its own world in some ways, and maybe, mostly, it scares the fucking shit out of me or something. It might as well be the thing that scares you the most.
Phoenix goes on to admit the idea of smaller budget character study of a villain was his own idea.
Three or four years ago, I called my agent and said 'Why don't they want to take one of these characters and just make a lower budget film about it, a movie but a character study, and why not take one of the villains?' And I thought, 'You can't do the Joker, because, you know, it's just you can't do that character, it's just been done.' So I was trying to think of other characters, and he said 'I'll set up a general meeting with Warner Bros.' And I said 'I'm not gonna go, I can't go to a general meeting.' So I completely forgot about it, and so then I heard about this idea, I was like, 'Oh that's so exciting, that's the kind of experience I wanted to have, with a movie based on a comic character.' I felt like you could get something on screen.
---
Toto
THR also has word Warner Bros. is developing an animated film adaptation of Michael Morpurgo's Oz book, Toto: The Dog-Gone Amazing Story of The Wizard of Oz. Mark Burton (Madagascar, Gnomeo & Juliet) is slated to write the screenplay.
---
Dune
Omega Underground reports Denis Villeneuve's Dune could begin filming next February at Orgio Film Studios in Budapest, Hungary.
---
Scream 5
During a recent interview with Kinowetter promoting Skyscraper, Neve Campbell stated a fifth Scream is unlikely following the death of Wes Craven.
I think it would be challenging, as Wes Craven passed away. He was the reason those movies were so good. Obviously, Kevin Williamson wrote brilliant scripts, but Wes was the heart of the thing and what kept the dynamic consistent. I think it would be difficult to work with another director. But, you never know. You never know.
---
Fantastic Beasts: The Crimes of Grindelwald

Entertainment Weekly has our first look at the young Newt, who looks as ceaselessly befuddled as his older self always does:
---
The Grinch
Illumination UK has a new trailer for the animated Grinch movie.
---
The Meg
Ruby Rose is imperiled in the latest TV spot.


---
Mystery Science Theater 3000
The Kickstarter page for season 12 is now online.
---
Monster Hunter: Legends of the Guild
Capcom is teaming with Pure Imagination Studios for an "animated special" based on the Monster Hunter video game franchise. The special will follow "a fearless young man dedicated to gaining recognition as a monster hunter, but in his path awaits an Elder Dragon who has its sights set on his village." [Coming Soon]
---
Stranger Things
Speaking with Deadline, David Harbour revealed season three includes several references to the films of 1985.
If you're a real fan of Stranger Things and you really want to know, I would go look at the great films that were released in '85, of which there were many, and just go down that list and think of the possibilities that we could be going with. I think it is a specific season to 1985, and so you'll see references to that.
---
The Originals
Spoiler TV has the synopsis for the series finale of The Originals, "When the Saints Go Marching In."
ALWAYS AND FOREVER — Intent on saving Hope's (Danielle Rose Russell) life, Klaus' (Joseph Morgan) plan will change the lives of the Mikaelson family forever. Daniel Gillies, Charles Michael Davis, Riley Voelkel and Yusuf Gatewood also star. Lance Anderson directed the episode with teleplay by Jeffrey Lieber and story by Julie Plec (#513). Original airdate 8/1/2018.
---
The 100
Meanwhile, KSiteTV has the synopsis for part one of The 100's season finale, "Damocles."
SEASON FINALE PART ONE — In part one of the fifth season finale, Octavia (Marie Avgeropoulos) leads her people into war. While behind enemy lines, our heroes must overcome their differences to save Wonkru from extinction. Eliza Taylor, Bob Morley, Paige Turco, Henry Ian Cusick, Marie Avgeropoulos, Lindsey Morgan, Richard Harmon, Chris Larkin and Tasya Teles also star. Dean White directed the episode written by Justine Juel Gillmer (#512). Original airdate 7/31/2018.
---
The Outpost
Talon gets mixed up with some medieval drug traffickers in the synopsis for episode four, "Strange Bedfellows."
POWER STRUGGLE – Against the Smith's (Kevin McNally) advice, Talon (Jessica Green) goes after the demon before she's ready. The Mistress (Robyn Malcolm) proves herself a ruthless enemy in her scheme to take over the colipsum trade. Jake Stormoen, Anand Desai Barochia, Imogen Waterhouse, Michael Flynn, Andrew Howard and Philip Brodie also star. Jason Faller & Kynan Griffin wrote the episode, directed by John Lyde (#104). Original airdate 07/31/2018.
---
The Passage
IGN has a poster for Fox's upcoming vampire drama.
---
Doctor Who
Jodie Whittaker made the cover of Entertainment Weekly's Comic-Con issue.
---
Legends of Tomorrow
Tala Ashe and Brandon Routh head back to the 1960s in a far out set photo from season four, man.
---
Cloak & Dagger
Finally, Tandy stops being polite and starts getting real in the trailer for next week's episode, "Ghost Stories."
---
Banner art by Jim Cooke.