Welcome to New Comics We Crave, a weekly column from io9's comics czar Graeme McMillan, a rather shy young Scottish lad whom you may know from Newsarama or Fanboy Rampage. Ordinarily published on Tuesdays (in time for you to prepare for Wednesday, the Sacred Day of New Comics), this week it's coming at you late since new comics arrive on Friday for the holidays.

If the first week of the year means things like "New beginnings" and "Turning over a new leaf" for, well, almost everyone in the world who follows the Judeo-Christian calendar, then it's refreshing to see that comic publishers continue to buck that particular trend by releasing very little of interest while we're all doing more important things like recovering from parties. Nonetheless, if you find yourself wandering into a comic book store in a still-drunken haze this Friday with some cash in your pocket, I thought it may be a nice thing to suggest some ways for you to spend it.
The easiest - and maybe less productive - way to get rid of your money would be to pick up the rush-released second printing to DC Comics' Heroes hardcover, collecting all the webcomic tie-ins to the NBC show for those who missed the first printing, just in time to miss that Christmas rush. Be warned, though - It'd be fair to say that the highpoint of the book is the design, with the actual content making you long for the start of the new season of the TV show. If you're obsessed with giving your dollars to the Time-Warner corporation, then a much better bet would be the first issue of the uncomfortably-named Teen Titans Year One, which doesn't actually show the first year of the adolescent crimefighters' lives but instead the first year of their adventures together. Amy Wolfram, who wrote for the ginchy Titans cartoon that used to be on Cartoon Network, handles the script while Canadian wunderkind Karl Kerschl provides some beautifully cartoony artwork. If you're undecided, you can see a preview here.
While Marvel Comics' most interesting release this week really has nothing to do with scifi and therefore probably shouldn't be mentioned here (but it's Essential Power Man and Iron Fist Volume 1, collecting the first twenty-or-so issues of mash-up between Marvel's 1970s blaxploitation and kung-fusploitation superheroes), the publisher does see fit to launch the first of its summer movie tie-in titles this week with the first issue of Ultimate Human by Transmetropolitan writer and honorary Suicide Girl Warren Ellis and former Conan artist Cary Nord. You can't tell from the title, but Ultimate Human is actually four issues of "Who's harder? Iron Man, soon to be a major motion picture starring Robert Downey Jr., or the Hulk, also soon to be a major motion picture starring Ed Norton?" so potential fan fun to be had there, as well as potential drinking game fun from awkward mentions of new technology.
G/O Media may get a commission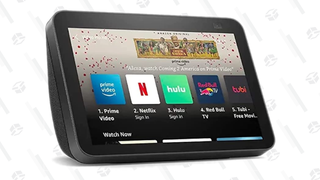 In terms of more indie books, it's all about old faithfuls, with the picks being Joss Whedon's Buffy book reaching its tenth issue and celebrates by bringing in Daniel Craig (No, really) and AiT/PlanetLar's The Black Diamond reaching the end of its cross-country road trip/chase movie/colorful exploration of the comic form. Otherwise, it's a pretty slow week; Image Comics are relaunching a book called Shark-Man, and there's something about the sheer "Sci-Fi Channel TV Movie" quality of that title that tells you all you need to know about why you might want to avoid comic stores until next week and keep drinking, instead.