Grasping onto a torch I peer into a world of naked bodies. One grimaces at me and bangs his head against a wall. Others hardly stir: instead, they stare at the ground in despair.
I am gazing at the virtual world of Unmakeablelove, a 3D interactive simulation based on Samuel Beckett's short prose work The Lost Ones, in which a group of people are enclosed within a narrow cylindrical world, left to shuffle and search pointlessly within its confines.
In the artwork, this pitiable world is rear-projected onto the walls of a 5-metre-diameter enclosure inhabited by 30 bodies, half the size of humans. Each body represents a character in Beckett's text: the Searchers who actively thrust through the space looking for an escape, the Sedentary who lethargically slouch, and the Defeated - "for whom all hope is gone", says Sarah Kenderdine at City University of Hong Kong, who created the work with Jeffrey Shaw.
The bodies beat themselves, and examine each other for birthmarks of identity. "Very rarely they collide in a frenzied sexual encounter," says Kenderdine.
Their lifelike movements were created using motion capture. This technique, commonly employed in blockbuster films like Avatar, captures movement by placing visible markers on an actor wearing a tight, dark suit - allowing a camera to track their movements.
G/O Media may get a commission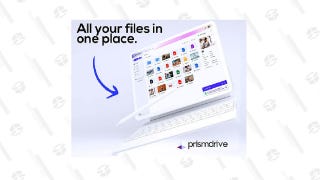 Save 97%
Prism Drive Secure Cloud Storage: Lifetime Subscription
The characters' behaviour is driven by computer algorithms, allowing their actions to change based on the surrounding bodies. "So it's different every time," she says. For example, in Beckett's original, an estranged husband and wife have a sexual encounter. In Unmakeablelove, only when these characters are in the vicinity of each other can the encounter occur.
I walk around the outside of the enclosure, hearing the thuds and rustling of their parched skin. I can only see the world through six torches fixed throughout the exhibition space. In reality, light doesn't beam from the torches. Rather, hardware inside them measure the positions and directions in which they are pointing, and use this information to illuminate the computer-generated figures.
Moving the torch, I can also see other audience members viewing the world from another side of the display. Infrared video cameras record whoever is using the torch, and project that information into the virtual world. This simple interaction "creates an intense mixed reality", says Shaw, forcing the audience to "question their own complicity" in this horrifying world. The effect is unnerving, and makes me glad I live on the outside.
Unmakeablelove was recently presented at the Hong Kong International Art Fair.
(Images: Unmakeablelove team)
This post originally appeared on New Scientist.