Thousands of immigrant workers have died over the past year as they labored at the sprawling construction sites for Qatar's World Cup in what Amnesty International calls "modern-day slavery." Now a pair of architects have shared a proposal for a memorial to the workers—and it's a horrible reminder of just how many people have died to build World Cup stadiums and housing.
The proposal is purely conceptual, since it seems pretty unlikely Qatar would pay for a memorial to deaths that it refuses to even comment on. The designers imagines a circular, hollow sculpture made out of interlocking stone beams. Each beam represents the death of a single Nepali worker who perished on the construction sites, and the tower would remain perpetually under construction, with a permanent crane in place to add new beams.
According to the architects behind the idea at 1Week1Project, the sculpture could eventually reach to nearly a mile high—after all, one recent report estimated that 4,000 workers could die if conditions at the sites aren't improved.
G/O Media may get a commission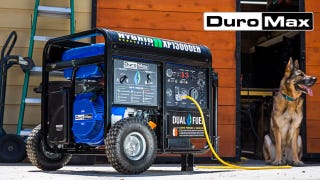 Black Friday Sale
DuroMax Generator Sale
The utter shitshow surrounding the World Cup in 2022 continued this week, with FIFA boss Sepp Blatter claiming that worker deaths were not the organization's responsibility and that these workers are actually enjoying "better conditions" thanks to the World Cup, according to The Guardian. Earlier in the week, even more evidence of bribery and corruption amongst FIFA officials and host countries emerged.
Meanwhile, it's unclear if conditions have improved for workers on the World Cup sites, where a large percentage of the work force hails from Nepal and India. Often these workers are taken advantage of thanks to Qatar's kafala system, which grants the employers the ability to control everything from their workers' passports to their lodging, and take away their visas just as quickly. Deaths from heat and cardiac arrest have skyrocketed over the past year, and voluminous reports from within Qatar detail abuse and neglect on the part of the companies who employee these laborers.
There's probably nothing more indicative than the case of two human rights activists who visited Qatar earlier this year to investigate worker abuse. The men suddenly vanished—after international outcry, the Qatari government confirmed it had detained the men for unspecified reasons (they were later released). So don't look for a Qatar-vetted monument to this sprawling tragedy any time soon. But as far as reminders go, this is a powerful one. [CityLab; 1Week1Project]