Looking to get way off the beaten path on your next vacation? Check out Europe's UFO memorials in Ängelholm, Sweden and Emilcin, Poland. They're only a 15-hour drive away from each other!
Let's start with the Emilcin memorial (above). On May 10, 1978, farmer Jan Wolski was abducted by two small, green humanoids. The beings took Wolski up to their bus-sized craft and examined him whilst he was in a state of undress. Here's an excerpt from a 1978 interview with Wolski and a comic strip of the event:
I noticed them as two people heading toward my cart... Those people hadn't noticed me before. When they saw me they began looking at me and then they gradually began slowing down their walk more and more. When I drove closer to them, they divided on both sides (one went in one direction and the second one on the opposite one) and I drove in between them while they in the meantime jumped onto the moving cart [...]

[Mr. Wolski neither didn't scorn them nor escaped since similar mode of traveling was some kind of tradition and it would be a discourtesy to drive them off and moreover, he didn't know then who they were in fact.]
G/O Media may get a commission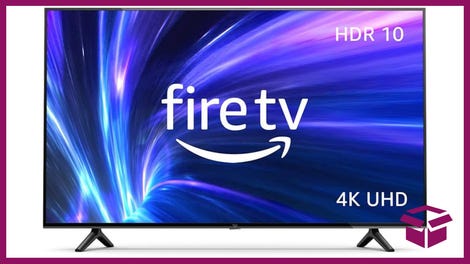 42% Off
Amazon Fire TV 50" 4K Smart TV
The Emilcin memorial was built in 2005 by the Nautilus Foundation, an UFO organization in Warsaw, with the inscription "On 10 May 1978 in Emilcin an UFO object landed. The truth will astonish us in the future."
Approximately 792 miles up the road is the Ängelholm UFO memorial. On May 18, 1946 ice hockey player Gösta Carlsson saw a UFO land in Kronoskogen outside of Ängelholm, Sweden. To commemorate his sighting, this quirky monument was built in the clearing where Carlsson saw the craft. It includes both a scale sculpture of the UFO and an outline of where the craft touched ground. Screw Stockholm, this is where the party's at.
[Atlas Obscura here and here. Ängelholm photos via jiblite's Flickr]