Data backups can save your skin from all kinds of IT mishaps like dropping your laptop in a lake or having a virus blast through your hard drive. You should be backing everything up! Thanks to the recent spree of ransomware attacks, it's once again time to evaluate your backup system, so you're prepared in the event that some malicious actor locks up your computer.
How ransomware works
Ransomware comes in different forms, but essentially, it's a piece of rogue software that gains access to your system and encrypts all your files and asks for payment to unlock them. Ransomware can sometimes be removed, with enough time and effort, but it depends how it's been coded.
Encrypted files can no longer be read without the right key, known only to the people behind the malware. This is the same process of concealment that's commonly used by services to secure everything from passwords to credit card numbers.
G/O Media may get a commission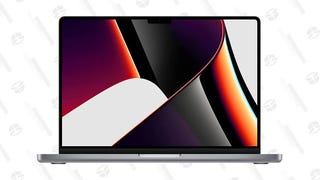 Save $300
2021 14" 1TB MacBook Pro
Microsoft has a useful guide to what ransomware is and how you can guard against it. Besides setting up one of the backup options we're going to talk about below, you should keep your operating system and installed apps right up to date, make sure you've got the right combination of security tools guarding your system, and avoid clicking on dodgy links.
Your backup options
Explaining backup solutions five or ten years ago was a painfully complicated process, and it wasn't hard to see why most users didn't bother. Nowadays, it's all much simpler.
The built-in solutions for Windows (OneDrive) and macOS (iCloud) will serve your needs pretty well right out of the box. Anything you save to folders monitored by these services automatically gets synced to the cloud and to your other connected devices.

Both Windows and macOS also have more conventional backup options that let you copy your files over to an external device on a schedule. In the case of Windows, it's called File History and you can find it in the Update & security section of Settings. macOS has the long-standing Time Machine option, available as a link from the System Preferences dialogue. You could also do this manually, once a month or once a fortnight say.
If you're using an external drive, keep it disconnected unless you're actively backing up, so it can't be affected by malware (more on this below), and make sure you have a copy somewhere besides right next to where you store your computer, lest fire, flood, or burglary should hit your home and take out everything.
Alternatively, you can pay for a service like CrashPlan, Carbonite, or Backblaze, where the entire contents of your hard drive are sucked up to the cloud and kept safe. These tend to be more comprehensive in what they save than the stock syncing services mentioned above, but you don't usually get two-way syncing to other computers.

Protecting against ransomware
If you're not careful, ransomeware encryption applied to the files on your local machine will propagate to the files in your backup. You either need to make sure one backup is stored offline (maybe on a disconnected external drive, as we mentioned above) or have some kind of control over your backup history.
What this looks like in practice depends on the solution you've used. Dropbox, for example, lets you roll back to older versions of your files, but only with Plus and Business accounts. Google Drive also keeps older versions of files for a certain period, though they have to be restored one by one, so resetting a whole system could get very tedious very quickly. It's technically known as versioning, and most backup services offer it in some form, so check the one you're using.
Whatever your configuration, you don't want to be restoring files when the ransomware is still lurking: A full system wipe and reset will usually be required, but as you've got some comprehensive backups in place, that's not as scary as it might sound. The generally recommended course of action is to read up on the type of ransomware you've been hit with and find out how to remove it, then reinstall Windows or macOS, should you need to.
With a blank slate and no ransomware in sight you can then get on with restoring your files back to their former locations. That can still be a time-consuming process though, and while you're watching the progress bar chug along you might well wish you'd never let the ransomware get on your system in the first place. Well, we can help with that too.