Today, thanks to computer graphics and digital drawing tablets, we see tons of artwork that has been made with the help of a computer. Computers and art have long gone hand-in-hand, and here you can see some of the earliest pieces of computer-assisted art.
Oscillon 40, by Ben Laposky, 1952. The artist used an oscilloscope to manipulate electronic waves on a small screen.
(via Victoria and Albert Museum)
Lictformen (Light Forms), by Herbert Franke, 1953-1955
G/O Media may get a commission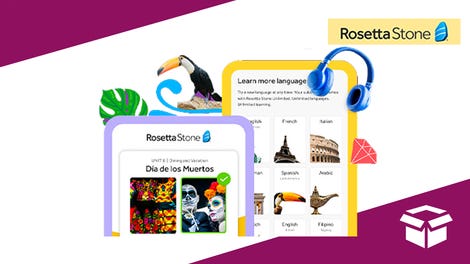 Extra 20% off
Rosetta Stone Lifetime Subscription - All Languages
(via Translab)
First image-processed photo at the National Bureau of Standards, by Russell A. Kirsch, 1957
(via Wikimedia Commons)
A digital rendering of a pin-up girl, made by an IBM programmer at a SAGE Direction Center in the late 1950s. These centers were powered by the 250-ton IBM AN/FSQ-7.
(via Artinfo)
Oscillon 520, by Ben Laposky, 1960
(via Victoria and Albert Museum)
Electronic Graphics, by Herbert Franke, 1961-1962
(via Translab)
Tanz der Elektronen, by Herbert W. Franke, 1961-1962
(via Lastplace)
Pictures made with the Henry Drawing Machine, invented by Desmond Paul Henry, early 1960s
(via Wikimedia Commons and Desmond Henry Archive)
Transitional Works of Charles Csuri, made between 1962 and 1965, with a modified pantograph device
After Paul Cézanne:
After Albrecht Dürer:
After Paul Klee:
(via Csuri Project)
The first ever computer-generated images of a human, the "Boeing Man" by William Fetter, 1964
Studies in Perception, a reclining nude of the dancer Deborah Hay, by Leon D. Harmon and Kenneth C. Knowlton, 1966
(via Digital Art Museum)
Edward Zajec: RAM compositions from 1969, done on an IBM 1620
(via Translab)
Untitled Computer Assisted Drawing, by Paul Brown, 1975
(via Victoria and Albert Museum)
Diamond Variation I and II, by Ruth Leavitt, 1975
(via Atari Archives)