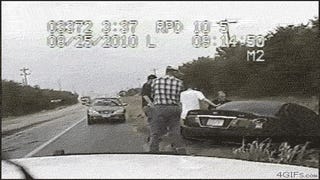 A wet accident. You'd expect today's GIF of the Day to be the sort of thing you see before terrible, terrible demise. A giant truck careening off the road, knocking away everything in its path. But there's a happy ending!
The Texan traffic horror somehow managed to injure nary a single bystander—both the cop and those he pulled over were unscathed. The cars, probably not so lucky. But if I'd seen this thing hurtling toward me, I'd be fine with just having my limbs still attached. Or at least most of them. I hope they all went and got some ice cream afterwards or something. [via Reddit]
Got a spectacular ball of animation sugar in your pocket? Submit your favorite most awesomest GIFs to me, please!
---
You can keep up with Sam Biddle, the author of this post, on Twitter, Facebook, or Google+.