Welcome back to Toy Aisle, io9's weekly round up of all the cool toys and merch we've spotted on this here internet lately. This week: War Machine suits up for Figuarts' Infinity War line, an incredibly squishy Super Mario cushion, and perhaps the most inconvenient yet still delightful way to play Ms. Pac-Man ever made. Check it out!

---
S.H.Figuarts Avengers: Infinity War War Machine Mark 4 Figure
By the time the Figuarts line is done with turning the cast of Infinity War into action figures, Avengers 4 probably won't just be in theaters, it'll be out of theaters and already on Blu-ray and DVD. We jest, because these six-inch plastic recreations of Earth's Mightiest, whether they got snapped into dust by Thanos in the movie's climax or not, continue to be fantastic.
The latest in the line, Rhodey, is no exception; he comes with die-cast parts to approximate the sheen of the latest War Machine armor, as well as a host of explosive effects to replicate the suit mid-flight or blasting down hordes of Outriders with one of the several suites of weapons held on, in, and around the armor. War Machine will set you back around $77 when he's released in Japan in April 2019. Just in time for the sequel! [h/t Toyark]
G/O Media may get a commission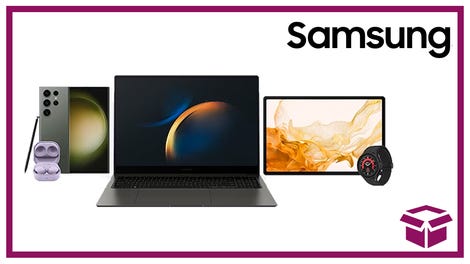 24 hour deals
Discover Samsung - Daily Deal
---
Lego Pop-Up Book
Lego is celebrating 10 years of its fan-designed Lego Ideas sets with one of the most unusual creations to date. Available November 1 for $70, this 859-piece pop-up book recreates two classic fairy tales: Jack and the Beanstalk and Little Red Riding Hood. The book itself is designed to be modular, letting you swap out the pop-up components inside that create the backdrops for each story, and it will come with four new minifigures, including the giant at the top of the beanstalk and a wolf dressed like Little Red Riding Hood's grandmother.
---
Star Wars Darth Vader The Clapper
As humanity's greatest technological innovations go, not even the smartphone was as staggering a game changer as the Clapper was. Before wireless remotes, voice-activated assistants, and smart home accessories, it let you turn off electrical devices with nothing more than a clap of your hands. The Clapper finally makes its triumphant return with a Darth Vader makeover that even includes sounds. When you clap on a device Vader responds with, "The Force is strong with this one." And when you clap off a lamp, or a TV, Anakin warns that, "You underestimate the power of the Dark Side." The Star Wars Clapper doesn't arrive until November, but you can pre-order it from Entertainment Earth now for $30.
[h/t Technabob]
---
Nintendo Super Mario Boo Bean Bag Chair
There's no better place to melt your brain playing video games than slumped into a giant sack of fake smooshy beans. Even better is one that complements the game you're playing, like this Super Mario Boo ghost bean bag chair ThinkGeek is now selling for $140. Stuffed full of polyester fiber mix and polystyrene balls, the chair will do nothing to improve your already terrible posture, but it looks adorable. Every time we look at its smiling, fanged face all we can hear are the sinister giggles from the haunted house levels in Super Mario World.
---
Union Creative Ghosts 'n Goblins Game Classics Vol. 3 Red Arremer Figure
Hailing from Ghosts 'n Goblins, unofficially known as the most challenging and frustrating video game of all time, Red Arremer—one of the first strong bosses Arthur must defeat in the game—is getting the collectible figure treatment. It's the latest addition to Union Creative's Game Classics action figure series, and while it might seem like just another random evil baddie, it was another Red Arremer, Firebrand, who went on to star in Capcom's excellent Gargoyle's Quest series. But you'll need to be a die-hard fan of either franchise to pre-order this six-inch, articulated figure. When it's available in March of next year, you'll have to say goodbye to $95 to face this villain.
[h/t Toy News International]
---
Super Impulse Ms. Pac-Man & Galaga 2-in-1 Tiny Arcade
We're still in love with the idea of having miniature versions of classic arcade games sitting on our desks; they're the perfect way to procrastinate through the work day. But desk real estate is always at a premium, so we're also happy to see Super Impulse starting to pack more titles into these tiny cabinets. The first 2-in-1 machine partners Ms. Pac-Man with Galaga, giving you a small (literally) sampling of two very iconic arcade titles. The only thing that hasn't changes from previous Tiny Arcades is the price, as the new 2-in-1 machine is still $20.