If you're looking for a quick, spooky read — or twenty — this Halloween weekend, check out Split Lip, a horror anthology webcomic, where you'll find dozens of chilling tales spanning the myriad subgenres.
Each installment of Split Lip is a self-contained horror story, written by Sam Costello and illustrated by a different artist. Costello not only has a knack for matching artist with story; he's also an obvious devotee of horror in its many forms. He clearly has his own preoccupations (insects and spiders are a recurring theme), he likes to test the waters of and pay tribute to various horror tropes.
Got an itch to read some body horror? Try "Long Live the King." If you're hankering for supernatural justice, there's "Mujer." If you have a fascination with serial killers or corrupters of innocent minds, check out "Bad Radio." "Ashes to Ashes" offers up Biblical horror, while "Heading South" is a solid bit of hellfire. But Costello offers up plenty of innovations of his own. There's the wonderfully surprising "Straw Men," which begins as a rural tale of betrayal and violence and suddenly swerves into something even more sinister. And in "Face Blind," he takes prosopagnosia and turns it into a visually striking (not to mention eerie) device.
G/O Media may get a commission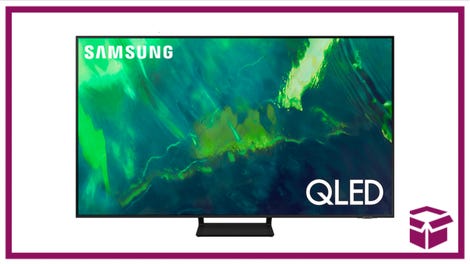 35% off
Samsung Q70A QLED 4K TV
Save big with this Samsung sale
If you're ready to drop some cash on a TV, now's a great time to do it. You can score the 75-inch Samsung Q70A QLED 4K TV for a whopping $800 off. That knocks the price down to $1,500 from $2,300, which is 35% off. This is a lot of TV for the money, and it also happens to be one of the best 4K TVs you can buy right now, according to Gizmodo.
Although a handful of the Split Lip stories are morality tales — or stories where a curious cat meets with an unfortunate end — others are all the more terrifying because bad ends come without rhyme or reason. In "The Consequences of a Little Alone Time" and "The Cousin of Death," our protagonists fall into horrifying circumstances for no reason other than bad luck — unhappy accidents of birth or circumstance. But it's the story "An Old Man, Looking" that most clearly connects those seemingly arbitrary horrors to the real world. It's an especially powerful piece, one in which a young boy sees a mysterious and monstrous horror alongside a more familiar, invisible one: cancer.
The end result of all these experiments is that Split Lip offers a nice sampler mix of horror stories, one clearly inspired by The Twilight Zone and made with lots of genre love. Although not ever story in the pack is a hit, and not every story is going to be for everyone, there's something in Split Lip for every type of horror fan.