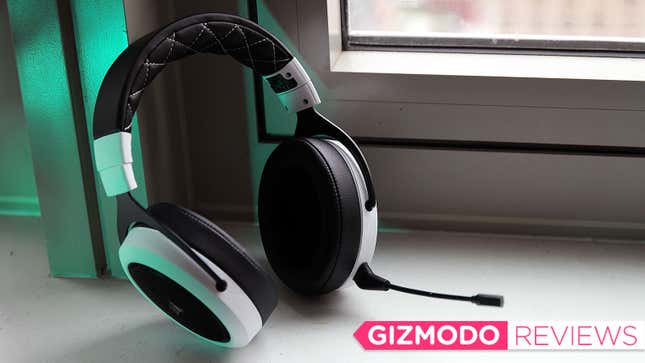 Not too long ago, I took a look at some of the most popular gaming headsets under $100 to figure out which one was best. And while my opinion hasn't changed, there is one feature even our top-ranked headset didn't have: wireless audio. Typically, wireless sound is a feature reserved for more expensive devices priced between $150 and $200. But on the Corsair's new HS70, you can get solid wireless audio for just $90.
The Boogeyman's Sophie Thatcher Reveals What Draws Her to Dark Characters | io9 Interview
Now just to be clear, the HS70 isn't the only wireless headset Corsair makes, there's also the wireless Void Pro RGB. However, that cost $10 more than the HS70, isn't nearly as comfortable, and doesn't look quite as nice as this less expensive sibling. You also can't detach the mic on the wireless Void Pro RGB like you can on the HS70, and the Void Pro's RGB lighting only serves to diminish your battery life.
So back to the HS70. Available in black or white and compatible with both PC and PS4, the HS70's style strike good balance between playing it safe without being outright boring. I especially like the headset's diamond-stitched leather headband, which is not only quite comfortable, but is probably also the most eye-catching feature on the entire headset. The relatively deep semi closed-back cans feature soft leather ear cups with cushy memory foam padding inside, while on the outside, there's a volume dial, microphone mute button, and a microUSB port for recharging.
Setting the HS70 up is also wonderfully straight forward. There's no need to fiddle around with settings, just plug in the HS70's included USB dongle, wait a sec for the drivers to get automatically installed, and then hold down the power button for a couple seconds to turn it on. There's even a little green indicator light that will flash so you don't have to question whther it's working or not.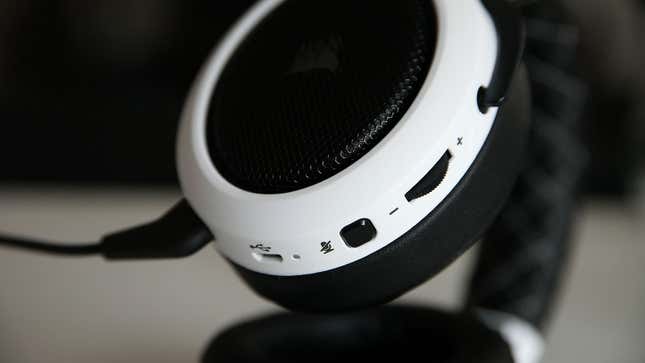 From there, you'll be treated to some surprisingly decent audio quality. In Overwatch, I had no trouble hearing the jangling chains of a Roadhog trying to flank my team, and while listening to music, the HS70 sounded just as rich of some of its similarly priced wired competitors. That said, I did notice that lows didn't always sound super crisp and depending on your preferences, some people might find that the HS70 is a bit too heavy on the bass. But that's something easily fixed by installing Corsair's Utility Engine app, which lets you tweak and customize the headset's EQ, and play around with more advanced settings like its 7.1 surround sound (which only works on PC).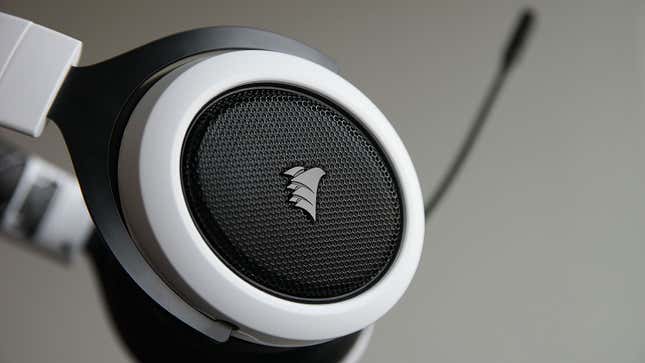 For me, the biggest issue with the HS70's sound is that faint hiss that comes through its 50nm drivers anytime it's powered on. Normally, the hiss gets completely drowned out by whatever you're listening to, but if there's a break in the sound, you'll hear it. It's not quite a deal breaker, and it can function as a nice reminder that the headset is powered on, but for people who demand absolute silence during quiet moments, the HS70 doesn't quite deliver.
As for the HS70's detachable mic, Corsair says its headset is Discord-certified. Which is supposed to ensure its noise-cancellation tech captures clean, garble-free audio every time, which is nice, since Discord has become most people's default voice chat app nowadays. And while my friends said the HS70's voice capture didn't sound quite as rich or detailed as what my blue Yeti stand mic usually delivers, that same could be said about every other sub $100 headset I've ever tested.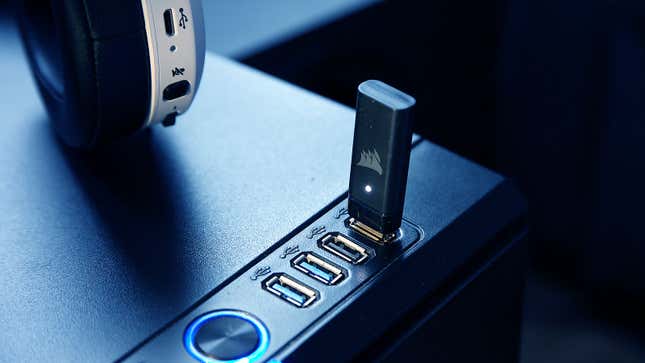 More importantly though, is that despite its reliance on a 2.4Ghz wireless connection, the HS70's audio was rock solid and lag free regardless of where I was in my 700 square foot apartment. Corsair claims the HS70 wireless audio has a max range of 40 feet, and while walls and the layout of your home will probably knock that figure down a bit, the only way I got the HS70's audio to drop was to physically walk out my front door, nearly 30 feet away from my desktop.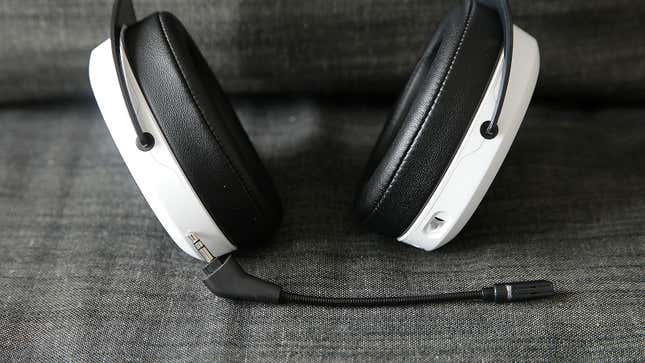 The HS70 also lived up to its 16 hours of battery life. It routinely lasted through a full day's use and then into the next, ranging from standard music duties during the day to hours of multiplayer gaming while on comms at night. And when the HS70 did run out of juice, recharging it was as simple as plugging in the included microUSB cord.

Even though it isn't perfect (and let's be honest, almost no device ever is), Corsair's combination of solid wireless audio and a price tag less than pretty much anyone else on the market means that anyone even thinking about going wire free on the cheap needs to take a long look at the HS70. For $100 this headset is great.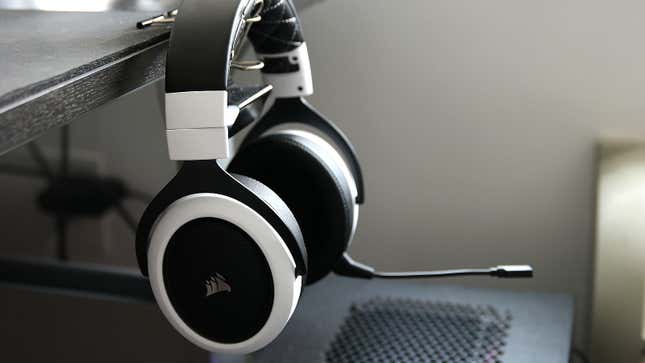 README
Compatible with PC or PS4, although the headset's 7.1 surround sound only works on PC.

Real world battery life actually delivers on Corsair's claim of around 16 hours on a charge.

Dead simple to setup and use, you don't even need to install Corsair's Utility Engine (CUE) app. However, many of the headsets advanced features do require CUE.

There aren't many headsets under $100 with wireless audio, especially ones with connections as solid as what you get on the HS70.

You can hear a very faint hiss when the headset is powered on, but there isn't any audio playing

The HS70's max wireless range of 40 feet is dependent on the shape and layout of your home.

SPEC DUMP
50 nm drivers • 2.4Ghz wireless • 16 hour battery life • 32 ohms impedance @ 1kHz • detachable unidirectional mic • weighs 330 grams • measures 155mm x 100mm x 205 mm • available in carbon, white, and SE