When Satoshi Kon died in 2010 at the age of 46, he left behind a small but brilliant legacy of anime masterpieces like Paprika and Perfect Blue. But before he was a filmmaker, he was a manga artist, and finally Dark Horse is bringing Kon's comic Opus to America for the first time!
---
New Issues
Capture Creatures #1 (Boom) — Two teens try to discover why 100 strange and adorable creatures have suddenly appeared out of nowhere. Frank Gibson (W), Becky Dreistadt (A).
Crossed Plus 100 (Avatar) — A first look at Alan Moore's upcoming epic, limited to 3000 copies. Alan Moore (W), Gabriel Andrade (A).
G/O Media may get a commission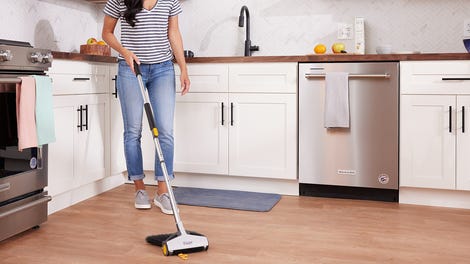 BOGO 50% Off
Flippr - BOGO 50% Off
Dawn of the Planet of the Apes #1 (Boom) — Caesar's ape society rises as human civilization crumbles in this series set in-between Rise and Dawn. Michael Moreci (W), Dan McDaid (A).
Gotham by Midnight #1 (DC) — Jim Corrigan investigates a series of mysterious occurrences in Gotham City. Ray Fawkes (W), Ben Templesmith (A).
Madman In Your Face 3D Special (Image) — Mike Alllred's offbeat hero returns in a new story, as well as several classic Madman tales rendered in 3D! Mike Allred (W), Mike and Laura Allred (A).
ODYC #1 (Image) — "In the aftermath of a galactic war a hundred years long, Odyssia the Clever Champion and her compatriots begin their longest, strangest trip yet: the one home." Matt Fraction (W), Christian Ward (A).
Planet Gigantic #1 (Action Lab) — Two genetically altered teens crashland on a strange, dangerous planet. Eric Grissom (W), David Halvorson (A).
Scarlet Spiders #1 (Marvel) — Ben Reilly, Kaine and Ultimate Jessica Drew team up for a mission vital to the Spider-verse. Mike Costa (W), Paco Diaz (A).
Shadow Show #1 (IDW) — Horns' Joe Hill pens the first work in this new comic anthology celebrating the works of Ray Bradbury. Various (W/A).
Toe Tag Riot #1 (Black Mask) — A punk rock band tours the country, searching for a cure to the curse that makes them becomes zombies whenever they play their music. Matt Miner (W), Sean Von Gorman (A).
---
Collections and Graphic Novels
Absolute Batman: Haunted Knight (DC) — Batman battles a Halloween night of horror unleashed by his villains in this massive, deluxe Absolute edition. Jeph Loeb (W) Tim Sale (A).
Bad Blood (Dark Horse) — When a man discovers his blood is toxic to vampires, he decides to use it to destroy them. Jonathan Maberry (W), Tyler Crook (A).
The Borgias (Dark Horse) — Director Alejandro Jodorowsky and artist Milo Manara — yes, that Milo Manara — tell the tale of Italy's sexiest, most violent, and most devious family.
The Dresden Files: War Cry (Dynamite) — Dresden's first mission as a Warden may be his last when he's forced to guard a mysterious item from an army of vampires in this canon tale. Jim Butcher and Mark Powers (W), Carlos E. Gomez (A).
Incredible Changebots Two Point Something Something (Top Shelf) — The further adventures of the transforming robos who are somewhat less than meet the eye. Jeffrey Brown (W/A).
Inhuman Vol. 1: Genesis (Marvel) — As the Terrigen Mists unleash a new generation of Inhumans around the globe, a deposed king returned to Attilan to claim his throne. Charles Soule (W), Joe Madureira and Ryan Stegman (A).
Monster Vol. 1: Perfect Edition (Viz) — A serial killer stalks Germany, and the doctor who saved the killer's life when he was young feels responsible. Naoki Urasawa (W/A).
Nelvana of the Northern Lights (IDW) — Before Wonder Woman, this early superheroine wandered the Canadian wilderness protecting it from Nazis, aliens, and more. Adrian Dingle (W/A).
Orphan Blade (Oni) — Kicked out of his dojo after an accident mangles his hand, Hadashi discovers a mysterious sword that seems to wield him instead of the other way around. M. Nicholas Almand (W), Jake Myler (A).
Robbie Burns: Witch Hunter (Renegade Arts) — When a poet stumbles upon a coven of witches, he's rescued by witch hunters and joins their cause. Gordon Rennie (W), Tiernen Trevallion (A).
Satoshi Kon's Opus (Dark Horse) — "A manga artist planning a shocking surprise ending to his story gets literally pulled into his own work-to face for himself what he had planned for his characters!" Satoshi Kon (W/A).
The White Suits (Dark Horse) — After destroying the Russian underworld during the Cold War, a mysterious group returns to take on the modern mob. Frank Barbiere (W,) Toby Cypress (A).
---
As usual, here's the list of everything being released to comic stores tomorrow, and you can find your nearest comic retailer here.