Dakota Fanning goes goth for New Moon, while Del Toro grits his fangs as the Wolfman. Chuck gets a superheroic new cast member, and Paris Hilton tweets her Supernatural experience. Plus, Zombieland, Lost, Flashforward, True Blood, and Sherlock Holmes spoilers.
Deadly Mississippi Tornado Kills More Than 2 Dozen | Extreme Earth

Zombieland
See Emma Stone lug her gun and learn what the undead look like on Hollywood Boulevard:

G/O Media may get a commission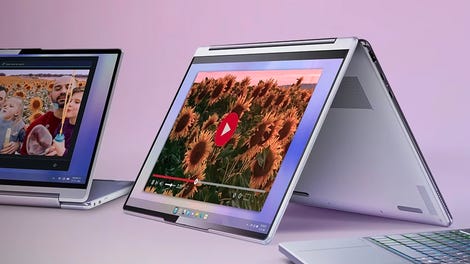 up to 70% off
Lenovo Spring Clearance
Wolfman
Promo images show Benicio del Toro getting hairy and trying his best not to transform:

True Blood
Evan Rachel Wood won't say whether her character, Queen Sophie-Anne, hooks up with Eric or Bill, but she does have a steamy scene with someone we might not expect. [E! Online]
HBO has also released a very detailed description of the season's final episode, "Beyond Here Lies Nothin':"
In the season two finale, the mayhem in Bon Temps reaches a fever pitch as Maryann prepares for her ultimate bestial sacrifice, conscripting Sookie to be Maid of Honor at the bloody nuptials. Meanwhile, Sophie-Anne warns Eric to keep the lid on Bill's inquisitiveness; Jason leads Andy into the heroic abyss; and Hoyt has a hard time swallowing Maxine's endless stream of insults. Deliberating on what may be his final move to save Sookie and the town, Sam is forced to put his trust, and his life, in a most unlikely ally.
Lost
A pair of intrepid Lost watchers visited several sets during a Hawaii vacation, and found what looks to be the set for the first location shoot of the six season: the beach temple where Jacob lived, with the remnants of a bonfire. Word is that Michael Emerson (Ben) and Terry O'Quinn (Locke, maybe) are attached to the scene, suggesting at least one thread of Season Six will pick up where Season Five left off. [Ryan's Hawaii Blog]
Sherlock Holmes
A new still shows the dynamic duo leaning over an empty coffin. But who isn't buried in there?

Supernatural
Paris Hilton has been tweeting about her experiences on set, saying she's been doing plenty of stunts and fighting scenes. [Twitter]
And here are loads of guns for the second episode, "Good God, Y'All:"

Caprica
Patton Oswalt says that his character, talk show host Baxter Sarno, will be mostly on TV in the background, a "Jon Stewart-esque presense," and he's recorded a lot of monologues. But he will have a confrontation with Daniel and Amanda Graystone. [AV Club]
Superman/Batman: Public Enemies
New promo stills include Lex Luthor claiming that Superman is being driven mad by an oncoming Kryptonite meteorite, allowing him to put a $1 billion bounty on Superman and Batman's heads; Bruce Wayne performing calculations on the meteorite; Silver Banshee, one of the many villains chasing down the fugitive superheroes; and Superman mid-battle:

New Moon
Italian vampires the Volturi are revealed in their full regalia, including Dakota Fanning's Jane:

Chuck
In a bit of superheroic casting news, Brandon "Superman" Routh is joining Chuck for multiple third season episodes. Routh will be playing Shaw, a mysterious new spy who will help Chuck learn to control his new abilities and may prove a rival for Sarah's affections. [EW]
The fourth episode, "Chuck vs. Operation Awesome," will feature a sexy, icy, and ruthless professional spy named Sydney and Julius, a menacing security guard with a soft heart. [Spoiler TV]
A cryptic new image has emerged from Peter Jackson's heavenly murder drama:

Priest
A set photo for the Western horror shows Paul Bettany in his undead priest garb:

FlashForward
The first eight episode titles have been revealed: 1.01 "No More Good Days"; 1.02 "White to Play"; 1.03 "137 Sekunden"; 1.04 "Black Swan"; 1.05 "Give Me Some Truth"; 1.06 "Scary Monsters and Super Creeps"; 1.07 "The Gift"; 1.08 "Rules of the Game." [Spoiler TV]
The producers are looking to cast over a dozen extremely diverse characters for the eighth episode. The possibly recurring roles include John, a tough and intelligent ex-military leader described as someone who "could eat nails for breakfast while describing their alloy content and its significance to their usage," and Khamir, a Westernized Middle Eastern man who doesn't lose his cool in a potentially dangerous situation. [Spoiler TV]
And a new TV promo shows us the flash:

Five new clips tease Sunday's episode, "Bacon:"
[MovieWeb]
Eastwick
The witchy women get a flurry of new promo images:

Additional reporting by Alexis Brown and Charlie Jane Anders.