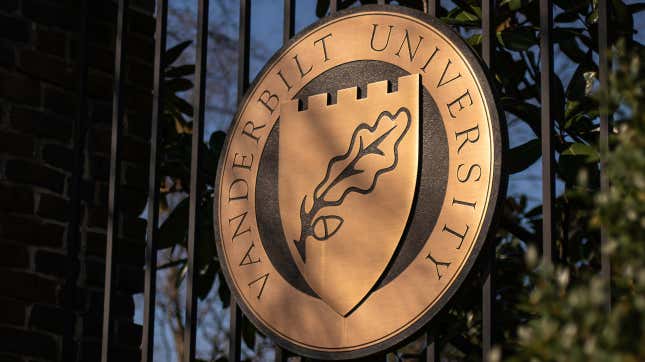 The prize for the most disgusting use of ChatGPT yet goes to Vanderbilt University, which used the chatbot to generate an email to students about the Feb. 13 mass shooting at Michigan State University.
Since its internet debut, OpenAI's ChatGPT has been used in a slew of extremely questionable ways, from creating dating prompts for OkCupid to writing a paper for an AI ethics class. Camilla Benbow, dean of Vanderbilt University's Peabody College of Education and Human Development, offered students her "heartfelt apologies" after they received a sterile and unfeeling email about the Michigan State tragedy, which left three students dead and five others injured, paraphrased from text written by ChatGPT.
The ChatGPT-paraphrased email sounds like a boilerplate response that's been scrapped together and doesn't include any language specific to Vanderbilt. It also refers to the recent "Michigan shootings," even though there was only one shooting. When it comes to content, the email stresses the importance of "creating a safe and inclusive environment." At the end, it includes the sentence: "Paraphrase from OpenAI's ChatGPT AI language model, personal communication, February 15, 2023." The email can be read in full here.
The Feb. 16 email was signed by the college's two associate deans and a graduate student for its office of equity, diversity, and inclusion. It was first reported by the university's student newspaper, The Vanderbilt Hustler.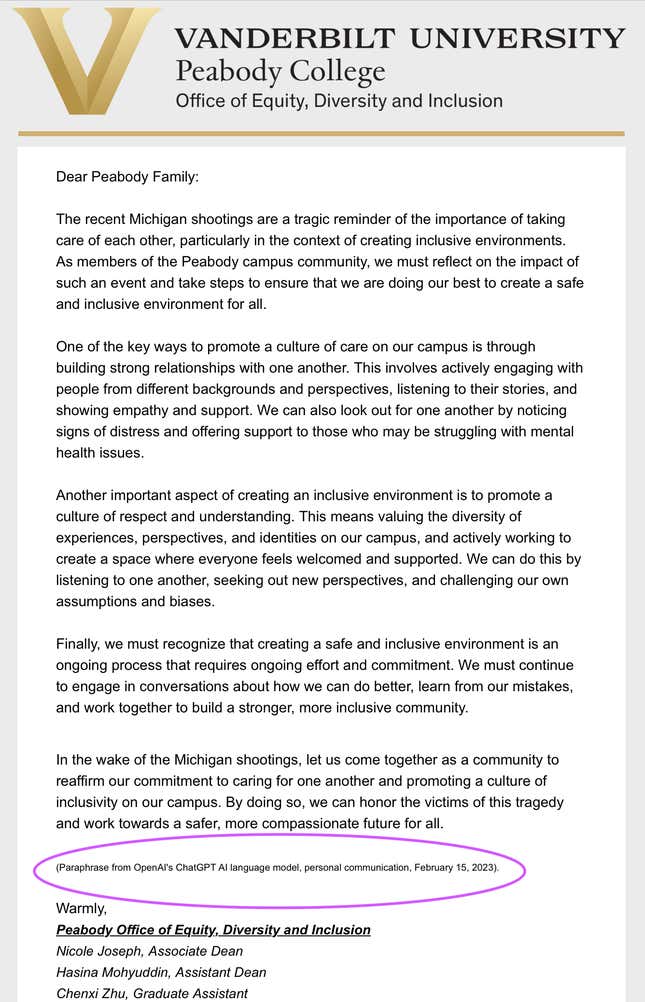 G/O Media may get a commission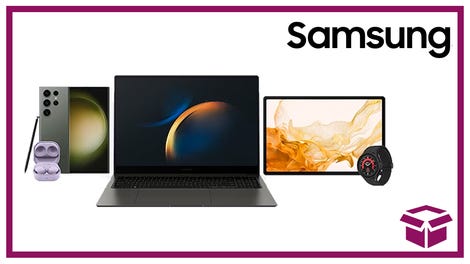 24 hour deals
Discover Samsung - Daily Deal
In a statement, Benbow explained that the email had not followed the college's normal review processes before being sent, adding that neither she nor the university's administrators knew about it before it was sent. Benbow said that her office will be conducting a review of the incident. During the review, the two deans that signed the ChatGPT letter would step back from their responsibilities.
"As dean of the college, I remain personally saddened by the loss of life and injuries at Michigan State, which I know have affected members of our own community. I am also deeply troubled that a communication from my administration so missed the crucial need for personal connection and empathy during a time of tragedy," the dean said. "And I offer my heartfelt apologies to all those who deserved better from us and did not receive it."
Students at Vanderbilt were outraged when they received the ChatGPT-generated email. Laith Kayat, a Vanderbilt senior from Michigan whose sister attends Michigan State, told the Hustler that the use of ChatGPT was "disgusting."

"There is a sick and twisted irony to making a computer write your message about community and togetherness because you can't be bothered to reflect on it yourself," Kayat said. "[Administrators] only care about perception and their institutional politics of saving face."