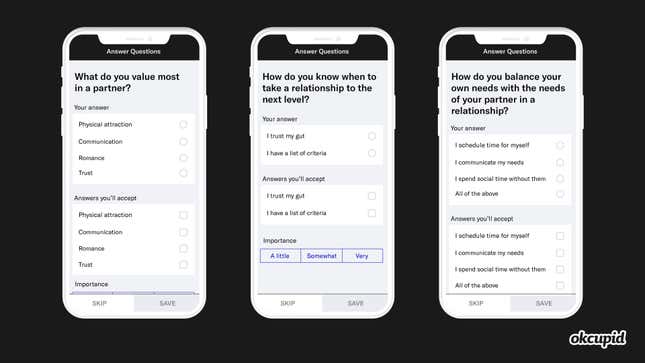 Open AI's ChatGPT has taken the internet by storm, and now it's entering the dating world--just in time for Valentine's Day. OkCupid has begun incorporating prompts generated by the large language model into its matching questions, as first reported by Mashable.

The Boogeyman's Sophie Thatcher Reveals What Draws Her to Dark Characters | io9 Interview
Contrary to the less-is-more profile format of Tinder, OkCupid's philosophy has seemingly long been, "more is more." The company's app and online platform guides its users through the profile creation process with a stream of thousands of questions, meant to help each person, "define [themselves] and what's important to [them]."
In other words: those questions are intended to build the scaffolding of human connection. So, naturally, OkCupid turned to an inhuman robotic brain for help. Via ChatGPT, OkCupid has started letting generative-AI produce some of its profile prompts.
Does the computer know us better than we know ourselves? Can AI lead us to our true soulmates? Probably not. But large language models can certainly generate convincing, human-like text in all sorts of contexts.
In a small trial, the company added six AI-generated questions to its repertoire a couple of weeks ago, Michael Kaye, OkCupid's head of global communications, told Gizmodo via email. Those questions are as follows, along with how people responded:
Are you more of an introvert or extrovert?
Introvert (67%)
Extrovert (33%)
Are you a morning or night person?
Morning (34%)
Night (66%)
What's your favorite way to spend a weekend?
Exploring neighborhoods (12%)
Hanging out with friends (35%) 
Relaxing at home (48%)
Working out (5%)
What do you value most in a partner?
Physical attraction (7%)
Communication (38%)
Romance (7%) 
Trust (48%)
How do you know when to take a relationship to the next level?I trust my gut (87%)
I have a list of criteria (13%)
How do you balance your own needs with the needs of your partner in a relationship?
I schedule time for myself (9%)
I communicate my needs (29%)
I spend social time without them (2%)
All of the above (61%)
To generate these (almost disappointingly) standard asks, Kaye says he personally fed the chatbot two prompts: "what would you ask on a date?" and "what would you ask on a dating app?" And the bland, yet practical questions have proved popular.

Among OkCupid's more than 4,000 matching questions, users can pick and choose which to answer. And the half dozen ChatGPT-written queries have been selected by users more than 150,000 times, Kaye noted.
It's been such a successful pilot, that the OkCupid exec enthusiastically affirmed that the platform plans to keep it going. "Given the success of this experiment, we'll be adding new in-app matching questions generated by ChatGPT in the coming month," he said.
This application of generative artificial intelligence isn't the first time OkCupid has incorporated AI into its platform. Kaye says the dating app is already "using artificial intelligence when it comes to product features and moderation." Other apps too, have begun using generative AI to produce user prompts—like Tinder's AI-generated conversation starters.
And on the other side, dating app users across platforms have begun leaning on ChatGPT to respond to questions, build profiles, and engage in conversation. To Mashable, Kaye said, "Daters who think ChatGPT is a life saver get almost 40 percent more matches on OKCupid than those who think it's too big brother," which was part of the impetus to get the AI involved in prompt production.
The existence of bots on dating apps has long been viewed as a problem to solve—a plague upon the platforms. But with the rising popularity of large language models, now both app curators and users seem eager to turn themselves into bots—ever more efficient and optimized in the pursuit of love (or hookups, whatever).
Yet in Kaye's view, AI isn't the answer to all your dating woes. "Our data shows that the majority of OkCupid respondents do not think artificial intelligence can replace interpersonal human interaction," he said. He added that about 70% of site users surveyed reported that relying on AI to compose profile responses or messages is a "violation of trust."
"Right now I don't expect AI tools to play a big role in the creation of online relationships," the OkCupid exec said, But still, the company is obviously trying to change that where they can. Right now, out there somewhere on a dating app a truly perfect match is inevitably being made: ChatGPT with itself.