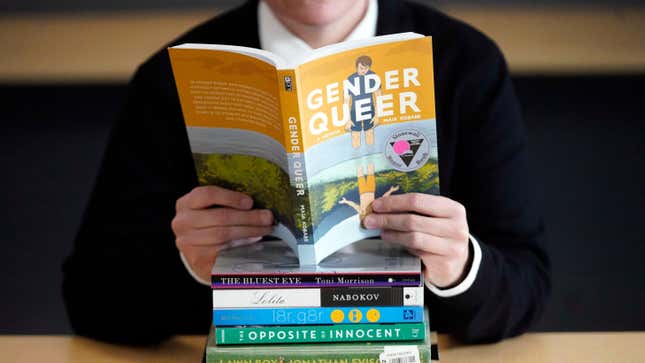 You can add regressive academic censorship to the list of unintended use cases for ChatGPT-like artificial intelligence models. In Iowa, a school district reportedly deployed AI software to identify and remove 19 books in order to comply with legislation prohibiting titles with "descriptions or visual depictions of a sex act" from school libraries. The law has already led to the hasty removal of crucial 20th-century literary classics like Maya Angelou's Where the Caged Bird Sings, and Toni Morrison's Beloved, among others. AI models scanned libraries' books for sexual content and flagged them to administrators.
No Google AI Search, I Don't Need to Learn About the "Benefits of Slavery"
The Mason City Community School District, according to local paper, The Gazette, reportedly used an unnamed AI software to scan school library books ahead of the 2023-2024 academic year. Board members reportedly compiled a list of "commonly challenged books" and used the AI system to scan the list for supposed sexual content. Those flagged books were then removed from 7-12th grade school library collections and "stored in the Administrative Center." These 19 books were removed following the AI analysis, according to The Gazette.
​​Killing Mr. Griffin by Lois Duncan
Sold by Patricia McCormick
A Court of Mist and Fury (series) by Sarah J. Maas
Monday's Not Coming by Tiffany D. Jackson
Tricks by Ellen Hopkins
Nineteen Minutes by Jodi Picoult
The Handmaid's Tale by Margaret Atwood
Beloved by Toni Morrison
Looking for Alaska by John Green
The Kite Runner by Khaled Hosseini
Crank by Ellen Hopkins
Thirteen Reasons Why by Jay Asher
The Absolutely True Diary of a Part-Time Indian by Sherman Alexie
An American Tragedy by Theodore Dreiser
The Color Purple by Alice Walker
Feed by M.T. Anderson
Friday Night Lights by Buzz Bissinger
Gossip Girl by Cecily von Ziegesar
I Know Why the Caged Bird Sings by Maya Angelou
Bridgette Exman, Mason City's Assistant Superintendent of Curriculum and Instruction, told the Gazette their libraries contain "vast collections" of donated and purchased books so it's simply "not feasible" to have humans pour through every book for potentially violating content.

"Frankly, we have more important things to do than spend a lot of time trying to figure out how to protect kids from books," Exman recently told PopSci. "At the same time, we do have a legal and ethical obligation to comply with the law. Our goal here really is a defensible process." The Mason City School Board did not immediately respond to Gizmodo's request for comment.
Mason County's school board says it removed the book in order to comply with the state's recently enacted Senate File 496 (SF 496). The conservative, culture war inspired legislation specifically prohibits school libraries from carrying books with "descriptions or visual depictions of a sex act," and requires texts be "age appropriate." Exman defended using the AI system to filter books, in part, because she said it adds some reassurance to teachers anxious about unintentionally running afoul of the law.
"We intend to help teachers make defensible decisions when they have questions or concerns about books, so they don't feel like they are left on their own to figure this out," Exman told the Globe.
Iowa is just one among dozens of mostly conservative-led states that have moved to enact sweeping new restrictions on the types of books offered in public schools. A recent analysis by PEN America estimates there were 1,477 instances of individual books banned nationally in the first half of the 2022-2023 school year, marking an increase of 28% compared to the previous six months. Crucially, these bans aren't simply content-neutral efforts to remove graphic sexual content. Instead, PEN estimates 30% of the unique titles banned involve race, racism, or characters of color. 26% of the banned unique titles during the same time period reportedly feature LGBTQ+ characters or themes.
Introducing off-the-shelf AI software into the mix complicates the book-banning initiative even further. Feeding large swaths of book texts' into AI systems could save time for librarians or school district officials, but it also leaves the fate of often important or revered literature up to systems notoriously inept at understanding context and prone to spats of nonsense hallucinations.