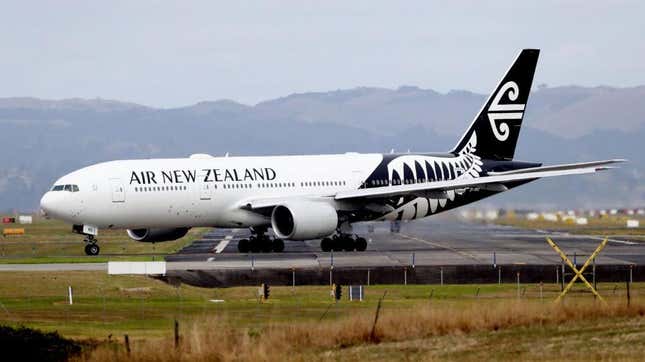 A New Zealand airline is weighing passengers before boarding as part of a month-long survey to gauge the overall weight of the plane. Air New Zealand says it hopes to weigh 10,000 passengers to help pilots better understand the weight and balance of the plane before takeoff.
You Could Soon Get Cash Back for Your Canceled Flight
The weigh-in will be voluntary the airline said in a press release, and will allow Air New Zealand to create better fuel efficiency based on the findings. Airlines have historically implemented a maximum weight permitted for carry-on and checked bags and have taken into account the number of passengers, food and drinks on board, and the fuel needed to get to the destination.
"It's a regulatory requirement for us to know the weight of everything that goes on the aircraft and there's a good reason for that," Alastair James, a load control improvement specialist for the airline said on TODAY. He said in a separate press release that knowing the overall weight of planes during flight is "essential to the safe and efficient operation of the aircraft."
But some American passengers remain uncertain about being weighed in public, with one passenger telling TODAY, "I think that's a violation of privacy." Another passenger said, "When I go to the doctor, I don't even look at the scale, so I don't want that out there in public."
The nation's Civil Aviation Authority (CAA) requires airlines to estimate the weight of passengers with one of two options. The first option is to weigh in passengers, as Air New Zealand is doing, or accept the standard weight set by the CAA which is 190 pounds for those 13 years of age and older. The standard weight was last reviewed in 2021 but hasn't been increased since 2004 when the aviation authority increased the average weight from 170 pounds to the current estimated weight.
The 2021 survey was conducted for solely local flights with the international flight survey being delayed due to the covid-19 pandemic as the country's borders were still closed to international travelers. The survey will be carried out at New Zealand's Auckland airport for designated flights and may include passengers on the nonstop flight from Auckland to New York's John F. Kennedy International Airport.
Air New Zealand's survey will begin this week and will run through July 2, and Alastair James, a load control improvement specialist for the airline, said in the press release, "We know stepping on the scales can be daunting. We want to reassure our customers there is no visible display anywhere. No one can see your weight – not even us! It's completely anonymous." He added, "By weighing in, you'll be helping us fly safely and efficiently every time."
Air New Zealand did not immediately respond to Gizmodo's request for comment.