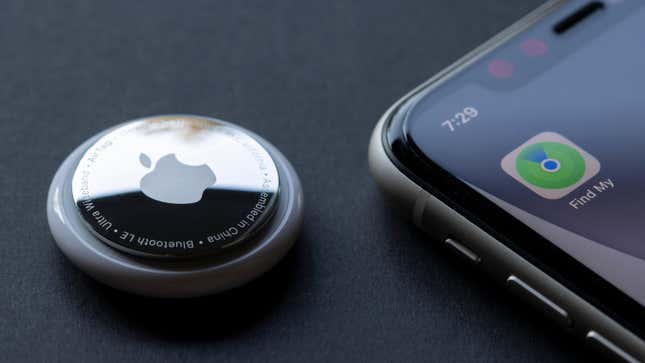 Apple and Google are hoping with their powers combined they can truly hinder just how effective stalking with Bluetooth trackers has become. The two tech giants have agreed on a set of standards for AirTag-like products that would enable automatic alerts on both iOS and Android devices, though the proposed device specs likely won't eliminate the threat of device-enabled stalking altogether.
How to Hide Your Sensitive Images in Google Photos
On Tuesday, the companies announced they were proposing industry-wide specifications to curtail misuse of Bluetooth trackers. Essentially, these proposed universal settings would make Bluetooth devices detectable by both Apple iOS devices as well as Google Android. Since their release in 2021, Apple has updated its AirTag software to chirp when it's tracking an item through the Find My app. iPhones are also supposed to notify users if it detects an unknown AirTag on their person. Up until now, Apple has forced Android users to download a separate app that will alert users when an unknown AirTag device is detected near them.
The companies' release mentioned that other tracker makers including Samsung, Tile, Chipolo, eufy Security, and Pebblebee "have expressed support" for the draft standards, though each would have to follow through on building these capabilities into any new tracker models. According to oft-cited Apple analyst Ming-Chi Kuo, Apple sold close to 55 million AirTag units by the middle of 2022. Tile, the second biggest tracker maker under Apple, told Wirecutter earlier this year the company has sold more than 50 million trackers so far, though some will have inevitably failed or run out of juice in that time.
Though some of the most popular trackers have beeping capability, there are millions of old trackers currently in use that can't receive any hardware updates, and some will likely never receive any new software upgrades.
How are companies supposed to modify Bluetooth tracking devices?
Beyond those big few tracking manufacturers, there are a few other, smaller companies also engaged in making AirTag-like trackers. For example, there's Nutale which sells small, cheap Bluetooth trackers. According to Apple, the standards development organization Internet Engineering Task Force has agreed to enforce these standards. That group has been responsible for proposing hypertext protocol standards (know that HTTP in front of web addresses?) among other major functions of the internet. Still, it's not exactly government regulation, and there's nothing forcing a company from developing a device that doesn't apply to those standards.
According to the draft specifications released by the tech giants, any device that has a location-enabled state needs to have a low-energy Bluetooth signal recognizable by both iOS and Android devices. This constant signal would hide the device's identity, but allow for "non-owner unencrypted connections to the accessory."
In addition, devices need to transition from a "near-owner" mode to a "separated" mode if the device is no longer near an owner's device after 30 minutes. This mode will also allow users to look up the serial number of a device, which could be used by police to find stalkers.
The draft specs mention that the devices should be able to play a sound around a user when their device detects an unknown tracker. However, users have found simple ways to disable the speakers on AirTags, eliminating one of the major ways Apple tries to alert users of unwanted devices.
Some anti-stalking advocates have praised the move. In Apple's release Erica Olsen, the senior director of the advocacy group National Network to End Domestic violence, called the standards "a significant step forward." Still, the Center said in a tweet the companies still need to implement and adopt these protocols.
Some Bluetooth tracker companies already have their stated means of cracking down on tracking, such as Tile's promise to fine convicted stalkers $1 million. That is, if those stalkers use Tile's own feature that makes their trackers undetectable to apps and devices that scan for them. This flies directly in the face of Apple and Google's proposed standards, which would require all devices to include at least one open Bluetooth connection detectable by outside apps and devices.
In response to Gizmodo's inquiry, Tile said this kind of tag detection "provides the first industry-standard, cross-platform solution" that will make it easier for developers to implement. Sill the company said it's only a "step in the right direction" and the company is still looking to support "location-enabled products that deter theft," AKA its undetectable tracking settings "with appropriate ID verification and strict usage terms."
It's not like Apple will stop selling AirTags anytime soon
Companies like Apple and Tile have already been through it with allegations of allowing a new form of cyber-enhanced stalking. At the same time, Apple has routinely said that its trackers are for other, more mundane purposes. In the release, Apple's vice president of Sensing and Connectivity Ron Huang said the Cupertino company simply wants to "give users the peace of mind knowing where to find their most important items."
Companies are not the only ones pushing AirTags for roles they weren't necessarily meant for. The New York City Police Department announced it was giving out hundreds of AirTags explicitly for tracking users' stolen vehicles. Most police departments try to warn users about how bad actors could use trackers like AirTags to stalk people, but of course, those police departments don't have New York's first "mayor of swagger" Eric Adams, who's routinely obsessed with obsolete and questionable technological solutions, pulling the strings. Adams even joked that he uses an AirTag to keep track of his own child.

These standards will take time and quite a lot of cooperation to see done, and done effectively. While it's a good first step, there's still the threat of Bluetooth trackers being used nefariously. Sure, there's tons of examples of regular users finding a use for trackers in creative ways, but when reports show that AirTags have been used to track murder victims, there's a growing impetus for Apple to make these changes.
Update 05/02/23 at 5:00 p.m. ET: This post was updated to include a statement from Tile.