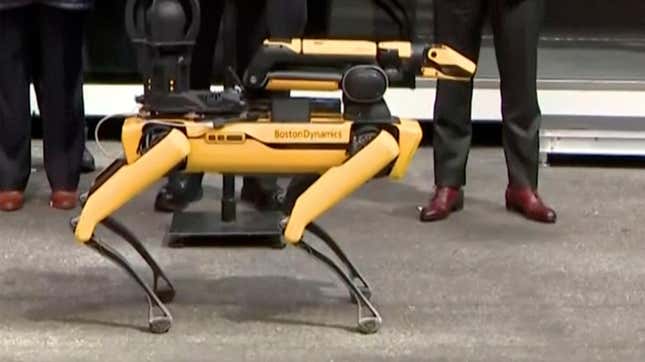 The New York Police Department introduced a four-legged robotic canine to its force this week and the New York Fire Department has reportedly also put in orders for two of the robotic dogs at a mere $75,000 each, Fox5 reported. The remote-controlled dog was created by the Hyundai-owned company, Boston Dynamics, and will be deployed in dangerous areas that could pose a threat to police officers, fire department employees, and civilians alike.
New York City Mayor Eric Adams introduced the newest addition on Tuesday, alongside NYPD Commissioner Keechant Sewell and other police leaders with the stated goal being that the robotic dog will be deployed to increase safety and security in the city. Sewell said at a Times Square press conference the robot, nicknamed Digidog, will be rolled out in a way that is "transparent, consistent and always done in close collaboration with the people we serve," AP News reported.
Digidog was first introduced in 2020 by former-Mayor Bill DeBlasio but the contract was rescinded early because of avid opposition from critics. "A few loud people were opposed to it and we took a step back," Adams said at the press conference. "That is not how I operate. I operate on looking at what's best for the city," adding "Digidog is now part of the toolkit that we are using."
The robotic dog will be added to the K-9 unit and will be deployed in situations deemed too dangerous to send human officers who could be harmed in the line of duty. The NYPD said Digidog will "undoubtedly save lives, both of the police and the public" and will be used to combat counterterrorism, hostage negotiations, and other hazardous situations. 
"If you have a barricaded suspect, if you have someone that's inside a building that is armed, instead of sending police in there, you send Digidog in there," Adams said. "So these are smart ways of using good technologies."
Adams' rollout of the robotic dog was met with pushback and criticism from privacy advocates who argued they were concerned the addition would increase the surveillance and weaponization of police. The Surveillance Technology Oversight Project (STOP) is an outspoken advocate against local and state-level surveillance, and the nonprofit's executive director, Albert Fox Cahn, said in a statement, "The NYPD is turning bad science fiction into terrible policing."
He continued, "New York deserves real safety, not a knockoff robocop. Wasting public dollars to invade New Yorkers' privacy is a dangerous police stunt." Fox Cahn argued that Adams is not focusing on "evidence-based ways to protect community safety," but is instead investing in "high-tech schemes." He added, "We should be investing in actual human beings, not robots."
Despite the criticism, NYPD Department Chief Jeffrey Maddrey said at the press conference that Digidog's "situational awareness and actionable intelligence" will benefit responders and deter physical crime in the city. The NYPD's robotic K-9 will be rolled out this summer to patrol Times Square and the Times Square subway station.