Despite the Trump administration's apparent attempt to bury the National Climate Assessment by releasing it the Friday after Thanksgiving, the overwhelming sense of urgency elicited by its alarming findings has been swift. Alexandria Ocasio-Cortez, the newly elected congresswoman who's already pushing for better and more aggressive climate action, was among Democratic leaders demanding action in the wake of the report's release.
"People are going to die if we don't start addressing climate change ASAP," Ocasio-Cortez tweeted Friday. "It's not enough to think it's 'important.' We must make it urgent." The Democratic progressive doubled down on her call for a select committee on a Green New Deal while adding that "fossil fuel-funded officials shouldn't be writing climate change policy."
Ocasio-Cortez has been a vocal proponent of the Green New Deal, which among other things aims to create clean energy jobs and eradicate fossil fuels as a source of power by shifting solely to renewables. During congressional orientation week, Ocasio-Cortez joined protesters from two progressive groups advocating for the Green New Deal and demanding bolder and more aggressive action on climate change from Democratic leader Nancy Pelosi.
She is, of course, correct in her assessment of the urgency of the report. The second volume of the fourth National Climate Assessment detailed the immense and potentially catastrophic effects of climate change on the environment and humanity should it continue unmitigated. While the findings outlined by the 1,656-page report are numerous, the document's predictions included significant economic losses and humanitarian costs. Notably, the scientists behind the report wrote that the effects of climate change "are already being felt in communities across the country."
G/O Media may get a commission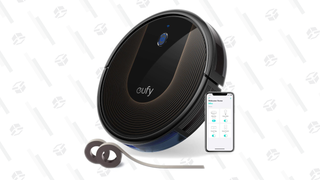 48% Off
Eufy BoostIQ RoboVac
"This assessment is the most enduring and authoritative statement of the science on climate change impacts on our nation, but true to form, the Trump Administration is trying to bury this years-in-the-making report by releasing it during a long holiday weekend," Representative Frank Pallone said in a statement following the report's release. "No region of the U.S. has been and will be spared from the effects of a warming climate, and Americans are already suffering the costs."
Representative Eddie Bernice Johnson also released a statement on the report, specifically pointing to recent natural catastrophes that have been exacerbated by climate change.
"This report provides the most comprehensive look at the effects of climate change on the United States ever, and the results, as we've sadly grown accustomed to, are quite terrifying—increased wildfires, more damaging storms, dramatic sea level rise, more harmful algal blooms, disease spread, dire economic impacts, the list goes on and on," she said. "That being said, all hope is not lost, but we must act now."
Just days after demonstrating a lack of understanding about the difference between weather and climate, President Donald Trump has remained mum on the report.