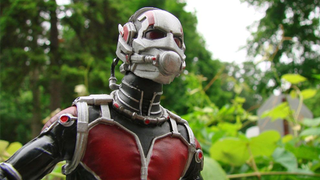 A while ago we got a first look at Diamond Select's Ant-Man figure, complete with an even teenier Ant-Man. But now that the figure is nearly here, the company have given us a closer look at the figure — and it turns out, shooting an Ant-Man figure in a real world environment just makes it actually look like Ant-Man.
Part of their 7"-scaled Marvel Selects line, this new Ant-Man actually comes with one extra accessory than when we last saw him—aside from extra hands and the teeny unarticulated Ant-Man, he also has an extra headsculpt that (vaguely) looks like Paul Rudd as Scott Lang, allowing you to pose Ant-Man masked and unmasked:
But seriously, this figure looks nice enough when it's shot against the plain white background of a publicity photo, however it looks even better when photographed "out in the wild", so to speak:
I love it when companies do this. Not only do you often actually get a good look at the figures—how you can pose them, how they look in natural light rather than studio light— but also because for Ant-Man, this makes perfect sense. It's liks a teeny tiny Scott Lang is running around being Ant-Man, rather than just an action figure. It takes a great looking toy and makes it look cooler!
DST's Ant-Man will be exclusive to the Marvel Online Store, as well as at Disney stores for its retail release. It'll set you back $25, and will be available just in time for the release of Ant-Man next month.
---
You're reading Toybox, io9's blog for all things pop culture. From merchandise to awesome fan creations, TV recaps and critical commentary on the hot topics of the day, you can find it all here!