Feeling a bit blue because Game of Thrones' eighth and final season isn't airing until 2019, possibly in the summer or later? Fear not, Baby Dragons! HBO has released the first official look at season 8. Rejoice, for we are now three glorious seconds closer to the final season than we were before. But we have to wonder: What could it all mean?

Hell yeah spoilers ahead. Everything I'm saying is bonafide canon, even if none of it turns out to be true.
G/O Media may get a commission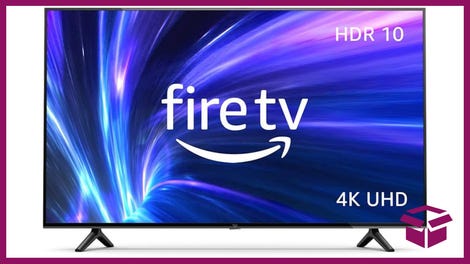 42% Off
Amazon Fire TV 50" 4K Smart TV
So, here are those three seconds in full. And I'm—just—in complete awe. So much to unpack here.
We see that Jon Snow is in Winterfell, which means he's come back home after the big summit at the Dragonpit. Did we already assume he was going to come back to Winterfell, the place he is in charge of and whose people he will need to convince to support his move to declare Daenerys Targaryen as Queen of the Seven Kingdoms, unbeknownst to everyone else? I mean of course, but who cares, we're actually seeing it now. OMIGOD.
You can also spot some other things in the background besides the Winterfell stairs. I mean, sure, they could be just normal stuff in a fortress keep, but that's so boring...so, I'm just going to assume one or more of them is part of a dragon. The thing on the left? Kind of looks like a head. Maybe. Probably. Definitely. How about on the right? It's totally breathing, isn't it? It's official: Winterfell has expanded in order to make room for both of Daenerys' giant airplane-sized dragons. Looks like Sansa's been busy while Jon Snow was away, not just dealing with sister problems and bad writing.
Side note, Jon's totally giving us this face of a guy who just got some. Need I remind you that "something-something" came courtesy of his aunt?
Next, we've got this hug.
Logic would suggest this is Sansa Stark, welcoming him home to Winterfell—since that's the person we see in the very next shot, doing the actual hugging.
Don't be fooled.
That's exactly what they want us to think. My money's on Benjen Stark, who escaped the White Walkers after pretending to be one of them, biding his time until the Night King tore down that Wall. Then, he made his way back to Winterfell, and everyone is totally cool with him hanging out inside the grounds to await Jon Snow. Coldhands' return, confirmed!
Or it could be a dragon. They give the best hugs.
We got a first look at Meryl Streep's new role as Petyr Baelish's mother, who's come to Winterfell seeking answers about her son's death. Very excited to see what she'll bring to the part.
The eyes that have launched a thousand fan theories. What is Sansa Stark up to? Is she plotting to stick Arya's dagger into Jon Snow's back, cementing herself as Queen in the North? Is she staring metaphorical daggers at the newly arrived Daenerys Targaryen, who's boning her brother and getting him to hand over the keys to their entire kingdom? Are those eyes for Arya, as they come to terms with what they did to Petyr, confronting the evils of their decision thanks to Meryl Streep's investigation? Or is Sansa simply expressing doubt at the situation they've all found themselves in? My guess: All of them.
Also, she's not hugging Jon Snow. It's Tyrion, the new Night King.