This month's books really do have something for everyone. There are new books by John Scalzi, Haruki Murakami, Robin Hobb and Lev Grossman. There's magical realism, far-future adventure, and high fantasy. Here are the 22 brand new science fiction and fantasy books you absolutely must not miss.
Lock In by John Scalzi (Tor Books)
A new virus sweeps across humanity, and leaves one percent of the human race "locked in," conscious but unable to move or respond to stimulus. And then, 25 years later, two FBI agents are investigating a murder case involving a "lock-in" — and they may have stumbled on a much bigger case, something that affects the future of human society.
Early review: "This powerful novel will intrigue and entertain both fans and newcomers." - Publishers Weekly (starred)
G/O Media may get a commission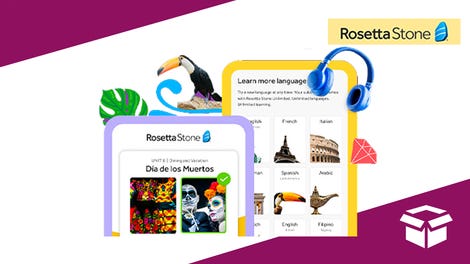 Extra 20% off
Rosetta Stone Lifetime Subscription - All Languages
Read an excerpt here.
Fool's Assassin: Book One of the Fitz and the Fool Trilogy by Robin Hobb (Del Rey)
Hobb returns to her beloved Tawny Man series after 10 years away — Fitz is retired and living undercover as caretaker Tom Badgerlock, when he is coaxed into hosting a couple of Farseer kids. And then he becomes a father once more, but this is no ordinary child.
Early review: "The adventure and intrigue is as electrifying and mesmerizing as ever.... Though a leisurely beginning slows the plot slightly, the fully realized characters and vivid prose show that Hobb remains a supremely talented author of epic fantasy." - Publishers Weekly (starred)
Read an excerpt here .
Colorless Tsukuru Tazaki and His Years of Pilgrimage by Haruki Murakami (Knopf)
Murakami returns to the small, personal style of his early work, especially Norwegian Wood, in this novel about a railway engineer who is in danger of losing his lover unless he figures out why his friends abandoned him when he was a child. The usual Murakami touches of weirdness abound, including haunted forests, and the book stores up a huge revelation for late in the game. This book sold a million copies in Japan in its first week.
Early review: "The ultimate literary cult, Murakami paradoxically never stops warning his fans against the sham of charisma and the peril of conformity. Rather, he invites them on a pilgrimage towards not truth so much as choice: a free, unqualified commitment to a person, a vocation, an art." - The Independent
Read an excerpt here.
Havoc (The Dred Chronicles) by Ann Aguirre (Ace)
This disused starship Perdition has been a dumping ground for unwanted criminals — but now the Conglomerate has a new use for it, and they've sent in heavily armed mercs to clear it out. Can gang leader Dresdemona "Dred" Devos keep her people safe? Or will her own gang members wind up killing each other?
Early review: "This fast-paced space adventure is a worthy sequel to 2013's Perdition... a raucous tale of grit and gumption." - Publishers Weekly.
The Ghost in the Electric Blue Suit by Graham Joyce (Doubleday)
It's 1976, and David has gone to work at the awful British resort town of Skegness, where he deals with jealous husbands, fascist anti-immigrant meetings... and the apparition of a man in a blue suit. Can a psychic help him make sense of his visions? Joyce rocked our world with Some Kind of Fairy Tale, so we're excited for another helping.
Early review: "There's so much to enjoy here, from the fake stage magic of a woman sawn in half to the real magic of a gifted professional at work." - Kirkus
Read an excerpt here.
The Mirror Empire: Worldbreaker Saga 1 by Kameron Hurley (Angry Robot)
In Hurley's fantasy world, the stars really do control everyone's destiny — and when the star Oma rises after 2,000 years of absence from the sky, it portends the fall of civilizations. Assassins strike down rulers, and whole peoples are targeted for genocide. And one young orphan makes a disquieting realization.
Early review: "Hurley (Rapture) reuses old tropes to excellent effect, interweaving them with original elements to create a world that will fascinate and delight her established fans and appeal to newcomers. Readers will blaze through this opening installment and eagerly await the promised sequel."
Read an excerpt here.
Sweetness #9 by Stephan Eirik Clark (Little, Brown and Company)
In this debut novel, a flavor specialist is testing a brand new artificial sweetener — and the possible side effects include not just paltry things like cancer, but also hearing a weird scuttling noise just behind you. The novel jumps ahead 25 years to 1988, and we discover what artificial food additives have done — including one person who can no longer use verbs.
Early review: "Clever writing balances out the conspiracy theories, but the fictional treatment of this issue leaves readers wondering about the facts." — Kirkus
The Buried Life by Carrie Patel (Angry Robot)
This novel is set in a pseudo-Victorian society, inside a subterranean city hundreds of years after an event called the Catastrophe. When someone starts killing off the top bureaucrats of the city, Inspector Liesl Malone is ordered not to investigate — but she seeks the aid of the laundress to the city's most prominent citizens, who holds the secrets of what's really going on. If only she'll share.
Early review: "The subtly fantastical story is resplendent with surprisingly deep villains, political corruption, and a gripping whodunit feel." - Publishers Weekly (starred)
The Monster's Wife by Kate Horsley (Barbican Press)
Life in a small fishing village is pretty quiet and dull — until the mysterious Dr. Frankenstein comes to live there and pursue his experiments. Soon two women, May and Oona, are hired to go work for the doctor, to help him with his unholy explorations. And you can pretty much guess how that turns out.
Early review: "The Monster's Wife is an epilogue to Frankenstein. Fortunately, Horsley more than lives up to the original. In fact, I liked this book a lot more than Frankenstein because there's so much more action and suspense and the philosophizing doesn't grind the narrative to a screeching halt." - Summer Reading Project.
The Broken Eye (Lightbringer) by Brent Weeks (Orbit)
The third installment in the series sees Gavin Guile now colorblind and enslaved on a pirate galley, while his rejuvenated father is running everything. And his son, Kip, is trying to find his place in the military. The grandson and grandfather are soon falling into conflict, while assassins are killing everybody.
Early review: "Weeks is fond of complicated schemes, and his plot feels like an orchestrated chess match between genius grandmasters, but he also leavens the logic with humor. His characters are charming even as they are threatened with being swept off the chessboard." - Publishers Weekly
Read an excerpt here.
Echopraxia by Peter Watts (Tor Books)
The follow-up to Watts' Blindsight, this book sees a hyperintelligent vampire brought back from extinction by foolish scientists in the 22nd century. The vampire is hunting a sect of scientist-monks in the desert, but soon enough everybody is fleeing a catastrophe aboard super-advanced spaceship — and then they encounter an alien intelligence.
Early review: "This scientifically literate thriller's tight prose and plot create an existential uneasiness that lingers long after the book's end." - Kirkus
Read an excerpt here.
Season of the Dragonflies by Sarah Creech (William Morrow)
This literary magical realist novel is garnering comparisons to Aimee Bender. A young couple discovers a special flower in Borneo in the early 20th century, and when they come back to America, they start turning it into a perfume that has uncanny effects. Decades later, their daughter is losing her memory and is being blackmailed for the secret of the magic perfume.
Early review: "By turns charming and suspenseful, this is a memorable first novel." - Publishers Weekly
Read an excerpt here.
Frostborn (Thrones and Bones) by Lou Anders (Crown Books for Young Readers)
The editor of Pyr Books makes his debut as a fantasy author, with this tale of a boy who teams up with a half-giant girl for an adventure in the frozen wasteland. They face an undead lord, and people who are seeking a long-lost artifact.
Early review: "Though a lot of elements are in play, Anders ties the novel's threads together in a neatly satisfying way, crafting a powerful, fast-paced tale... The setting is rich, the characters well-defined, and the danger ever-paramount." - Publishers Weekly (starred)
The Magician's Land: A Novel (Magicians Trilogy) by Lev Grossman (Viking Adult)
The finale of the Magicians trilogy, soon to be a Syfy series. This time around, Quentin is pushing 30 and his life is kind of a disaster, since he's lost his short-lived job teaching magic at Brakebills, and he's also still exiled from Fillory. Good thing he's gotten roped into a magical heist, with one of his ex-students. Meanwhile, Fillory is facing a total apocalypse, and nobody knows how to stop it.
Early review: "I was too thoroughly swept away by this richly imagined and continually surprising novel to be concerned with cute comparisons [with other books]" - New York Times.
We Will All Go Down Together by Gemma Files (ChiZine Publications)
A brand new Gemma Files novel is always cause for celebration. In this one, she's following a coven of five families, who have been feuding for 500 years — and their spat is finally coming to a head. The characters include "body-stealing witches, time-travelling changelings, monster-killing nuns and evil angels."
Your Face in Mine by Jess Row (Riverhead Hardcover)
Now here's a novel that's bound to be controversial, to say the least. In the near future, a Jewish guy named Martin Lipkin decides he has "racial dysphoria" — so he gets racial reassignment surgery and becomes a black guy named Martin Wilkinson, instead. And the "racial reassignment surgery" biz becomes a massive industry.
Early review: "Your Face in Mine (note the slipperiness of the title: who's who here?) takes readers on a zesty, twisty, sometimes uncomfortable ride." - Publishers Weekly (starred)
The Widow's House (The Dagger and the Coin) by Daniel Abraham (Orbit)
In the fourth volume, Lord Regent Geder Palliako will risk all his huge victories for the love of one woman, while Cithrin and Marcus learn that the current conflict is linked to the fall of the dragons, thousands of years before. And Claria Kalliam is caught between both sides of the conflict, with sons fighting on both sides.
How a Mother Weaned Her Girl from Fairy Tales: and Other Stories by Kate Bernheimer (Coffee House Press)
Bernheimer is one of the most famous voices in fairy-tale writing, having edited the bestselling anthology My Mother She Killed Me, My Father He Ate Me: Forty New Fairy Tales and founded the Fairy Tale Review. She also published a previous collection of reimagined fairy tales, Horse, Flower, Bird, and a trilogy of fairy-tale-inspired novels, most recently The Complete Tales of Lucy Gold. Here, she explores the cruelty and weirdness that underpins the best fairy tales.
Early review: "Although the stories range in focus—from the life of an agoraphobic librarian to that of a pajama-wearing dinosaur—they are consistent in style: tight, sparse prose, humming with self-awareness." - Heavy Feather Review
Circle of Stones by Catherine Fisher (Dial)
The author of Incarceron is back with another dark novel, previously published in the UK in 2010 as Crown of Acorns. We follow three different characters scattered throughout time — a teenager in the present day who's been put into foster care, a Druid king, and an architect's apprentice in the Georgian era.
Early review: "Their interactions with the eponymous stone circles help each to heal and grow, but the mechanism of this transformation remains frustratingly opaque. Elegant, admirable and thought-provoking—but not, alas, engaging." - Kirkus
The Getaway God: A Sandman Slim Novel by Richard Kadrey (Harper Voyager)
Kadrey is back with another noir tale of supernatural L.A. — this time, Stark is dealing with an Elder God, and a serial killer, among other things. Everybody wants a secret mystical item, and Stark is the last guy who saw it.
Early review: "Once again, Kadrey shows us why he's a voice to watch in the sarcastic first person dark urban fantasy genre (aka the First Person Snarker)." - Schuler Books
Read an excerpt here !
The Devil's Intern by Donna Hosie (Holiday House)
Hell is getting overcrowded, because almost nobody goes to Heaven any more. And that just adds to all the other reasons you wouldn't want to be stuck there. So Mitchell, who's working as an intern, thinks he's found a "Get Out Of Hell Free" card — a device that would allow him to go back in time and prevent his own death. He escapes with three friends, including a Viking from the year 912, and they hole up in a New York luxury hotel. But nobody just walks away from Hell.
Early review: "Just outstanding fun for those who enjoy snarky comedy and suspense." - Kirkus (starred)
Read an excerpt here (PDF).
The Ultra Thin Man by Patrick Swenson (Tor Books)
The longtime editor of the outstanding small press magazine Talebones has finally published a novel! It's the year 2113 and gumshoe Dave Crowell gets sent on a fool's mission to the planet Ribon, which was the site of an antimatter attack. Crowell is assigned to impersonate Teri Plenko, a possible terrorist whose associate was just murdered. But it turns out that Crowell isn't the only impersonator — aliens are replacing lots of humans with "thin men," or duplicates. Plus there are weird drugs, Pig Latin, and a retractable penis.
Early review: A "splendidly lively SF debut." - Publishers Weekly (starred)