The live action Ghost in the Shell movie already has a release date. Meet the guy playing Robin's father on Gotham, and a new threat on Orphan Black. Tom Cavanagh is very excited that his Flash character's big secret is finally out. Plus, looks ahead to the new season of Penny Dreadful. Spoilers now!
Top image: Avengers: Age of Ultron
Avengers: Age of Ultron
As is customary, there's a ton of speculation about the new bits from the latest Age of Ultron trailer.
Just as we did, Slashfilm wonders who that was that we saw taking off a robe in the cave. And also, who the woman was in the scene where Thor gets attacked. The options range from the less likely — Enchantress, Hela and Moondragon for the woman attacking Thor — to the extremely unlikely — Nebula or Storm, really? There's also speculation that she's a vision of Death, tying this film to the heroes' eventual showdown with Thanos. (And they note that she seems to be casting a spell, possibly drawing the lightning out of Thor, instead of hitting him with bursts of lightning.)
But the theories that seem the most likely are that we're seeing something related to Wakanda in these scenes. ComicBook.com speculates that it could be Shuri, Black Panther's sister — but in my opinion the most likely of the options is that we're seeing the Dora Milaje, Wakandan women warriors charged with the protection of the royal family. [/Film]
G/O Media may get a commission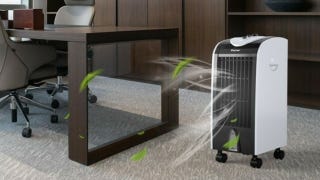 Save $10
Evaporative Portable Air Conditioner Cooler with Filter Knob
Vox also has a breakdown, which contains the Dora Milaje theory, and the prevailing guess that Andy Serkis is playing Ulysses Klaw. They also point out that the gurney and the ballerinas hint at seeing more of Natasha Romanoff's background. Also, they speculate that Scarlet Witch's powers cause the Hulk and Iron Man to fight, noting that Hulk's eyes look kind of red, meaning he could be under her control.
And, most interestingly, they note that both Scarlet Witch and Ultron are shown with red energy bursts, and the shot of Tony getting hit with one is cut to look like Scarlet Witch is doing it, but it does kind of look like she's outside and he's inside. Could the trailers be luring us into thinking that Quicksilver and Scarlet Witch spend more time as villains in the film than they actually do? [Vox]
---
Ghost In the Shell/Jungle Book
Disney has given the Scarlet Johansson-starring Ghost in the Shell a real release date: April 14, 2017. At the same time, they announced that The Jungle Book has been pushed back from October 2015 to April 15, 2016. [Deadline]
---
Strangers
The classic Hitchcock film Strangers on a Train is being remade by Warner Bros. The remake is reunited a bunch of the Gone Girl team: David Fincher directing, Ben Affleck starring, and Gillian Flynn (who adapted her novel into the Gone Girl script) is in talks to write the screenplay. As is traditional, the new film will be "updated" for modern times. [Deadline]
---
Ant-Man
Marvel's released a bunch of concept art and stills from the film, some of which we've already seen in the Entertainment Weekly story. Some of the new ones are below. See the rest here. [Marvel]
---
Project Almanac
Here are five TV spots for the film. [ Coming Soon]
---
Phantasmagoria
Here's a trailer for the horror anthology. [via Shock Til You Drop]
---
Orphan Black
From their TCA presentation, creator John Fawcett gave away a fair amount of details. Fawcett said that the male clone faction had been planned from the beginning, he teased a new character played by James Frain who will (of course, it's James Frain) be a threat to the Leda clones, and we know that Jason Kellerman (Justin Chatwin) will show up to come between Alison and Donnie. We're also going to see Cosima and Felix bond. [TV Guide]
---
Titans
Here's some pure speculation: We heard this week that Vampire Diaries actor Steven R. McQueen is leaving that show as a regular. Based solely on this news and the fact that McQueen has campaigned for the role in the past, there's been some guessing that he's been cast as the TNT show's Nightwing. [Caped Crusades]
---
Arrow
In this season's 18th episode, we'll once again see Felicity Smoak's mother, as Charlotte Ross will return in that role. [ TV Line]
Speaking of Felicity's parents, Marc Guggenheim says that what happened to her father is something for "further down the line." However, "if everything goes according to plan, we will learn a little bit more about dad" in season 3, "But we haven't gotten to the episode yet or written the actual scene, so no specific promises." [ TV Line]
---
The Flash
Tom Cavanagh says that there's still more to Harrison Wells than just his Reverse-Flash identity:
Even though we've done a bit of unveiling, there's a lot of questions about well, who is Harrison? Because Harrison is completely necessary in furthering Barry's agenda, which is good for humanity, and good for Central City — it's a positive thing.

What is Harrison's persona to the Reverse-Flash? Will these good things keep happening? It gets a little complicated, and I think that's good. I think a lot of the speculation has been, what I've encountered in social media, "Is he good or bad?" I understand that, but honestly, in this iteration, it isn't that simple. It can't be that simple. You want Barry to succeed, then you can't just paint Reverse-Flash as bad, because Harrison and Reverse-Flash are responsible for helping Barry achieve his potential. And the reason that happens is, that helps Reverse-Flash achieve his potential. Eggs get broken along the way, certainly that's bad, but at the same time, there's complications to it. How do you sustain the Harrison Wells persona as the Reverse-Flash persona gets unveiled further? I think that's interesting. Does he just disappear? Well, no, he doesn't — why doesn't he? That's all tied in, organically so.

It's explained clearly and satisfyingly. There's resolution. Even as season 2 has been unveiled to me, there are unexpected storylines that explain things, and allow us to sustain things, that make perfect sense. Joe West's pursuit of who the Harrison Wells character is, for example, is just a brilliant storyline. I guess the word, which you don't often run into television but I really like, is there seems to be a real respect for the guys who do our show, and the core community they do it for.
The "accidental time travel" we've been teased with for a while will happen in episode 15, when Liam McIntyre makes his debut as Weather Wizard. [ TV Line]
---
The Originals
Julie Plec says we'll learn which choice Esther makes in the first episode back. We'll also learn more about Esther and Dahlia's feelings on Mikael. As for Klaus and Camille, Plec says:
Klaus is someone who believes that love makes him weak, and he is terrified of it, yet he's opened his heart to this daughter that's filling his heart in a way he never thought it could be filled. Given his hesitation about embarking on too many feelings, I think he's full up at the moment. There isn't necessarily a romance he's going to be interested in exploring in quite some time.
[ TV Line]
---
Doctor Who
Whoniverse veteran Colin MacFarlane — General Pierce in Torchwood: Children of Earth and a voice in "Voyage of the Damned" — will also be in season nine of Doctor Who. Since the show's currently filming episodes three and four, place bets on him showing up in one of those. [Blogtor Who]
---
Gotham
Rob Gorrie will play Dick Grayson's father, John Grayson, in episode 1.16, "The Blind Fortune Teller." Here's a photo Gorrie posted of him on set. [ Comic Book.com]
---
Agent Carter
We know from Captain America: The Winter Soldier that Peggy eventually marries someone saved by Steve Rogers. And it sounds like the show will play with that information, with showrunner executive producer Michele Fazekas saying, "There's fun in trying to figure out: Who is the guy she married?"
Hayley Atwell comments that it could be one of the characters she works with, and Enver Gjokaj's Agent Sousa is the most likely candidate, as the one who isn't a complete jerk to her. But Fazekas points out, "She has chemistry with Sousa, but it's not the only person she has chemistry with." [ Entertainment Weekly]
---
Shannara
MTV's series has cast John Rhys-Davies ( Lord of the Rings) will play King Eventine, Amberle's (Poppy Drayton) grandfather, who has ruled the Elvin kingdom of Arborlon for decades by doing "questionable things" to keep the Four Lands at peace. He'll see his life changed by Amberle's new destiny. [Deadline]
---
iZombie
We already know that the show is a sort of procedural, with Liv investigating the murders she sees in the morgue. As for the larger mythology, executive producer Rob Thomas says:
As we pick up the show, Liv believes she is maybe the only zombie. She got turned into a zombie at a boat party, where it was utter desolation. Very few people got off alive. You could argue she didn't even get off alive. It was a way for us to contain the zombie outbreak. Over the course of the pilot, she discovers there is one more [zombie]. That's the ending reveal of the pilot.

The long arc, the mythology, will involve her trying to stave off a zombie apocalypse. She will be the lynch-pin in that. When we start the show, we sort of have one good zombie and one bad zombie. It's much easier to be a bad zombie. You can create other zombies at will. The long arc will be trying to survive and stave off a zombie apocalypse.
---
Mr. Mercedes
David E. Kelley will write an adaptation of Stephen King's detective novel as a "limited" TV series. The novel follows a detective's attempt to bring down a mass murderer who kills by driving his Mercedes into crowds. [ Deadline]
---
Penny Dreadful
TV Guide has a round-up of everything learned at the TCA panel, including that season 2 will have Ethan discovering who he is, Sir Malcolm's relationship with Evelyn will alienate him from the group, that Dr. Frankenstein's plan to give his monster a companion won't go as planned, and a major "dancing" component to the season. [ TV Guide]
Go here for photos from episode 2.02 and here for ones from 2.07. [SpoilerTV]
---
The 100
Go here for more photos from episode 2.09. [SpoilerTV]
---
Outlander
Here are the titles from the second half of the season:
Episode 1.09 - The Reckoning
Episode 1.10 - By the Pricking of My Thumbs
Episode 1.11 - The Devil's Mark
Episode 1.12 - Lallybroch
Episode 1.13 - The Watch
Episode 1.14 - The Search
Episode 1.15 - Wentworth Prison
Episode 1.16 - To Ransom a Man's Soul (Season Finale)
[ SpoilerTV]
---
Supernatural
Go here for photos from episode 10.10, "The Hunter Games." [SpoilerTV]
Additional reporting by Charlie Jane Anders and Diana Biller