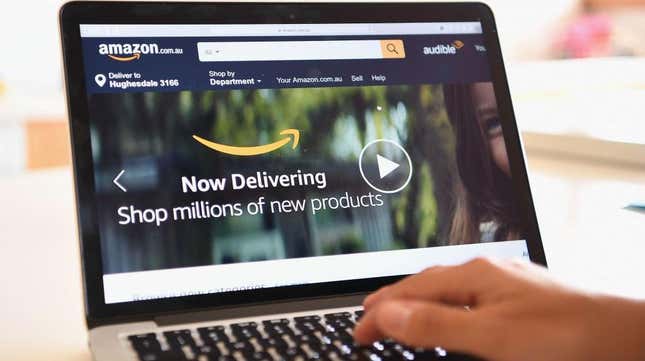 Merchants on Amazon Marketplace are paying the company a commission fee of more than 50% of each sale. A new report by Marketplace Pulse revealed Amazon raised the total cost sellers are required to pay out toward storage fees at company warehouses, packaging and delivery, and advertising on the site.
Prime Day Ain't That 'Green'
The commission fee has gradually risen since 2016 according to the report, but sellers were not heavily impacted because of an influx of customers and a substantial increase in sales during the covid-19 pandemic. But the report said that sales plummeted when the lockdowns lifted and buyers turned to things like travel and dining out rather than online shopping. The residual effects meant that Amazon suffered its slowest sales growth since its inception.
Marketplace Pulse reported that Amazon receives a 15% transaction, or referral fee, from the sellers who also pay between 25% and 35% in Fulfillment fees and 15% toward advertising and promoting on the site.
The average fees Amazon collected last year rose to 51.8% from 35.2% in 2016 and a company spokesperson said in an emailed statement to Gizmodo that the fee sellers are charged is based on the cost and investment Amazon puts first.
"Many selling partners have built and run their businesses without advertising," she said. "If they choose to advertise their products, they have many service providers to choose from. Sellers are not required to use our logistics or advertising services, and only use them if they provide incremental value to their business."
Although sellers can choose if they want to participate in packing, delivery, and advertising, they don't have control over the amount Amazon charges or the fees included. Marketplace Pulse reported that the company's advertising revenue grew by 18.9% in Q4 last year, but was small in comparison to the year prior when advertising increased by 32.2%.
Melissa Burdick, the president of Pacvue and former Amazon executive told Bloomberg Amazon is focusing on expanding its advertising efforts, meaning the coveted space no longer holds the allure it once did.
"The advertising space on Amazon isn't as successful as it used to be for sellers," Burdick said. "A lot of sellers are choosing to offer discounts rather than advertise because shoppers are responding more to discounts."
Merchants are hesitating to raise their prices even as they struggle to make money, the report showed, adding that the small business owners have also turned to shipping their own packages instead of using the Amazon warehouse and are spending less on-site advertising.
"For these small businesses, it's getting harder and harder to be profitable because they are spending more and more money on Amazon fees," Juozas Kaziukenas, Marketplace Pulse's founder and chief executive officer, told Bloomberg. "Amazon might be tempted to keep increasing fees because it's in a tough spot, but you have to reach some kind of equilibrium."
The spokesperson told Gizmodo that Amazon's fulfillment center is still 30% less expensive on average than the standard shipping services offered by third-party providers and is 70% less than alternative two-day shipping options.
"Many of our selling partners have built and run their businesses without advertising," the spokesperson said, adding, "If they choose to advertise their products, they have many service providers to choose from."