Commercial interruptions just will not die. The birth of streaming television has given us a merciful respite from the mind-numbing ad breaks that finance broadcast TV. But you can't keep a bad thing down, and Amazon is reportedly developing an ad-supported, free version of its popular Prime video service.

Citing several "executives familiar with the conversations," AdAge claims that the push to bring a version of Prime that includes commercials is well underway. "Amazon is talking about giving content creators their own channels, and sharing ad revenue in exchange for a set number of hours of content each week," one of the sources said.
But if the traditional TV business is being hollowed out by on-demand streaming services like Netflix, why would the networks supply Amazon with their content and split the ad revenue? The online retail giant has those precious analytics that executives crave. From the report:
"Amazon is taking a smart approach," one top ad agency executive adds. "The only way to strike these deals is to provide a revenue share and share data insights."

...Prime members are Amazon's most coveted consumers, because they buy more often and spend more money. And movies and TV shows are a key driver of Prime sign-ups. A free version could be the promotion that Amazon needs to hook more Prime subscribers.
G/O Media may get a commission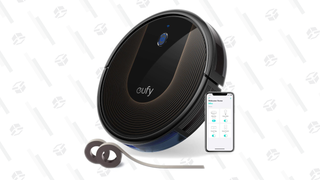 48% Off
Eufy BoostIQ RoboVac
While Prime has been an acceptable compromise for content creators, it would seem a bit foolish to help Amazon's industry-wrecking juggernaut gain more power in the TV world. As it is, most shows on Prime are paid for a la carte, but offering a free service is just going to siphon away more consumers who are tired of traditional television and are jumping on the cord-cutting boom. At the same time, getting access to the spending habits of viewers and having the ability to directly demonstrate the effectiveness of ads may be a temptation that's too good for network executives to pass up.
Of course, Amazon has its own expanding stable of original programming, but it's certainly not enough to support an entire platform. According to AdAge's sources, another enticing incentive may be for Amazon to focus on networks' back catalogs of programming that may not be generating revenue at the moment. It wouldn't be that much different than Hulu, which offers a $7.99 per month plan that includes limited commercial breaks. The difference with Hulu is that it's owned by companies like ABC Television Group and 21st Century Fox, the same companies that own the content that Amazon will be hoping to stream. By helping draw people deeper into the Amazon ecosystem, executives could be making a deal with the devil.
Ads placed on streaming services that you're already paying for is the corporate ideal. Every now and then, new rumors pop-up that Netflix is thinking about incorporating commercials, and it quickly has jumped to calm consumer fears. But make no mistake, if Amazon can hobble its competitors enough, it'll be happy to charge you for the service and run commercials. Unlike Netflix, commercials are incredibly valuable to Amazon's core retail business. The Prime video service is mostly an extra perk to get people to pay the annual fee for shipping discounts. Streaming seemed like it might give us an escape from the constant clutter that advertising creates in our mental real estate. If Amazon has its way, it'll just make the ads a little more effective at prying open your wallet.
Update: An Amazon spokesperson tells Gizmodo: "We have no plans to create a free, ad-supported version of Prime Video."
[AdAge]