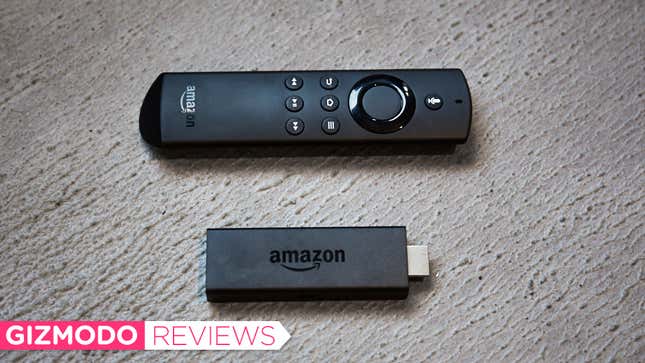 When people ask me what streaming device to buy, my initial reaction is always to say, "just get a Roku." But after using the fantastic (and cheap!) Fire TV Stick for the last few days, I think my recommendation might just change. At $40, the new Fire TV Stick is a terrific streaming device that almost rivals the Roku for ease of use. But better, it's also now the cheapest way to get Alexa in your house.
Meet Microsoft's New Surface Laptops
Amazon has sold millions of Fire TV Sticks sans Alexa. The company won't break out specific numbers, but on Prime Day, it was the best-selling product in the entire world. And it makes sense. As far as streaming sticks go, the Fire TV Stick has always been solid. It's a cheap way to get content in 1080p, it works like any other stick, by plugging into the HDMI port on your TV, and it even comes with an HDMI extender if you have weird ports. But previous Fire TV Sticks were a little slow and it was hard to recommend them compared to the $50 Roku Stick or the cheaper $30 Roku Express.
But now, it's a smarter stick that's cheaper than the Roku Stick and faster than the Express. The newest Fire TV Stick has a quad-core processor, which lets me open up Hulu and Netflix and the other apps and games super fast. It also include 802.11ac WiFi—something the Express neglects.

But it still comes in second place when it comes to content selection. That's because Amazon bases its Fire TV Stick on its Fire OS platform, AKA Android. Most of the apps and channels were designed for Android phones or tablets, which means they don't always look amazing on the big screen, but they work just fine with the included remote and video playback is perfect.

Speaking of the remote, you can also use the Fire TV Stick as a poor man's Alexa, using the same Alexa commands that you would use on an Echo, Echo Dot, or Echo Tap. Need to turn off your lights or find out who won the World Series in 1969? Just press the search button and ask. It even works with playback control, so you can say, "rewind 17 seconds" and it will.
You can also do all the other voice searches that are becoming increasingly common in set top boxes. Similar to the new Apple TV and the Fire TV box (or even the high-end Roku Ultra), you hold down on the microphone button and say stuff like "Open Hulu" or "Open HBO Go" to go directly to channels. You can also search for movies and TV shows.
Amazon's Alexa search works with 90 different partner apps, so searching for Broad City won't just turn up Amazon results, it will turn up stuff from Hulu too. And if you're already signed-into Hulu, Amazon knows and will send you to watch on Hulu before it asks you to spend money with them.
The one downside is that you cannot use the voice remote to enter in text or passwords when logging into apps. Amazon doesn't have a single sign-on (which allows you to sign into all your apps at once), so that can get frustrating because navigating text entry on screen is a chore. The good news is you can always use the Fire TV Remote app for iOS or Android to enter stuff in faster.
Roku still has a slightly better content ecosystem, but Amazon's is getting damn close to as good and for $40, you can get a faster stick than the Express, but that also supports your voice. This is a great stocking stuffer for anyone who wants a little Alexa in their life, and a solid streaming stick to boot.
README
Cheapest way to get Alexa in your house
Voice remote works well, although you can't use it to enter in usernames or passwords
Video quality is very good
Works with 802.11ac WiFi
No external storage options, but it has 8GB of on-board memory for your apps and games
Works with an optional game controller if you want to play basic games on your device
The UI right now isn't my favorite, but it's getting a big overhaul at the end of the year