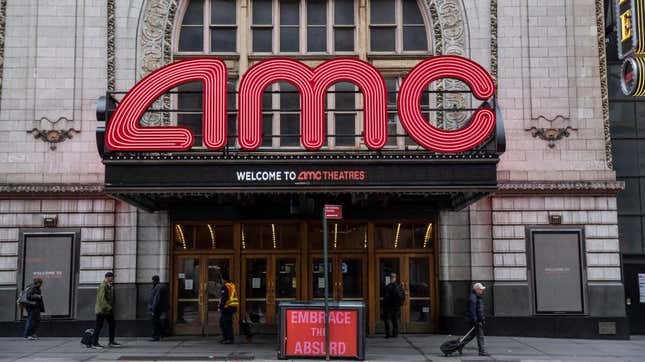 The AMC Theatre conglomerate is taking a new stance on ticket pricing, changing the cost for moviegoers based on standard, prime, and value seating options. The change, called Sightline at AMC, will expand to all of its roughly 1,000 U.S. AMC Theatre locations by the end of this year.
Tesla Investors Not Happy With Mr. Tweet's Tweets
The pricing will be based on a tiered system starting at the front of the theater where seats will cost less while mid-theater, considered to be prime spots, cost more.
According to the theater, ticket prices for the most popular seats, known as the "standard" tier, will still be sold for the "traditional cost of a ticket." The third tier, called the "value" tier, will cost the least and will be located in the front seats of the theater.
Eliot Hamlisch, AMC's chief marketing officer, said in a press release, "Sightline at AMC more closely aligns AMC's seat pricing approach to that of many other entertainment venues, offering experience-based pricing and another way for moviegoers to find value at the movies."
The Sightline at AMC initiative has already rolled out in select theatres in New York City, Chicago, and Kansas City, but specified that the seating prices will only be reflected on all showtimes after 4 p.m.
The company specified that the tiered pricing will not apply to Discount Tuesdays when all ticket prices are discounted to $5. A seating map will be available both on AMC's theatre's website and app for customers to see and purchase tickets based on the tiered prices.
AMC Theatre did not immediately respond to Gizmodo's request for comment.
AMC said in the press release that the new seating prices "provides AMC moviegoers with multiple options to meet their viewing preferences. AMC also provides an incentive for customers to sign up for the MoviePass subscription called Stubs A-List which allows members to purchase "preferred" seating at no extra charge.
"While every seat at AMC delivers an amazing moviegoing experience, we know there are some moviegoers who prioritize their specific seat and others who prioritize value moviegoing," Hamslisch said in the press release. "Sightline at AMC accommodates both sentiments to help ensure that our guests have more control over their experience so that every trip to an AMC is a great one."
AMC became the biggest movie theater chain in the world in 2016 after purchasing Europe's Odeon & UCI Cinemas for $1.2 billion, and now operates 636 theaters in eight countries.