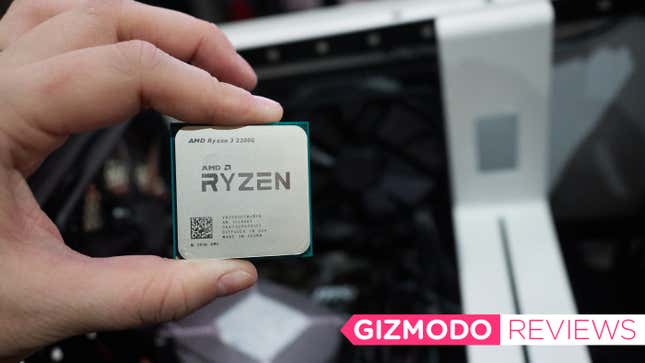 In the past year, graphics cards have gone from the reasonably priced computer part you pick up on Amazon or Newegg to something bordering on as precious as gold. If you happen to find one being sold at its MSRP, you can easily snatch it up and sell it on Amazon for twice the price. The market has gotten so cutthroat in the face of a GPU shortage that vendors like Microcenter have limited the number of GPUs you can buy and will only sell at the original MSRP if you can prove you're buying it for personal use. And into this fierce market enters AMD with a new CPU with an integrated graphics card so good you can leave the other GPUs to the cryptominers.
Did Elon Musk Regret Buying Twitter? | Walter Isaacson Interview
Today, AMD is launching two new APUs, or accelerated processing units, that are way cheaper than their Intel rivals but with performance that's far better. APU, if you're unfamiliar, is the AMD-coined term for a CPU with integrated graphics. APUs, and CPUs with integrated graphics, don't need an additional graphics card (or GPU) in order to function, and right now that is a very big deal.
These two new APUs are very good at what they do, and they easily rival their Intel competitors, while also being faster than even some low-end graphics cards available. If you've been thinking about building up a new PC for casual gaming, or looking to build your first PC on the cheap, then these APUs are intended for you.
The AMD Ryzen 5 2400G retails for $170 and is roughly comparable to Intel's $255 i5-8600K. The AMD Ryzen 3 2200G goes for a crazy cheap $100 and is roughly comparable to Intel's $170 i3 8350K. That $70 to $85 difference is nothing new for AMD. It sells a lot fewer CPUs than Intel and has always undercut its primary competitor, but now it's selling processors that aren't only cheaper, but far better choices for people who have no plans to buy a separate graphics card.
The reason these new CPUs are so good at graphics is that AMD makes really good graphics cards too. That's a key difference between it and Intel. GPUs are built into AMD's DNA, and thus it can, the theory goes, better implement integrated graphics than Intel. Intel gets that too—it's why it partnered with AMD on a new series of chips earlier this year, and why it poached AMD's lead GPU architect last year.
When it comes to integrated graphics the proof is in the benchmarks—particularly the gaming ones. Simply put, the AMD Ryzen APUs have the fastest integrated graphics you can buy right now. Even when compared to the integrated graphics in Intel's top-of-the-line desktop processor, the $360 Intel i7-8700K AMD's budget APUs are tremendous. The Ryzen 3 and Ryzen 5 have the same integrated graphics chip that's based on AMD's Vega microarchitecture, and consequently they pull nearly identical numbers. Both were twice as fast at rendering frames in the Civilization VI benchmark we use, and both rendered five times as many frames per second in the Rise of the Tomb Raider benchmark.

Below you can see the benchmark numbers speak for themselves. For comparisons sake, I also threw in the results for the AMD 550 GPU. That graphics card is one of the cheapest currently available right now, with an MSRP of $80 and a street value of more than $160.
Those numbers are great, but something like Rise of the Tomb Raider, which is a AAA game with extremely taxing graphics, isn't exactly what integrated GPUs are meant for. If you want to play the fanciest games available than you'll need a fancy graphics card. Integrated graphics are intended for the games you want to play a quick round of after dinner—hugely popular but not taxing titles like Gwent or Hearthstone or Overwatch. Because I really wanted to see how the graphics hold up with more popular games I also opted to test the popular shooter Overwatch. As with Civ VI and Rise of the Tomb Raider it was tested at a resolution of 4K. And again it trumped the best Intel integrated GPU you can get right now, with both the Ryzen 5 and 3 being twice as fast as the Intel Iris 630 that's integrated with the i7-8700K.

Unfortunately none of the results were actually good at 4K. Even on the lowest settings the Vega GPU in AMD's APUs only managed an average 20 frames per second, which is absolutely unplayable. But when I dropped the resolution to 1080 things improved significantly. On the lowest graphics setting the AMD APUs managed an average 66fps—which is more than enough for most players and almost twice as fast at the 33fps of the Intel CPU. And on the Ultra it still managed a perfectly acceptable 35 frames per second versus the Intel's unplayable 17fps. That means you could build an Overwatch ready computer with something as cheap as the $100 Ryzen 3 2200G. No need for one of the sky-high priced graphics cards out there.
That's a big deal. Intel has been promising gaming-worthy integrated graphics for the last few years, but it's been unable to deliver. Trying to play Overwatch on a desktop sans discrete GPU, or trying to play on a laptop, is an exercise in frustration. AMD's new Ryzen APUs actually make gaming without a graphics card possible—and pleasant! The experience is even similar to if you had a card plugged into the PCI slot sucking up power. You still have to install AMD drivers just as you would with discrete graphics you get the same tweaks to gaming performance as you would with a discrete card.

In fact the only issue I've run into so far with these APUs is that they currently do not play very nicely with discrete graphics cards from AMD's rival Nvidia. Originally I'd hoped to give a detailed look at how the Ryzen 5 2400G and Ryzen 3 2200G performed against their competitors on benchmarks like Geekbench 4, WebXPRT 2015, and Gizmodo's Photoshop test. However all CPUs we've previously tested were benchmarked with an Nvidia 1080 GPU installed. When I tried to get that same CPU working with the Ryzen APUs I ran into some pretty annoying errors related to the AMD and Nvidia drivers not playing well together. AMD is still investigating the issue, and I'll update here should the situation be resolved.
But I find myself reluctant to ding these Ryzen APUs too much for this driver issue. Because these APUs aren't necessarily the processors someone would, or should, buy when building your next big gaming rig. Instead these super cheaps CPUs are what you buy when you're building your first PC or slowly building up a new PC out of spare parts. You spend $100 on a CPU one month. Then $50 on the motherboard the next. Before you know it you're building a fast enough computer for a few hundred bucks and playing Overwatch with you friends. If you've ever wanted to learn how to build a PC but have been put off by the potential price then the $170 Ryzen 5 2400G and $100 Ryzen 3 2200G are the processors for you. These things are so good you can put off worrying about what kind of graphics card to buy until the prices drop.

README
These processors are cheap and between $70 and $85 cheaper than their competitors.
If you're looking to game at reasonable graphics settings in 1080p than these processors are perfect and give you nearly identical performance.
People looking for 4K gaming should not be idiots, and still plan to invest in a discrete graphics card.
We found driver issues occurred when trying to use a Nvidia card with the AMD APUs, but you own mileage may vary.