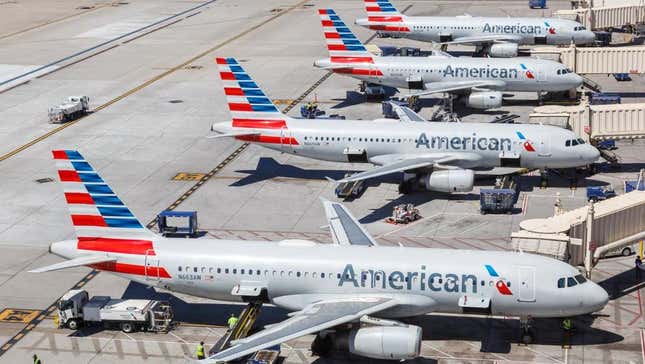 The United States Transportation Department (DOT) fined American Airlines $4.1 million on Monday for keeping passengers on board amid delays that violated tarmac delay laws. The DOT found that 43 flights were affected between 2018 and 2021, leaving passengers on board planes for extended ground delays, without allowing them to disembark.
You Could Soon Get Cash Back for Your Canceled Flight
This is the largest fine to be issued against an airline since the tarmac rules were put in place a decade ago, as the investigation revealed thousands of passengers were stuck on the airline's planes for more than three hours. In one instance, the DOT reported that passengers weren't supplied with food or water while stuck on board.
"This is the latest action in our continued drive to enforce the rights of airline passengers," U.S. Transportation Secretary Pete Buttigieg said in a DOT press release. "Whether the issue is extreme tarmac delays or problems getting refunds, DOT will continue to protect consumers and hold airlines accountable."
The tarmac law states that airlines are required to allow passengers to safely disembark before three hours for domestic flights and four hours for international flights. The only exception to the rules is if there are safety concerns including security issues or air traffic control-related reasons. However, the DOT found in all 43 cases that the rule exceptions did not apply, and said it will credit American $2.05 million of the $4.1 million fine for compensating passengers affected by the tarmac delays. American has 30 days to pay the fine.
American Airlines said in an emailed statement to Gizmodo: "We have since apologized to the impacted customers and regret any inconvenience caused." It added that it has committed "substantial time and resources to improve its performance on tarmac delays." The delays were allegedly caused by weather-related events and affected 0.001% of the 7.7 million flights it operated during that time.
American Airlines told Reuters it "respectfully disagrees that certain of these tarmac delays warrant enforcement action under the extreme circumstances presented."
The majority of delays occurred at Dallas-Fort Worth International Airport, which is a major hub for American Airlines flights, the DOT reported, adding that the delays affected 5,821 passengers in total. "This fine is part of DOT's unprecedented effort to ensure the traveling public is protected, including returning more than $2.5 billion in refunds to travelers," the DOT said.