Some of the most fascinating things about Starz's adaptation of American Gods revolve around the major changes made in order to make the show feel contemporary. Neil Gaiman first penned the original novel back in 1999 when the world was a drastically different place—and heading into season two, the show is still coming up with unique ways to stay relevant.

When I spoke with Gaiman at New York Comic Con this year, he brought up the Technical Boy—a god of modern technology—as the perfect example of a character who would read as supremely dated by today's standards. Rather than being a stereotypical, basement-dwelling nerd with a fondness for dial-up modems, Starz's take on the new god is instead a supremely-skilled vape fanatic whose visual aesthetics constantly change as a reflection of the speed at which modern technology is iterated upon.
More necessary changes are coming to American Gods in its second season, both in response to a number of cast members leaving and because the series is exploring new aspects of American society that are just different than they were at the turn of the century. Gillian Anderson's Media isn't dead, Gaiman explained—she's out there somewhere in the world. But the goddess of New Media (portrayed by Kahyun Kim) is ascendant in a way that can't be ignored:
"The biggest thing that simply didn't exist in the book was social media. That was why we knew we needed a New Media. You know people go "Oh, the New Media, so you've replaced Media?" And it's like "No, no Media...she's somewhere still out there wandering around. She just has less and less people watching her, less belief and power. New Media is New Media.

It's that stuff. It's the fact that everybody...we're in this sort of strange, Snapchat-y generation where likes seems to matter, but we don't really know what they mean. All we know is we get this tiny little endorphin buzz from being told that we've been given them. That kind of thing I think is very new."
Gaiman also added that season two will unpack the nature of the American surveillance state in the form of a new character partially based on the four-eyed giant Argus of Greek mythology, who's known as a symbol for the idea of intrusion and monitoring into all aspects of one's life. While Gaiman wouldn't go into details about the character's role in the show, he described how the inspiration for it came from a personal experience in his own life:
"One of the things that we didn't have when I wrote the book was that we were not observed. Now there are cameras on us most of the time. I remember discovering how much we're observed once when my backpack went missing in a hotel and I wound up being led into the security bowels.

[On the cameras], they replayed every bit of my movement so we could figure out what had happened to the backpack. And actually what had happened was we realized that it had made it all the way into the room with me and then had been carefully put aside into a cupboard by a cleaning person who had locked it away from me. I had no idea you could do that and [the security people] were like 'oh, yeah. You can do that anywhere now.'"
G/O Media may get a commission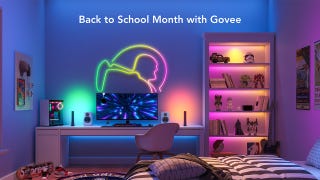 Back to School
Back to School Month with Govee Sale
American Gods returns to Starz in 2019.
Keep checking io9 for more from this year's New York Comic Con—and head to our new Instagram for lots of fun cosplay from the show: @io9dotcom.