Looks like we'll get a sufficiently dark movie adaptation of Melissa Marr's Wicked Lovely: Deadline reports American Psycho director Mary Harron will helm the project.
Last we heard, Boys Don't Cry director Kimberly Peirce would direct. But she seems to have left the picture since September. Now Deadline reports Mary Harron, who also directed I Shot Andy Warhol and The Notorious Betty Page, has jumped aboard. She joins an interesting team: The script is by Caroline Thompson, who also wrote Edward Scissorhands and The Nightmare Before Christmas, among other things. And Vince Vaughn's Wild West Picture Show outfit will produce.
The director is an interesting choice for the project, about a girl who's unlucky enough to attract the attention of the faeries. The Gentry have always been visible to Aislinn, but she manages to keep her Sight a secret until their king starts stalking her. If handled properly, this ought to be the anti-Twilight.
G/O Media may get a commission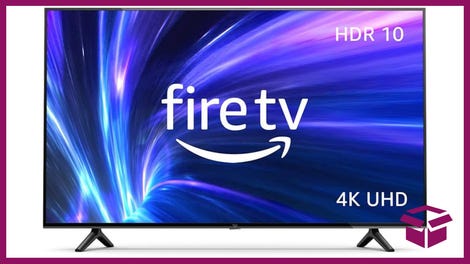 42% Off
Amazon Fire TV 50" 4K Smart TV
Here a description of the book, taken from Marr's website:
Rule #3: Don't stare at invisible faeries.

Aislinn has always seen faeries. Powerful and dangerous, they walk hidden in mortal world. Aislinn fears their cruelty-especially if they learn of her Sight-and wishes she were as blind to their presence as other teens.

Rule #2: Don't speak to invisible faeries.

Now faeries are stalking her. One of them, Keenan, who is equal parts terrifying and alluring, is trying to talk to her, asking questions Aislinn is afraid to answer.

Rule #1: Don't ever attract their attention.

But it's too late. Keenan is the Summer King who has sought his queen for nine centuries. Without her, summer itself will perish. He is determined that Aislinn will become the Summer Queen at any cost-regardless of her plans or desires.

Suddenly none of the rules that have kept Aislinn safe are working anymore, and everything is on the line: her freedom; her best friend, Seth; her life; everything.
The movie still has a long way to go before it hits the multiplex, but if all goes well, the casting rumors should start any day.
[Deadline]