The world's oceans are massive, easily big enough to hide a whole fleet of surface ships if not carefully monitored. That's why the Pentagon's newest Broad Area Maritime Surveillance (BAMS) platform will keep its eyes peeled for enemy carrier groups from 60,000 feet up.
The Northrop Grumman MQ-4C Triton does over the ocean what the RQ-4 Global Hawk does over land: continuous wide-area aerial surveillance. It's designed to take over the role of the aging P-3 Orion, complement the Boeing P-8 Poseidon, a multimission aircraft based on the 737, and relay ISR information—specifically signal intelligence—to both carrier groups in the region and the Joint Forces Maritime Component Commander.
The Triton measures 48 feet long with a 130-foot wingspan. A single Rolls-Royce AE 3007 turbofan powers the UAS to speeds up to 375 MPH and altitudes up to 60,000 feet while toting more than 5,600 pounds of equipment. It can then remain aloft for up to 30 hours and cover some 2,000 nm. Since the Triton will face different climates and conditions than the Global Hawk, many of the MQ-4C's have been re-engineered for naval operations. "The modifications include anti/de-ice, bird strike and lightning protection to meet planned mission profiles and a due regard radar for safe separation from other aircraft," Capt. Jim Hoke, program manager, told Defense Tech.
The Triton's sensor payload includes a 360-degree multifunction active sensor radar array capable of spotting surface ships and missiles, EO/IR sensors, and an automatic identification system (AIS) receiver, which allows the drone to identify and classify ships based on their transponder signals. It also includes a high-res, auto-targeting camera for video surveillance and communications equipment that will allow it to act as a line-of-sight node between two ships on either side of the horizon.
This $1.16 billion project has been in development since 2008 and debuted last June. To date, only two prototypes have been completed, though at third is nearly ready. Ground tests were scheduled to begin in late last September (so as to work out any bugs in the flight software before launching the UAS).
G/O Media may get a commission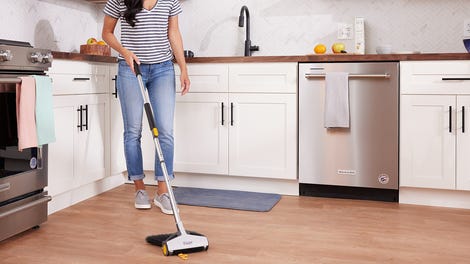 BOGO 50% Off
Flippr - BOGO 50% Off
"Ground testing signifies our steady progress toward conducting Triton's first flight," said Steve Enewold, Northrop Grumman's Triton program manager, in a press statement. "Through numerous engine runs and checks with communications systems between the aircraft and ground controllers, we can ensure that everything is working properly before entering taxi testing as the next step in our efforts."
And with the successful completion of those taxi tests, the MQ-4C is currently prepping for its first flight later this spring and conduct Initial Operational Test and Evaluations by 2015. From there, a fleet of 68 MQ-4Cs stationed in Hawaii; Diego Garcia; NAS Jacksonville, Florida; Kadena Air Base, Japan; NAS Point Mugu, California; NAS Sigonella, Italy; and Andersen Air Force Base, Guam will take to the skies over international waters.
[Defense Tech - US Navy - Wikipedia - Naval Technology - Images: Northrop Grumman]