An EgyptAir Airbus A320 with 66 people on board has disappeared from radar above Egyptian airspace, somewhere over the eastern Mediterranean.

The airline says that flight MS804 left Charles de Gaulle airport in Paris on Wednesday at 23:09 local time and was scheduled to arrive in Cairo at around 03:00 local time. Radar contact was lost with the airplane at 2:30 Cairo time, when it was flying at 37,000ft.
The BBC claims that this Arabic tweet from the airline says that a distress signal was sent by the aircraft. The Guardian points out, though, that the signal was received at 04:26 local time—around two hours after radar contact was lost with the aircraft. It's thought that the signal could have originated from an emergency locator beacon.
Aboard the airplane were 56 passengers, seven crew members and three security personnel. It's thought that passengers onboard were from Egypt, France, UK, Iraq, Canada, Belgium, Kuwait, Saudi Arabia, Algeria, Sudan, Chad and Portugal. It seems no US citizens were aboard the flight.
Search and rescue teams—made up of Egyptian navy, air force and coastguard, as well as teams from Greece—have been deployed to the area where radar contact was lost.
G/O Media may get a commission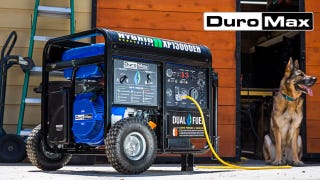 Black Friday Sale
DuroMax Generator Sale
In March of this year, Seifedeen Mustafa used a fake bomb to hijack an EgyptAir flight.
It's not yet clear what has happened to flight MS804. However, AFP's Jean-Marc Mojon cites a "Greek aviation source" who says that the airplane crashed 130 nautical miles off the Greek island of Karpathos.
Update 5:20am: Speaking to Reuters, an anonymous senior aviation source has explained that:
"The theory that the plane crashed and fell is now confirmed after the preliminary search and after it did not arrive at any of the nearby airports.

"All causes for the disaster are open, whether it is a major technical fault or a terrorist action or any other circumstance. This will be ascertained when we inspect the plane's wreckage and transcribe its black boxes."
Update 7:26am: French President Francois Hollande has announced at a press conference that the aircraft definitely crashed, though the cause is unknown. He said:
"Unfortunately the information we have...confirms to us that the plane came down and is lost... No hypothesis can be ruled out, nor can any be favoured over another."
Update 7:43am: The Guardian reports that Greek defence sources tell it that the aircraft was seen to behave erratically during a two minute period, between 03:27 to 03:29 local time:
It was in this two minute period when the plane made a 90 degree swerve left and dropped from 37,000 feet to 15,000 feet before swerving 60 degrees right and vanishing at 10,000 feet ten to 15 miles inside Egyptian air space.
[BBC]