Social media can already give others insight into your personal life and mental state (even if you don't want them to), but according to a recent study, even something as small as your Instagram filter choices can be enlightening.
Andrew Reece at Harvard University and Chris Danforth at the University of Vermont published a paper that suggests that there is a correlation between color usage and mental state, as found in people's Instagram photos. People who were depressed used filters and posted images that contained darker and grayer colors than those posted by those without the mental illness.
The super not interesting photo above shows two versions of the same image. The one on the left is the undoctored version. The one on the right is used with the filter Inkwell, which the study found was more frequently used by people who had depression.
"When depressed participants did employ filters, they most disproportionately favored the 'Inkwell' filter, which converts color photographs to black-­and-­white images," Reece and Danforth said in the study. They also noted that Valencia was used more by non-depressed individuals, as it lightens photos.
Researchers signed on around 170 workers from Amazon's Mechanical Turk service that had Instagram accounts and asked them to complete a series of questionnaires, including a clinical depression survey. Researchers then chose 100 photographs for each user and asked people to rate them on a scale from 0 to 5 how interesting, happy, or sad the photos were. The photos were also objectively categorized by hue, saturation, along with likes and the number of faces in each.
G/O Media may get a commission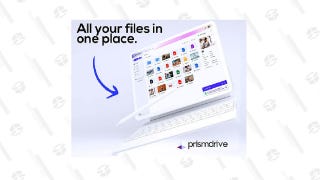 Save 97%
Prism Drive Secure Cloud Storage: Lifetime Subscription
In all, they found that increased hue and decreased brightness and saturation predicted depression. They also found that healthy and depressed individuals used filters differently (depressed people were found to less likely use filters at all).
The algorithm looked at images posted by 100 individuals and it was able to correctly identify 70 percent of those with depression. It did categorize people more as healthy, so it's not perfect (but no algorithm is). It's impossible to assign one characteristic to depression, since it arises differently in all afflicted. Even clinical questionnaires and medical professionals aren't accurate 100 percent of the time. What the study did was find some similarities between those with depression and the way they post photos, so with this kind of accuracy, Reece and Danforth hope that they've found another signifier that people can use when seeing if someone has depression.
"More generally, these findings support the notion that major changes in individual psychology are transmitted in social media use, and can be identified via computational methods," they wrote.