The T-Mobile G1 Android phone is now available, and you've seen our review. Now we're going to take on the apps in the Android Marketplace. How are they? Are they good enough to justify a two year commitment to T-Mobile? Read on and find out.
TuneWiki: TuneWiki, the lyrics + music video music player, is fantastic. We plugged in a live track of Flight of the Conchords and TuneWiki was smart enough to have the lyrics to it and sync them in time with the music. Impressive! Other features like "Top 50 Songs" Today/This Week/This Month come up with the music video and lyrics most of the type, and you can even search YouTube for your own favorite videos. Yes, Never Gonna Give You Up works.
PAC-MAN: It's the same wakka wakka you've been playing for the last 20+ years, but now adapted to either the touchscreen or the roller ball. The swiping touchscreen motion works, but it's not wonderful—the ball is the way you want to go for this. Pac's sound effects are exactly the same as they were when you were a kid, so if you ever go back in time to tell the childhood version of you to buy Google stock at its IPO, you can bring this with you and blow his mind.
G/O Media may get a commission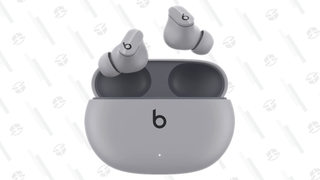 Accuweather: The app has today's weather, three-day prediction and radar view for easy home meteorology, but that's about it. No ten-day, no allergy conditions or anything more than just the barebones. What it does have is a very prominent link to their website under each view that launches your browser, which leads us to believe that they want you clicking over there (so they can collect ad money). Still, it's free and it shows you how hot it is. Update: Go with the Weather Channel app, reviewed below.
ImeemThis Pandora like music service only allows you to search by artist name to play music based off similar artists, but there is also the option to play featured music which range from new and notable artists to the Top 100 imeem songs. The automatic song selection is decent and when listening to a song there is a menu option to buy it in the Amazon MP3 store. Overall the app works great over both WiFi and 3G, and surprisingly song buffer and sound quality are pretty good over either.
Twitroid: The first Twitter client for Android. Visually, it looks very good, but when you switch back and forth between landscape and portrait you can tell that it's a beta app (it asks you to log in again). It does have features like direct messaging, picture attachments and even search. It's a pretty darn good Twitter client that looks even greater than some of the Twitter apps on the iPhone.
Any Cut: A sort of system-level app that lets you create shortcuts on your home screen to directly call or text someone. You can also make a shortcut to just about any activity on your phone, such as Wi-Fi settings or SIM lock. They all work fine. This is one app you'll definitely have to pick up.
Shutter Speed: This app allows you to enter your SLR or DSLR camera ISO and aperture settings and it will determine the exposure setting that's best. Unless you are a professional photographer this app is going to be very confusing and will seem useless. It only determines a single camera setting and has no ability to take pictures.
WikiMobile Encyclopedia: A portable version of Wikipedia that requires an internet connection to grab articles from the actual Wikipedia and formats it to your screen. It's good—the text is legible and you can swipe from screen to screen—but for larger articles jumping from section to section is a bit of a pain. It's definitely better than reading the Wikipedia site on your browser, that's for damn sure. On a side note, someone needs to update our Wiki page. That thing's ancient.
Weather Channel: Much better than Accuweather, this thing displays wind speed, visibility, humidity and UV index along with a 10 day forecast. It's not filled with links to the Weather Channel site, either, which is great. Definitely a superior weather app compared to Accuweather.
Maverick: This Google Talk instant messenger app allows you to chat with your Google Talk buddies as well as send pictures, scribbles and your current location. The scribbles and pictures are sent by creating a Picasa web album under you Google Talk account. The web album link is sent in a message and the recipient can view it in their web browser. Same goes for sending your location, a link to a Maverick branded Google Maps is sent and the recipient can view it in their web browser. App works quick over both WiFi and 3G.
BreadCrumbz: People can set up routes, which are made up of instructions, notes and photos, for anyone to follow. For example, one of the routes already online was for the "Best Study Room in Stanford", which lead you through the campus to the library, then an elevator, then a study room. I'm surprised there weren't more routes with the label "sexiest room on campus" which lead to some dude's dorm room where he's waiting for you in just a robe, but Android's only been out for a couple days. Neat app, definitely one we'll want to check out more as more routes are released.
Translate: Pretty much just a self-contained app that sends text to the Google translation services and displays it back in whatever language you want. There are 150 "language pairs" covering most of the major languages, so it seems fairly useful if you're traveling and want to ask someone something—just type it out in English and hit translate.
iSkoot for Skype: This app brings Skype calling and chatting to Android. Major downside is it doesn't allow true VOIP because it routes all calls through the cell line, even Skype to Skype calls. So cell minutes are being used on top of Skype credits. The call quality is good and the app works well under both WiFi and 3G.
QuickList: A super simple to do list that lets you type in what you want and tap to strike them out. It's so simple that it doesn't have line wrapping and any item more than two or three words get chopped off. Keep your list items short on this one.
ShopSavy: This barcode scanning app allows you to scan or enter a barcode of any product and will display a range of information. It will search the web and local retail stores, based on your location, for the cheapest prices. You can also read reviews and have an alert for when there is a price drop. The app works great and is really a must have tool for every frugal shopper.
Divide and Conquer: D&C is exactly like the old game you played on a PC 20 years ago (I forget the name) where you draw a line on the screen to box off bouncing balls without the balls hitting your line. The point is to trap the ball in something around 90% of the screen. It's just as fun now as it was then, and best of all it's free. A commenter tells us the old game is called Jezzball, just FYI.
Bonsai Blast: The iPhone equivalent of this is Puzzloop, but it's a game very much like Bust-a-move, except instead of the balls dropping from the top, they go around a track and you have to hit them while they're moving. Definitely fun, and the touchscreen controls are precise enough that you should be able to get through the game without too many crazy misses unless you're a Shaq and you have sausage fingers.
Brain Genius Deluxe: Holy crap! This is like Brain Training for the DS, except free and on your phone. You have four types of exercises, which include observation (which type of leaf did you see the most of) and memory (how should we rotate this picture to get the previous picture). It's as polished a game as we've seen yet on Android, so definitely pick this one up if you're a fan of puzzles games or Brain Training.
CB Blackjack: It's blackjack by Hudson Soft (maker of Bomberman and various other games). It's really difficult to screw up blackjack, but this version is slightly sluggish. Maybe it's the cheesy 1980s game soundtrack? It's blackjack, so if you want blackjack, it's blackjack. Blackjack.
CB Klondike (Solitaire): It's solitaire.
CB Reversi: It's reversi, and you can play with either the scroll ball or by touching the screen. There are guide lines (shown above) if you play using your finger, which cuts down on accidental piece placement. The feel is so retro and so early '90s video game that you actually welcome how cheesy it is. Reversi (or Othello) has always been fun, and you can play this either by yourself or vs. a buddy.
Barcode Scanner: This app allows you to scan a products barcode with options to view a Google product search or web search based on the product's code. Because it doesn't appear to have any other functions ShopSavy is a much better Barcode scanning Android app.
Lights Out: Touch a spot to turn off (or on) the adjacent lights. Purpose is to get all the lights off. Same game you've played for years, so you should know whether or not you like it. No surprises on this one.
Compare Everywhere: A Barcode scanning app that allows for product searches by barcode or keyword and has the ability to create and save shopping / wish lists. By far the most robust barcode scanner app for Android. Will display online and location based prices providing complete store information with maps, directions, phone number and web address.
PicSay: This picture editor is extremely fun is basically a robust image manipulator. After selecting a picture you can add word bubbles, words, props, and effects to transform the image into anything you want. Once your art work is complete you can save to SD or share it using Google mail or messaging.
Locale: This app acts as a settings manager based on a few different personalized conditions. Depending on your battery, time, contact, time, or location your phone can have preset settings that change automatically depending on your set conditions. Right now the only settings options to be changed are ringer, volume, network twitter, and wallpaper. By far the best feature of this app is the ability to have the phone automatically detect your location and mute you ringer, which perfect for those who go to school or work and need to have their phone on silent.
Photostream: This Flickr photo browser app allows you to search a Flickr contacts name and view their photos. There aren't that many features yet but you have the option to save a photo to your phone and also be notified when one of your contacts adds new photos.
cab4me light: This app will find cab companies that service your current or preferred location. Just tap Call Cap and it will give you a list of available cab companies and the ability to call them. Right now the app is pretty basic but the developer states it's currently titled light while they add more features and cab companies.
HotSpot Locator: All this app does is locate the closest T-Mobile Hot Spots. Since the G1 lets you use WiFi for free at any T-Mobile HotSpot location it's kinda nice to have this feature at the touch of your finger. The app is utterly basic though because it's just a link to search results that pull up in the web browser, but still very usable.
iSafe: I can't believe this app is one of the first in the Marketplace. This app searches your location for possible unsafe conditions like sex offenders, reported crime, weather, allergies, air-quality and speed limit so it can alert you if the area is unsafe. The best part about this app is if it detects a registered sex offender nearby it will sound an alert every few minutes saying "Potential Sex Offender Nearby!" Yea I'm not kidding around, this is a real Android app.. CRAZY!