Twitter for Android: The official Twitter app for Android gets an update and it's now more like Twitter for iPhone. Which is actually a good thing! What's new? @brbarrett says:
As part of the update, you can now pull down to refresh your feed, swipe across a tweet for options like sharing or replying, or quote a tweet. In all, it seems mostly like Twitter for Android's finally reached parity with its brethren mobile apps.
Tweet on.

YouTube Remote: You can now use your Android phone as a remote for Youtube. No more keyboard for you! Kyle says:
The new app, YouTube Remote, pairs Android devices with any screen playing YouTube Leanback, be it a TV set via Google TV or just a trusty old computer. Then you can search for videos on your phone, beam them to Leanback, and control their playback right from your smartphone. Setting it up's a snap:
All you have to do is pair your phone and YouTube Leanback together, which is basically just signing into your YouTube account on both.
G/O Media may get a commission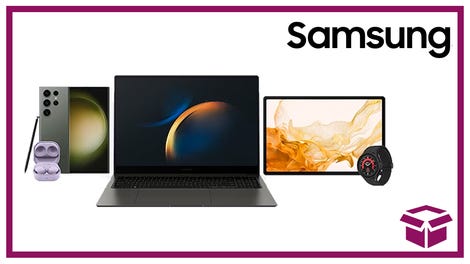 24 hour deals
Discover Samsung - Daily Deal

Firefox 4 Beta: The Firefox beta gets updated and it's way faster. The install size is down to 17MB (from 43MB) and Mozilla is pimping that it's 40% faster than the previous version and 25% faster than the stock Android browser. Just as importantly, it looks a lot better too! The new good looks come with new usability in terms of sharing links and easily undoing closed tabs too.

8pen: To tell you the truth, my brain just melted a little after watching that video try to explain what 8pen is all about. Here's what I can gather: 8pen is a gesture based keyboard…that doesn't have a keyboard. The idea is to mimic the motion of handwriting…without actually writing anything. I applaud 8pen for trying something outside the box but I'm not sure I can type faster with 8pen if it's too hard to learn how to type with 8pen. $1.58

StumbleUpon:
If you like finding new and cool apps (and if you're reading this, you probably do) StumpleUpon has launched an App Discovery (beta) feature in their StumbleUpon App. It's supposed to make it way easier to find, well, new and cool apps. Kyle explains:
The App Discovery feature is in beta in the new version of the Android StumbleUpon app. It'll ask you permission to check out what apps you already have, look for those you don't have that have been downloaded by similar users, and send you on your way. Early reports suggest that things are a bit wonky to start, as they often are with these sorts of crowdsourced efforts, but this sort of semi-social service seems like a brilliant way to find out about new apps, and if anyone can do it well, I'd imagine it'd be StumbleUpon.

Evernote: Evernote got an update to two point oh and it improves on it's "everything in one place" nature with faster searching, a refined note-browsing interface, a Google Search Widget and offline note viewing for premium Evernote users.

Mobile Nanny: Protect yo kids from themselves! Or just use Mobile Nanny to block certain activities, apps, or games so they have no choice. You can set the blocks to a schedule so they're not busy texting when they're at school. It sosts $50/year to use the Mobile Nanny service but I'm thinking some parents will find it well worth it.

ZipList: It's a shopping list app that connects with its website to make it even easier to keep track of what you need to buy at the grocery store. It sounds great too, as you can scan barcodes for stuff to add, sync with other mobile devices, and grab the exact ingredients of 500k+ recipes on the fly. If you've been looking for a grocery list app, give it a whirl.