pvz: pvz is a Plants vs Zombies clone which to say it's a ripjob of the ridiculously fun and popular tower defense game. It's made (or I guess stolen) from some Chinese developer but the gameplay is still just as addicting as the iPhone version even though it's considerably less polished. There's only a few gameplay modes and some buttons in Chinese, but for the most part it's pretty much the same deal. The game is probably going to be pulled for copyright issues but it's as close to Plants vs Zombies on Android as you'll get right now.
Is AI Moving Too Fast? | Future Tech

Music WithMe: WithMe lets you wirelessly sync your iTunes music to your Android phone. You'll need WithMe's companion desktop software (which allows you to select iTunes playlists to put on your phone) and Wi-Fi (or regular data connection) to wirelessly download music to your phone but that's a helluva lot better than a stupid USB cable. The downloads happens automatically too! It's so awesome. Only thing though, WithMe is sorta expensive at $14.99 but there's a 30 day free trial to see if it's something you can get into.
G/O Media may get a commission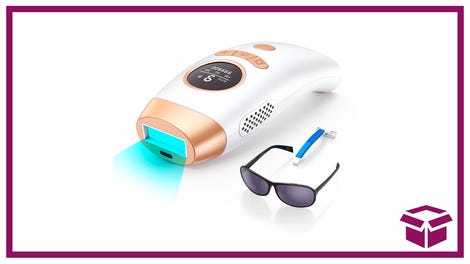 58% Off + Coupon
IPL Hair Removal Device

PBA Bowling 2: I was really into real bowling in the beginning of the year but that kind of fell off. But with PBA Bowling 2 on Android, I can pretend I never missed a strike! Because the game has an official PBA license, PBA Bowling 2 lets you bowl it out with professionals like Walter Ray Williams Jr. What's sort of snazzy is that you can create your own ball with its own design and give it some sorta arcade-y special feature. Other than that it's your basic 3D bowling game. $2.99

Impossible Level Game: The name tells you everything you need to know about the game: it's pretty damn hard. It's one of those crazy logic/puzzle/brain type games that's terribly addicting (because it's challenging) and maddeningly frustrating (because it's challenging). It's really a lot of fun and only $0.79. So not bad!

Navigon MobileNavigator: It's another paid turn-by-turn application for Android. Navigon's big feature is their "Reality Scanner" which is really just augmented reality within the app. Other features include showing you where speeding and red light cameras are, lane level navigation (which tells you the exact lane to be in for an exit) and a MyRoutes feature that offers 3 different routes to one destination. The benefit of using Navigon over Google Maps is that the maps come preloaded (1.5gb to your SD card). The downside? It costs $40 (normal price $60).

Pocket Informant: Pocket Informant is the calendar for the insanely organized folks who love insanely organized calendars. Think of it as a task manager plus a full featured calendar, with as many options and notifications as you can imagine. It's in beta right now so if you've been itching to get your life organized, give it a try.

Google Maps 4.6: Another update! This time the latest Google Maps gives a new design for Place page reviews, more filters for Search and real-time updates for Google Latitude.

Dolphin Browser HD 4.0: The pretty awesome web browser has been updated to 4.0, which is a great thing since Dolphin 3.0 wasn't so hot. It's mostly bug fixes (swipe action issue, drag down window etc.) but if you had a bad experience in 3.0, this Dolphin Browser HD is a good one so it might deserve another look.